I am really excited about this weekend! I get to show-off my Nutrisystem success with friends that I don't get to see on a regular basis. We are getting together with a bunch of our family and friends to celebrate my Daughter's 6th birthday. Most of our friends haven't seen me since I started my weight loss 5 months ago. I haven't' seen my best friend in 2 months.  She has no idea just how much progress I have made. I think she will be surprised and proud. It's going to be a fun weekend for my whole family!
I am playing catch-up today with my weight loss,  since my scale had a mental meltdown a couple weeks ago. Over the last two weeks, I have lost 4 pounds. This brings my weight loss total to 35 pounds! Even though I lost 4 pounds, my measurements stayed the same. I have lost a total of 31 inches. ONLY 25 pounds to my goal weight!
I am SO ready for spring! We have had freezing fog in Oregon the last few weeks…it's really depressing. I am over it and ready for the sun to appear again. To help myself feel a little more "springy" I wanted to share a light and refreshing recipe. I found a Breakfast Crepes with Berries recipe on the Nutrisystem website.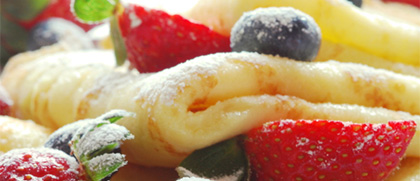 Ingredients
¼ cup Egg whites
¼ cup Frozen blueberries
½ medium Lemon, for juice
¼ cup Frozen blackberries
1   pkg Nutrisystem Pancake Mix
Directions
1. Mix Nutrisystem® Pancake Mix as directed.  Add 1/4 cup egg whites.
2. Spray small pan with non-stick spray. Ladle 1/4 cup or less of the pancake mixture into pan and rotate to spread batter thin. Flip when edges curl.
3. Add berries and juice of half the lemon to dish and microwave until warm.
4. Add Stevia to taste and mix to a jelly-like consistence.
5. Wrap in Crepes and drizzle top with remainder.
Counts As -1 Breakfast + 1/2 Power Fuel + 1/2 Smart Carb
Want to lose weight and get healthy on Nutrisystem? Join today by calling 1-888-853-4689 or by visiting http://www.nutrisystem.com/nsblog and http://www.online.nutrisystem.com.


One Response to "Nutrisystem Women's SUCCESS Select Program Week 23 Review"