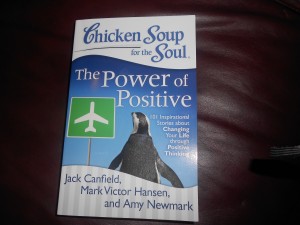 I don't know about you,  but sometimes I just get lost in this great big world we live in and I get a little bit down about certain situations I might happen to be dealing with at the time.  My husband and I have had a very rough past 5 years being in and out of jobs due to layoffs and just trying to make the best of everything.  When I received Chicken Soup for the Soul The Power of Positive I hesitated a little bit to read it.  To be very honest with you it is sometimes hard to believe that there is someone out there that might understand what we are going through.  So many people tell us that they understand and in the back of our heads we know that they really have no clue.  That has frustrated us on more then one occasion and I have shed many tears over the last 5 years.
Well as you all know I really love all of the books that come from Chicken Soup for the Soul, so I had to give this new book a chance.  I have to say that I am very glad that I did.  Reading Chicken Soup for the Soul The Power of Positive was a little bit therapeutic in a sense.  I would never want anything bad to happen to anyone, but it can be such a relief to know that others go through similar situations as myself.  Just the titles of the chapters jumped out at me so I knew that the stories would be good.  You will be reading stories about The Power of Liking Yourself, The Power of Attitude, and The Power of Relaxing.  There are so many other great chapters that you will just have to see for yourself.  I enjoy sitting down and reading this book when I am alone so that I can reflect on some of the stories being told.  I want to be a more positive person and a positive role model for Little C.  Reading Chicken Soup for the Soul The Power of Positive will definitely help me with that goal.
Make sure to enter to win this fantastic book.  You can also check Chicken Soup for the Soul out on Facebook and Twitter.
Win It: 3 US or Canada residents will win a copy of Chicken Soup for the Soul The Power of Positive.


3 Responses to "Chicken Soup for the Soul The Power of Positive Review and #Giveaway US & Canada (Ends 2/18)"