Growing up, I remember my mom always complaining about the house being cold. She'd turn the thermostat up, and then my step dad would complain about it being too warm (and the heat bill being too high) and would turn it back down. She worked from home and would keep a small heater near her desk so that she could be comfortable without my step-dad being uncomfortably warm.
Ryan & I now have similar battles at times, as I seem to get cold a lot easier than we do. Honeywell polled some people and it seems that my family's is certainly not alone in battling for the thermostat. (Right click and open in a new tab to view full size)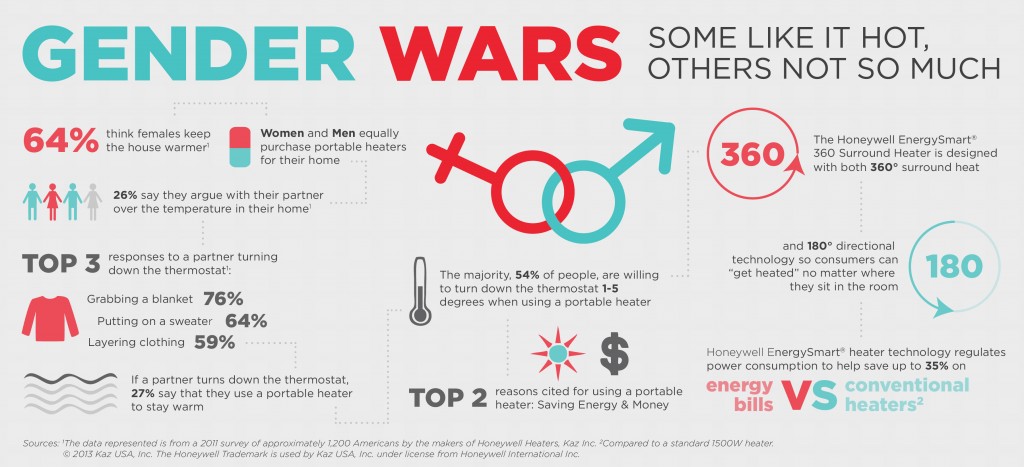 I've owned Honeywell brand heaters in the past and have always been happy with them, but I was recently able to test out the Honeywell Energysmart Surround Ceramic Heater and it's awesome.  As the infograph above explains, one of the top reasons for using portable heaters is to save money. This heater helps you save by using Energysmart technology to self-regulate how much energy it uses. This can save up to 35% when compared with other heaters. The front of the heater as a panel that reads low and high so you know how much energy the heater is using at that time. You can be in control of the heater usage in a few ways. Unlike traditional heaters, it doesn't have to be just on or off or on low or on high. It comes with a thermostat that allows you to select how warm you want your room to stay, 65, 70, 75 or 80 degrees Fahrenheit. When you set your desired temperature to one of those four options, the heater will automatically detect the temperature that the room is currently at, and will decide whether or not it needs to run and if so, whether to run on low or high to reach the desired temperature. We have loved this feature because it allows our room to stay at the temperature that we want it at, without having to turn the heater off and on or changing it from low to high all the time like we have with past heaters. However, if you prefer you can avoid setting the thermostat setting and instead just set it on low or high and it will consistently stay on at that power.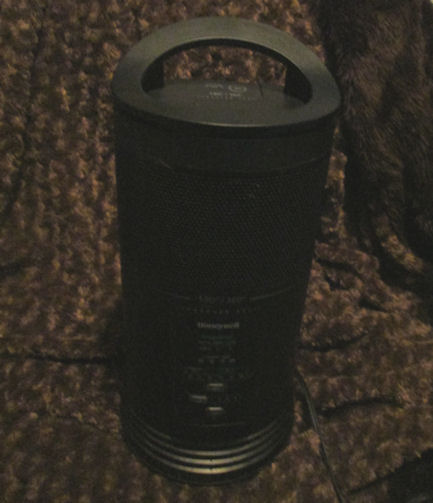 The heater also has a sleep function that lets you program the heater to shut off after 1, 2, 4 or 8 hours. The only concern that I've ever heard expressed about heaters is their safety if they come into contact with household items. This heater has a neat function that will shut the heater off if it gets knocked over. This will prevent household items from being overheated if the heater knocks over and comes into contact with them. I tried out this function by gently tipping the heater on its side and sure enough, it kicked off before it even hit the ground.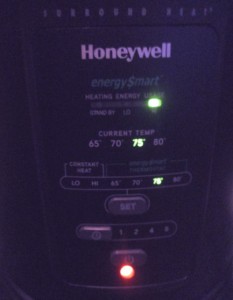 Last but not least, the Honeywell Energy Smart Surround sends heat out in either in a complete 360 circle or just half of a circle at 180 degrees. This allows you to choose to heat an entire area or to just direct heat in one spot. The 180 option is great for people like my mom who want to keep their area warm while working at their desk or snuggling up with a book, but other people are in the same room.
Honeywell has compiled a list of the top 10 books to cozy up with this winter. On that page, you can enter to win an EnergySmart® Surround Select Ceramic Heater and a $50 Amazon gift card. There will be six winners!
Connect: You can connect with Honeywell on Facebook and Twitter.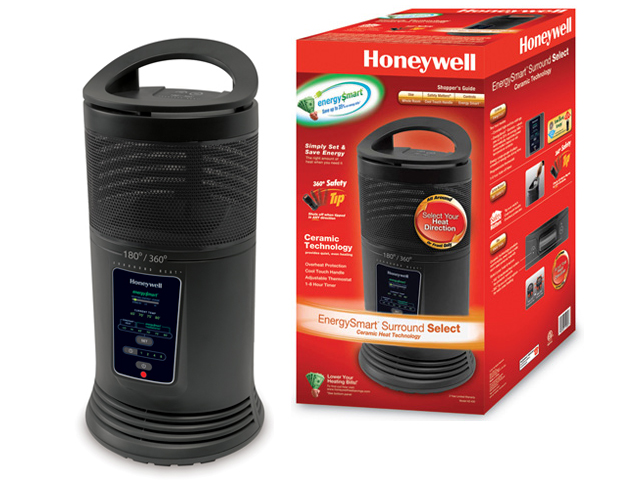 Win it: A Honeywell EnergySmart Surround Ceramic Heater ($64.99 value!)!
To enter: Fill out the giveaway tools form below before 11:59pm EST on 2/27. This giveaway is open to the US.


6 Responses to "Honeywell Energysmart Surround Ceramic Heater Review & Giveaway (2/27)"