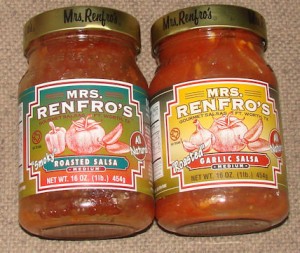 In the last year or so, chips and salsa has became one of my favorite foods to snack on. I've tried lots of brands, and to be honest I had gotten in the habit of buying whatever was on sale or cheapest at the time because they all seemed pretty similar. Until I got to try Mrs. Renfro's, anyway! Mrs. Renfro's is available right at my main grocery store (Meijer) but I had somehow managed to miss it until recently. I like all of the salsas I have tried from the Mrs Renfro's brand so far. I personally like moderate or medium salsas for the most part. I find most mild salsas really boring and lacking in personality and flavor. In some brands I like the hot kinds, but only if it is a brand that has a milder hot than usual. Ryan on the other hand thinks the hotter the better.
We were able to try out the Roasted Salsa in medium. This salsa has a smokey flavor to it which I really liked. Surprisingly, this salsa was a bit too hot for me. I really like it, but I can only eat maybe 8 or 10 chips before it gets overwhelming and I have to quit snacking. Ryan really liked the hotness of it, but wasn't much of a fan of the smokey flavor. We did like it enough to finish off the can though.
We also tried the medium salsa. I thoroughly enjoyed this flavor and I think some people who tend to prefer mild salsas would enjoy it as well. For me, I could eat as much as I want without feeling like my mouth was hot, but it wasn't a dull or boring flavor that I quickly tired of. To me, this is exactly what I look for in a salsa, not too hot that I can't keep eating it, but not so boring that I don't want to keep eating it. Ryan didn't try this one.
I also selected the hot salsa primarily for Ryan to tryout, but I liked it a lot as well. This isn't the type that would burn your mouth really quickly, but it is hot enough that Ryan really enjoyed it. I can eat a couple of handfuls of chips before it gets overwhelming for me, which is nice. I think this is a great salsa for us to purchase because it works for both of us.
And lastly, my absolute favorite salsa of all time. The Mrs Renfro's garlic salsa. I do enjoy garlic, but I wouldn't say that I love garlic. However, this salsa is amazing. It is garlicky, but not overwhelmingly so. It's the perfect degree of hotness for me. Ryan really likes this as well though he would like to see this available in a hot instead of medium. I am a pretty frugal person especially when it comes to getting groceries but I will definitely be paying the extra money for this flavor in particular. It's vastly different than the other salsa brands and types I have tried so it's definitely worth the extra dollar or two.
Connect: Keep up with mrs. renfro's on their website, facebook or twitter.
Buy it: Mrs Renfro's is available at most grocery stores. In my area it's available in one Meijer store but not the other, so keep your eyes peeled at the different stores you visit. At my store it's roughly $3.50 per jar. You can also purchase from the mrs renfro's website.
Win it: Your choice of 4 jars of mrs renfro's salsa (or other foods such as relish, nacho cheese, etc!)
To enter: Fill out the form below. Giveaway is open to the US and will end 5/1.


Hi there! I am Emily Evert, the owner of Emily Reviews. I am 25 and live in a small town in Michigan with my boyfriend Ryan and our two pugs. I have a large family and I adore my nieces and nephews. I am a calorie counter who loves soda. I budget to save money so I can spend it on my dogs. I love reading memoirs, and learning about child development and psychology. I love watching The Game of Thrones, Teen Mom, Sister Wives and Veep. I like listening to Jason Isbell, John Prine, Kris Kristofferson and Blue October. I created Emily Reviews as a creative outlet to share my life and the products that I love with others.
This post currently has 4 responses.