Likewise is a line of anti-aging skin care products designed by Dr. Julie Pena, a Dermatologist and Mohs surgeon. Likewise products combine sun protection with anti-aging ingredients to prolong the skin's youthful appearance. They offer skin care products based on each skin type – it specifically takes into account the amount of water in your skin, the amount of oil in your skin, and the level of sensitivity of your skin. The line includes a Face + Body Wash that's suitable for all skin types, a Hand + Body Moisturizer, and Facial Moisturizers for oily, normal, and dry skin.
For my review I received the Face + Body Wash and the Facial Moisturizer for Normal to Oily skin.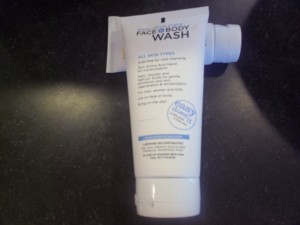 The first thing I noticed when using the Face + Body Wash was the fresh citrus scent, which was a refreshing addition to my shower experience. I personally have very oily skin, so the Face + Body Wash worked very well for me. My skin felt clean, toned and tightened, but not dried out. I also felt like the exfoliating properties were doing their job because my skin felt baby soft. I used the wash on my face, neck, chest, shoulders, and upper back and had absolutely no issues using the product every day from the start. The instructions say to ease into everyday use because this product can over dry and irritate some skin; which I could definitely see happening if you don't have the oily skin that I do.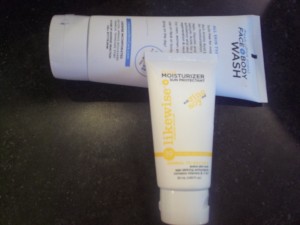 My first opinion of the Facial Moisturizer was that it made my oily skin feel too greasy and weighed down. I used what I thought was a normal amount, but then I read through the directions that were included with the products and found out that I was likely applying too much – they are very serious when they say that a little goes a long way. The next time I tried it, I used much less and it worked flawlessly. I applied it to my face, neck, and chest before I headed out for the day. I spent quite a bit of time out in the sun between running errands and running with my five year old at the park, but I didn't have a hint of redness to show for it. My skin stayed moisturized, but not greasy or heavy, and I was protected from the sun – I couldn't ask for more in a moisturizer.


Hello, my name is Laurie. I have been married to my husband for 13 years. We have two young daughters, ages 9 and 12 years old. My family and I live in Oregon so that means we are just minutes from the beach, mountains, and desert.  We love it here and try to spend as much time outdoors playing as we can. When we aren't outside playing, I enjoy reading, baking, refinishing furniture, and other crafts.
This post currently has 2 responses.