Families with Purpose was created in 2003 with the ambition of helping parents find more time to spend with their family. They offer a variety of products that were designed to teach parents ways to be more effective and efficient in their home, so that there is more time for family fun.
I, like most parents, don't feel like we have enough quality time with my Daughters (ages 3 and 5 years old). My Husband's job often has him working long days and occasionally out of town overnight. I am a stay at home Mom trying to juggle parenting, housework, school schedules, after school activities, meals, and my activities. I usually go to bed feeling like I have failed because their wasn't enough time for ___ or maybe I was too tough on___today or I should have done more of ___ today. I want to be able to find joy in each day and live life to its fullest potential.
I was really excited to learn some new techniques from Families with a Purpose. For my review, I received a Family Fun Wall Calendar and Monthly Meal Planner eBook.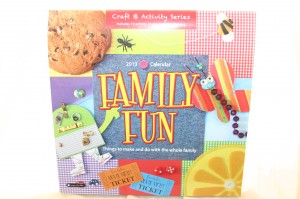 I don't have a problem with an unorganized schedule, I actually have the opposite problem. I pack my schedule full of chores and usually forget to schedule time for fun. I was really drawn to The Family Fun Wall Calendar because each month it has a different them to promote family fun.  It comes with craft sheets that correspond with each month's activity and stickers to mark events in your schedule.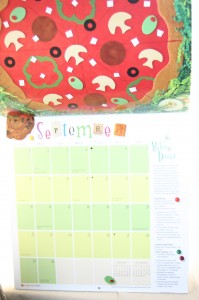 Our Family Fun Wall Calendar doesn't start until January 2013 but, we are already having fun with the creative ideas. For the month of September, there is a Pizza Recipe and Cookie Dough Pizza recipe for a Family Dinner. They suggest you allow your children to help cook in the kitchen with age appropriate tasks. We plan to make both pizza recipes next Friday night.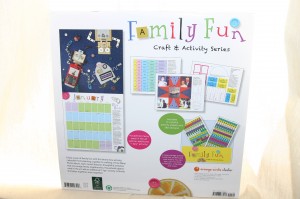 One of my biggest headaches in our busy day is planning what my family is going to have for dinner. I am currently participating in a diet program so my meals are different from theirs. This means I have to make two healthy meals and one of them needs to be kid-friendly. The Monthly Meal Planner helps plan family meals with step by step guidance. It teaches you how to plan, shop, and involve family members in meal preparation.
I am still trying learning how to best use these tools in our family. My Husband and our Daughters have become more involved in their meal planning. By planning a head, I can be sure that I have all the healthy ingredients needed for their meals. I have more work to do but the Monthly Meal Planner is making dinner time easier.
Families with Purpose is on facebook and twitter.
One lucky winner will receive both products I reviewed; this is a US giveaway that will end on 10/05/12.
Loading Entry-Form…
…



This post currently has 2 responses.