Zipz Shoes is a line of interchangeable shoes – you can choose different soles and covers to create a shoe that's truly you. The cover zips to the sole, so you can choose several different cover patterns and/or colors, and sole colors, and switch them out depending on your mood for the day. There are several lines to choose from including adult and youth hi-tops, lo-tops, and zip-ons and, within each of these lines, there are several design and color options.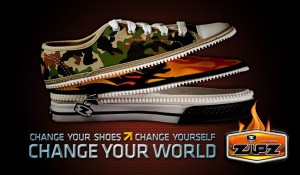 My five year old Nephew chose the Youth Zip-Ons in the Flamez pattern, and he loves them! He was incredibly excited to pull them out of the box and put them on. The souls come in white/white, black/black, and white/black. The smallest size they had was a size 12 so they're still a little big on my Nephew, but he'll grow into them in no time.He chose the zip-on style because there are no laces or Velcro, it's just a slip on shoe so it's much simpler to work with when we're trying to get out of the house on time in the morning. I love the zip on/off cover idea because it really does allow the wearer to match an outfit or make a statement without much effort.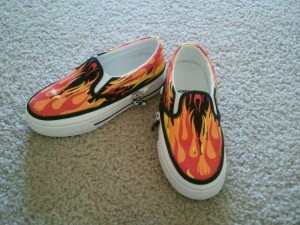 My Nephew is already picking out the next pattern he wants to try – a few options he's looked at are the army camo, spiderz, and skullz. If none of those are quite your style, they also offer solid colors (mocha latte, cranberry, jet black, etc.) and other patterns (pink argyle, pink camo, polka dotz, ruby heartz, etc.).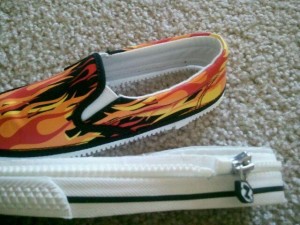 The covers are about half the cost of the entire shoe (cover and sole). The soles and covers seem to be very well made, and my Nephew claims they're "the most comfortable shoe he's ever had on his foot."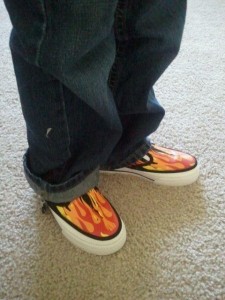 We had no problem getting the cover unzipped from the sole, but when we first tried to get it to zip back on we couldn't for the life of us make it work. We assumed that a zipper is a zipper is a zipper; however, there is a little trick to getting these particular zippers to work. We had to pull out away from the shoe and pull forward. Once we tried that, it zipped back on easily time and time again.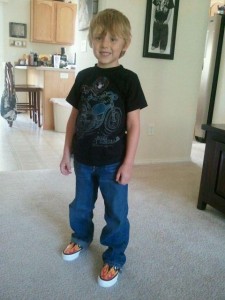 Zipz Shoes is on facebook and twitter.
One lucky winner will receive 1 pair of Zipz shoes in their choice from the current look book. This is a US giveaway that will end on 10/13/12.
Loading Entry-Form…
…



Hello, my name is Laurie. I have been married to my husband for 13 years. We have two young daughters, ages 9 and 12 years old. My family and I live in Oregon so that means we are just minutes from the beach, mountains, and desert.  We love it here and try to spend as much time outdoors playing as we can. When we aren't outside playing, I enjoy reading, baking, refinishing furniture, and other crafts.
This post currently has no responses.