*Coupons.com provided me with a gift card to Kohls as a thank you for this post. All opinions are my own.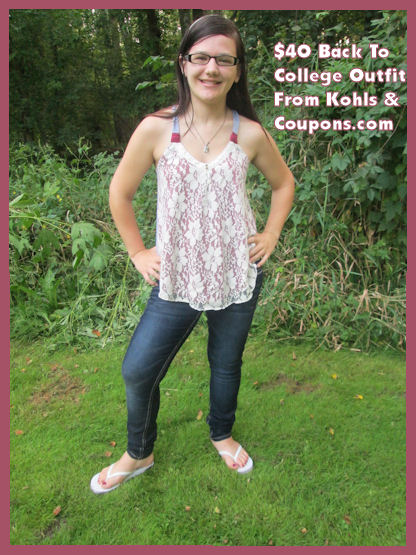 Growing up, I went to a small school where there is only one elementary, middle and high school. Each grade had about 100 kids and while the first day back to school was exciting because I got to wear brand new clothing, I wasn't making too many new impressions as the kids in my grade had known me since Kindergarten other than maybe two or three "new kids" each year. In contrast, starting college was a whole new world for me and I didn't know anyone in any of my classes. First impressions were a big deal and I cared more about my clothing seems how clothing plays such a roll in first impressions. I'm 22 now and won't be in class this fall but tons of people my age are looking for clothing for college and I really recommend checking out what Kohl's has to offer for young adults. Last week I showed you guys the summer date night outfit that I got from Kohl's for under $50. I have a small confession. When ordering from Kohl's, I didn't really plan that outfit. I planned to use that top with the jeans from this outfit but when it arrived, the top from this outfit appeared more off-white than true white so it didn't match the shorts. This affected my accessories, including the tie front cardigan that I was going to wear with this outfit.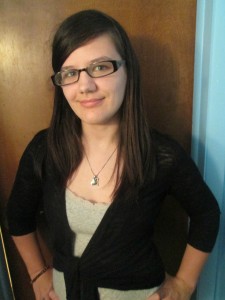 It was $10.80 before the 15% savings. While it doesn't work with this tank top (the double laying makes it too bulky to wear under the front tie) it would work with tons of other shirts. I plan to use it over dresses, tanks and regular shirts. It looks great tied or just left hanging open. Very versatile!
On to this outfit. When school first begins here in Michigan, it's hard to know what to wear because it can be too cold for shorts but too hot for thick clothing or long sleeves. So this two layer thick tanktop paired with jeans works nicely. In fact, I wore this outfit today when it was 70 with a slight breeze and stayed comfortable all day.
I like to leave my hair down but I get tired of it looking exactly the same everyday, so a thin headband from the 5 pack that I got for $4.00 at Kohl's adds a little something without taking tons of prep time. I wore the white one to help tie in my white flip flops.
The Rewind Lace Racerback Tank Top is one of my favorite shirts right now. The burgundy under layer peeks through the off-white lace for a little pop of color and the back is a light gray. The layers are not sewn together so they separate when you walk or move around making the top super comfortable. The back has a unique shoulder line that almost reminds me of pillow dresses which is a detail that I love. The top of the shirt has two small brown buttons that add a sweet touch and the top hugs my upper body in a feminine way while still being fairly modest. I love the blend of colors in this top and the way that it fits me. I wear a small about 50% of the time and a medium the other half of the time and I went with a small and it fits exactly how I wanted it to so if you are between sizes it's probably safe to go down a size if you aren't looking for a really baggy look.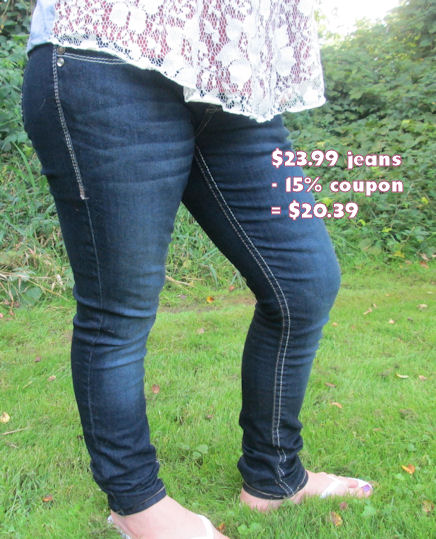 The jeans are Juniors Wallflower Luscious Curvy Skinny Jeans. I love the Wallflower brand because their jeans have a lot of stretch to them and they are really comfortable to move around in but they hug your body in a flattering way. These are a bit long on me but I am only 5′ tall so that is to be expected. I am pear shaped and am proportional wider through my hips and thighs than most women and wallflower jeans are cut in a way that is comfortable for my body shape. At $24 (Before the 15% off discount) these were a really reasonable buy for me and they'll go with just about everything else I own so I know I'll get tons of wear out of them.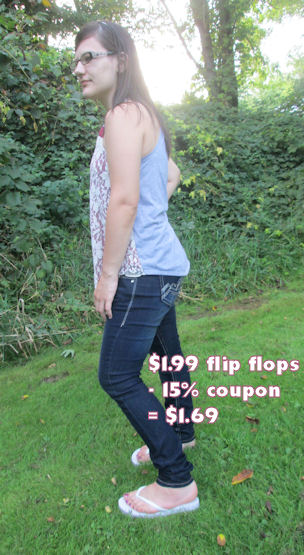 Last but not least, the SO Zori Solid Flip-Flops were just $1.99 (before the coupon!) making them an absolute steal. Being plain white, they go with everything I own and are a staple that every girl should have in her closet.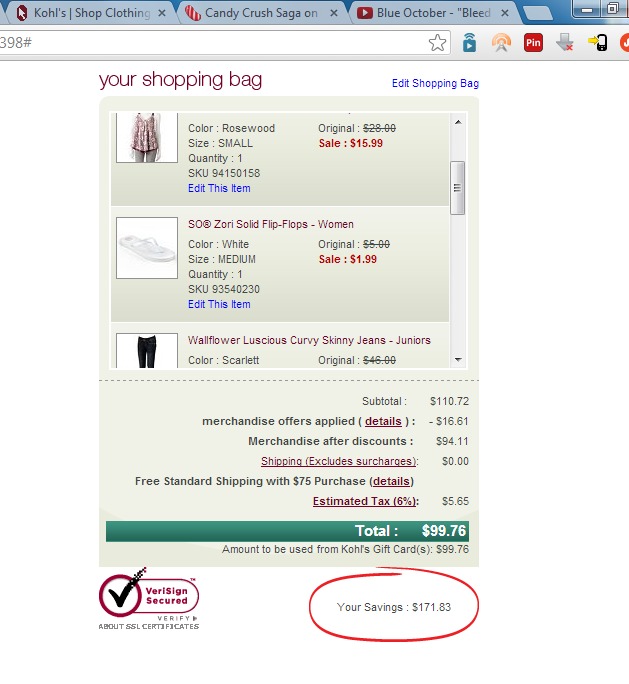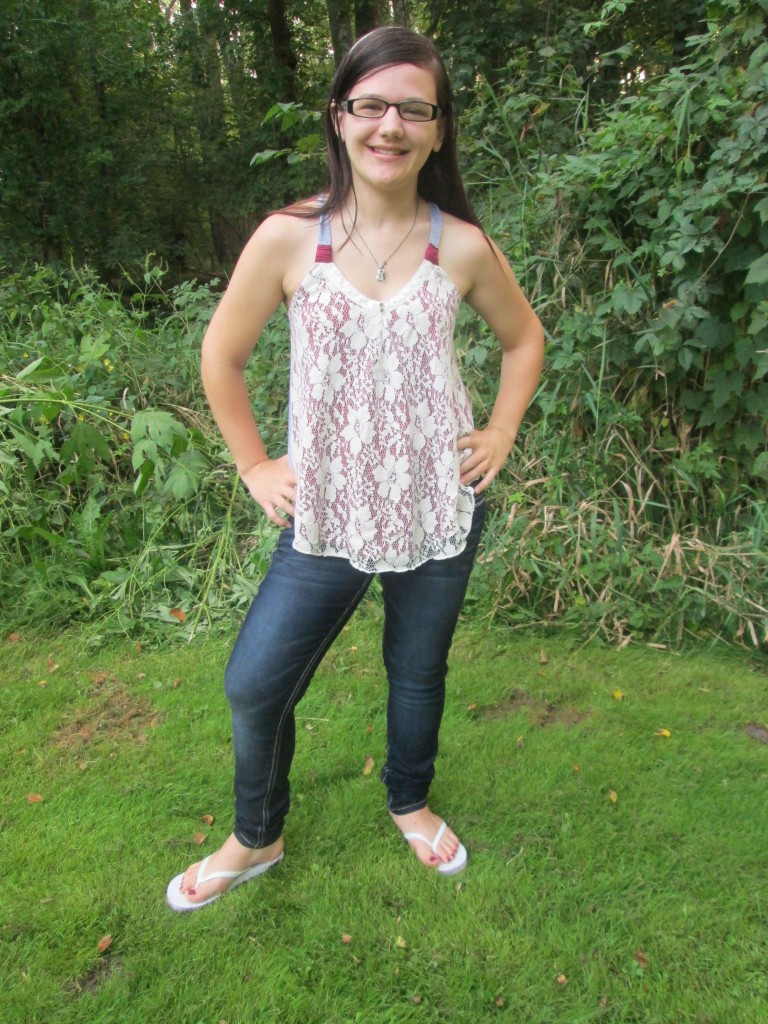 My original total for the items in this outfit was 45.97. I was able to find a 15% off your total order coupon for Kohl's from Coupons.com which brought my total for this outfit down to  $39.07! I actually purchased the items from both outfits together so my total was $99.77 and I saved 171.83! Two full outfits plus an extra cardigan for under $100? That's what I call a bargain. Plus, I got $10 in Kohl's cash for spending over $50!
Do you use Coupons.com coupon codes while shopping online? What tips do you have for saving money at Kohl's?


This post currently has 7 responses.