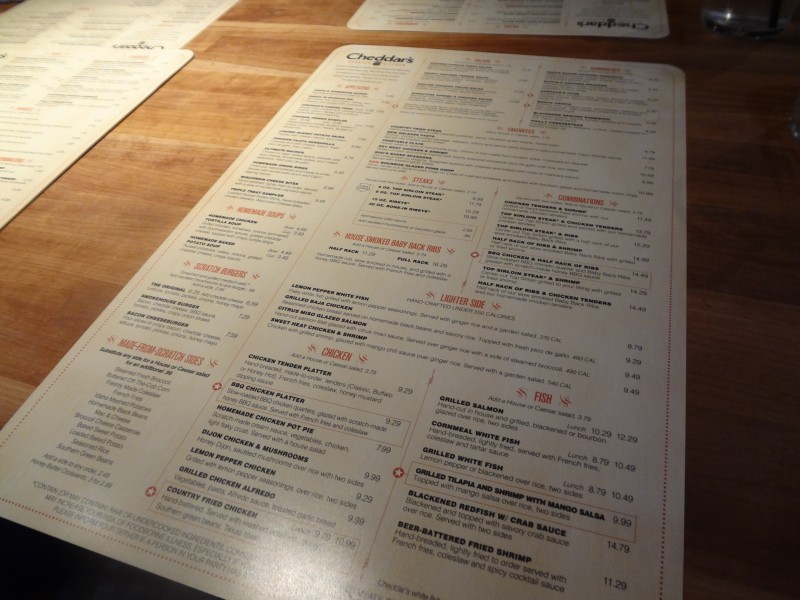 Thank you to Cheddar's for providing me with a complimentary dinner in exchange for review purposes. All opinions belong to me. 
You all know by now that my husband and I love trying new and adventurous foods. What I haven't talked about is a bit of my food history. I remember as a child bringing lunch from home that I was so incredibly proud of. Most other children around me were bringing things like Lunchables packs and peanut butter and jelly sandwiches. My mom always made home cooked food and I always got leftovers in my lunch the next day. Often times I was bringing homemade grilled BBQ rib sandwiches with chips. I always remember lunches like smoked chicken sandwiches and I couldn't wait for lunch time. So while I love food adventures my roots are deeply imbedded in homemade from scratch cooking. Cheddar's Scratch Kitchen meets those home cooked meal standards and doest break my bank doing so!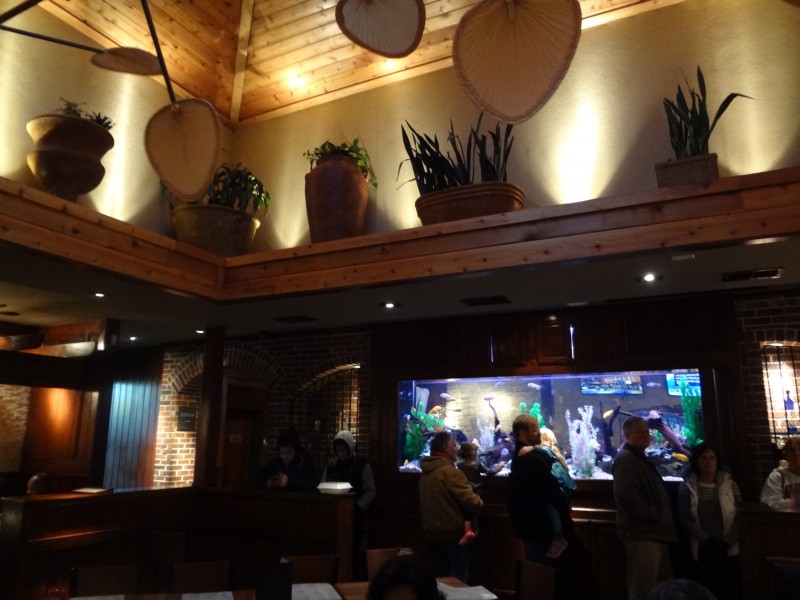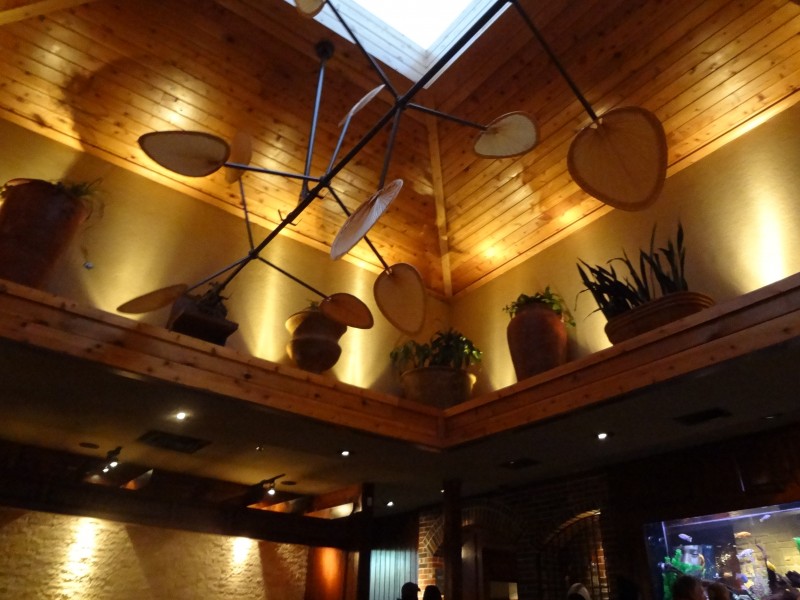 The atmosphere of Cheddar's Scratch Kitchen isn't one to be forgotten. A beautiful center room that features a serene aquarium and an almost hypnotic paddle fan are sure to fit any type of dinner be it a cozy dinner date, a family get together, or an anniversary dinner. Our night was about a last night out before baby arrived with close friends.  We went during a Saturday night which we found is their most busy night, but everyone was happy within the waiting space and the wait time seemed to moved along pretty quickly for those who were waiting.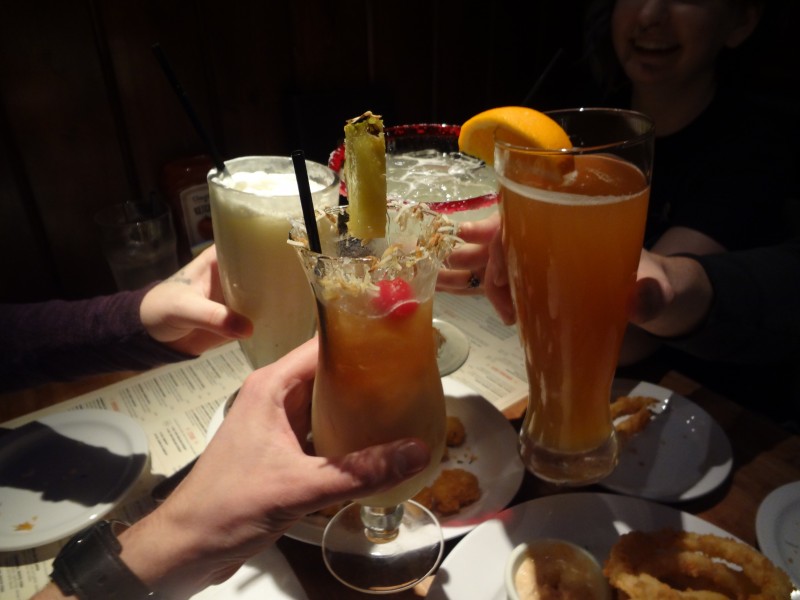 We were met by the manager Eric and an amazing waitress Michelle. Having great service is such an important part of a dinning experience. A waitress who you can relate to and who knows the menu incredibly well is such a warming touch. Our table was promptly met with water, beautiful drinks and a specially made non alcoholic drink for myself. The manager made sure that we had the best selling appetizers within ten minutes of arriving. So what were they? Let's get down to it!
I love fried food but batter and oil means everything. Too greasy and fried food is no good because everything gets soggy, to crispy and your gums end up sore from all too crunchy breading.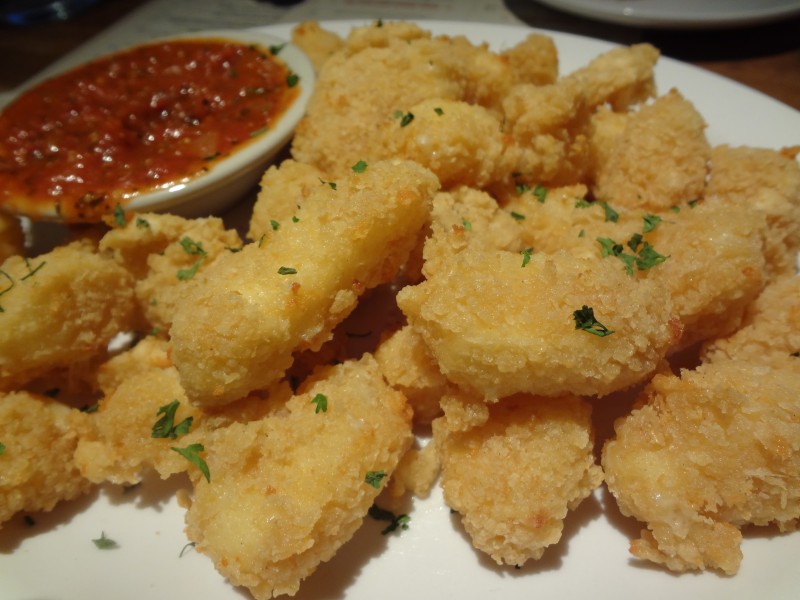 These Wisconsin Cheese Bites were beyond any cheese curd I've ever had. Homemade marinara that I don't think I can ever get out of my head, was the perfect pairing for these perfectly crisp little curds.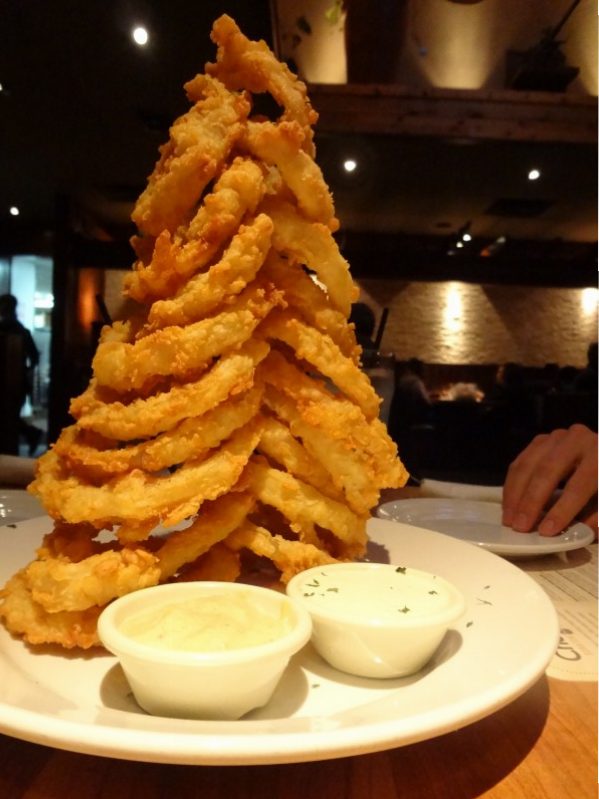 The onion rings are battered in the same batter and stacked to the ceiling! We got a couple different sauces all handmade that made this appetizer really stand out.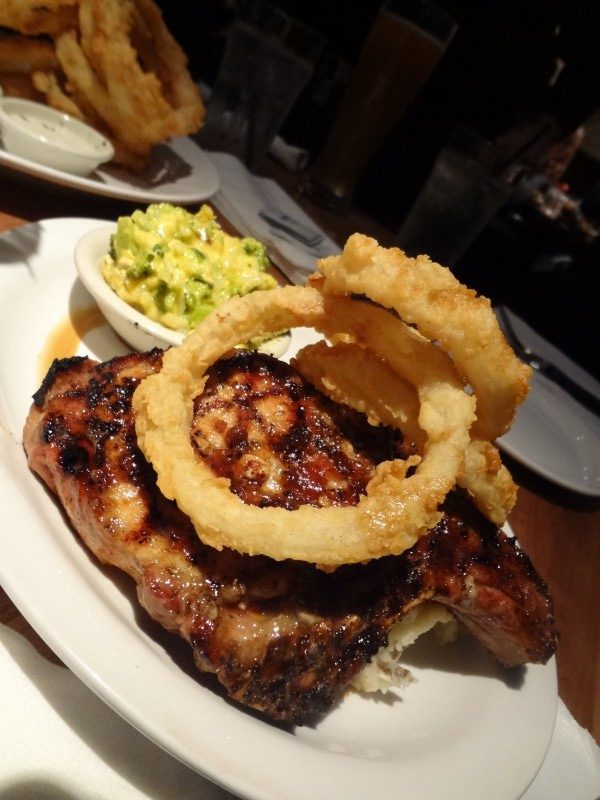 Next ordered for us was the newly featured Bourbon Glazed Pork Chop. I would go as far as to say my husband hates pork chops, I never make them because he just hates the dryness and it never turns out. My husband absolutely loved this bone in pork chop. The sear on the outside of the steak was perfection paired along with the juiciness of the pork chop , topping it with the bourbon glaze seriously put this pork chop off the charts. We ended up asking for more of this bourbon glaze to pour and taste with almost everything we order after.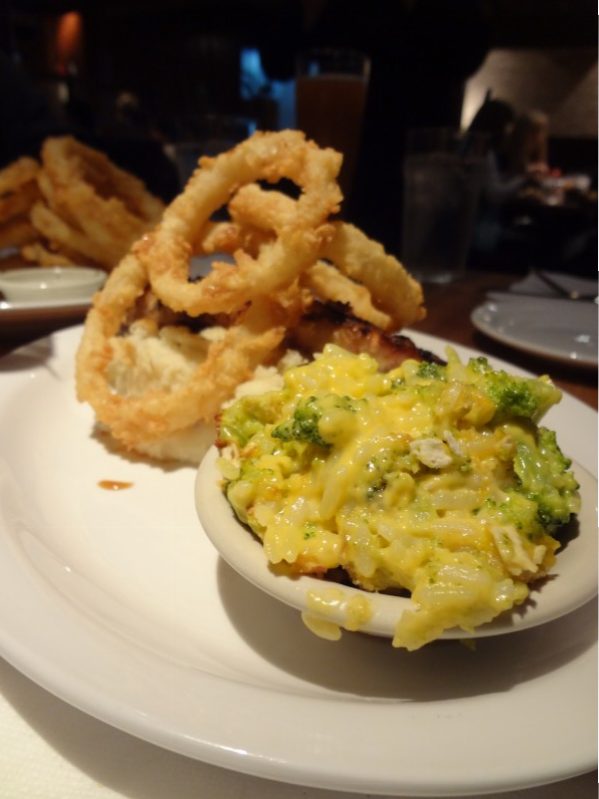 A side of the Broccoli Cheese Casserole made this such a soul warming meal, everyone at the table loved it! Just ask about the history of the dishes and you will reach another level of home comfort, guaranteed.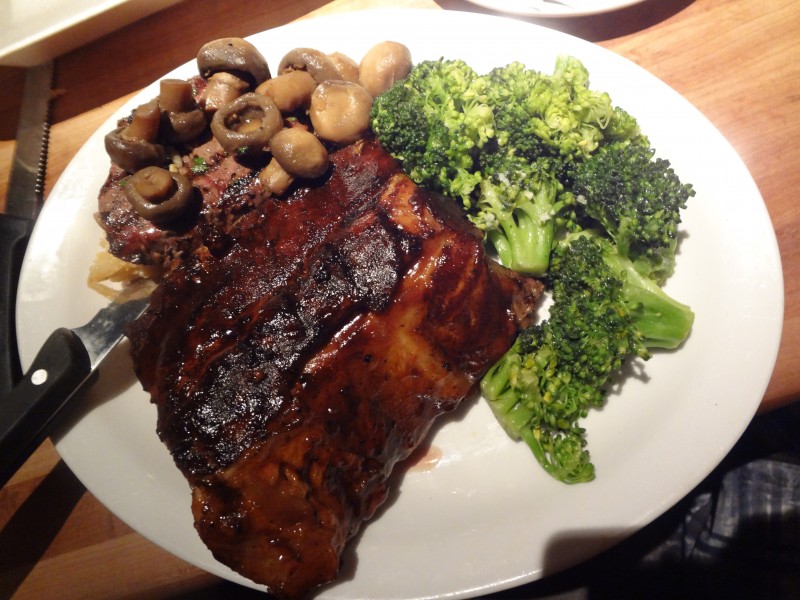 We then moved onto our entrees. I ordered Top Sirloin Steaks and Ribs, pictured below with some pretty tasty sides of Steamed Fresh Broccoli and Homemade Coleslaw. These were by far the best ribs I've had at a restaurant, they completely fell off the bone and were so sticky! I consider myself a total coleslaw snob and this was one of the top coleslaws I've had!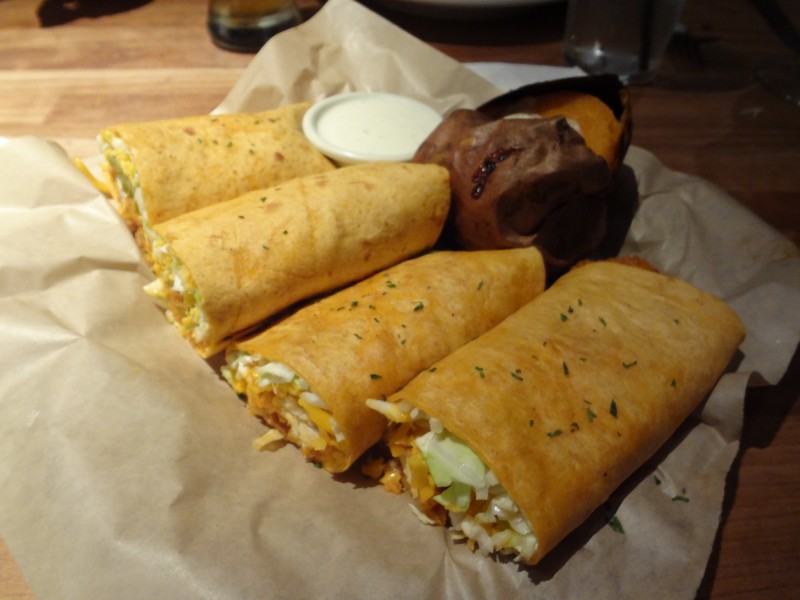 My husband got the Buffalo Chicken Wrapper, he really loved these as well with a super moist baked sweet potato topped with cinnamon butter.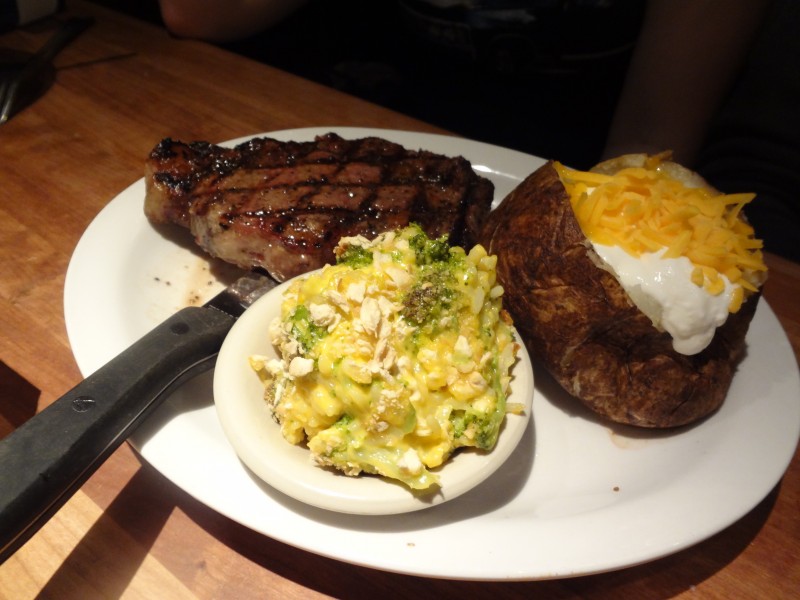 My best friend got a Top Sirloin Steak as well cooked perfectly and seasoned so well steak sauce wasn't even needed!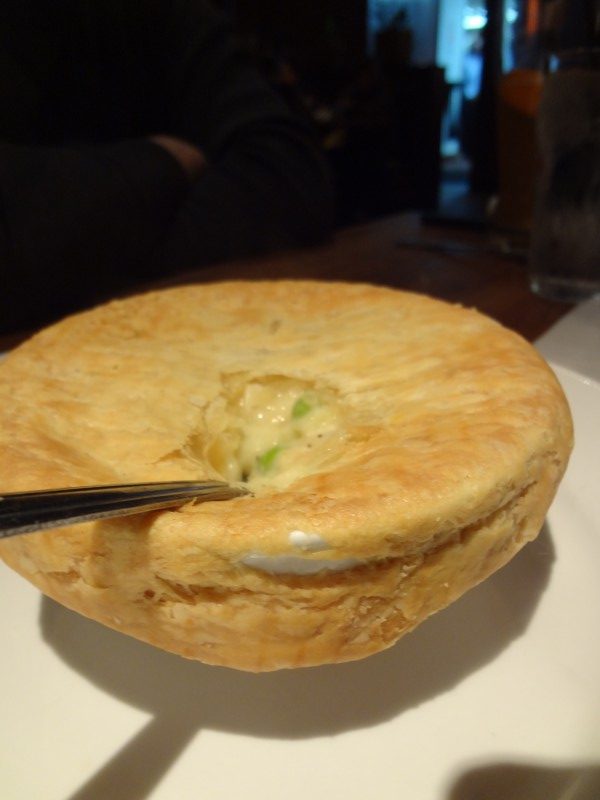 Her husband got a Homemade Chicken Pot Pie which was topped with a perfectly flaky crust and tender moist chicken inside. He also ordered a salad that had a very tasty Honey Lime dressing. I really loved that every detail was thought out and handcrafted, something that really illustrated this was the handmade Honey Butter Croissants that came with the salad. They were soft, warm, flaky, buttered and just the right amount of sweet.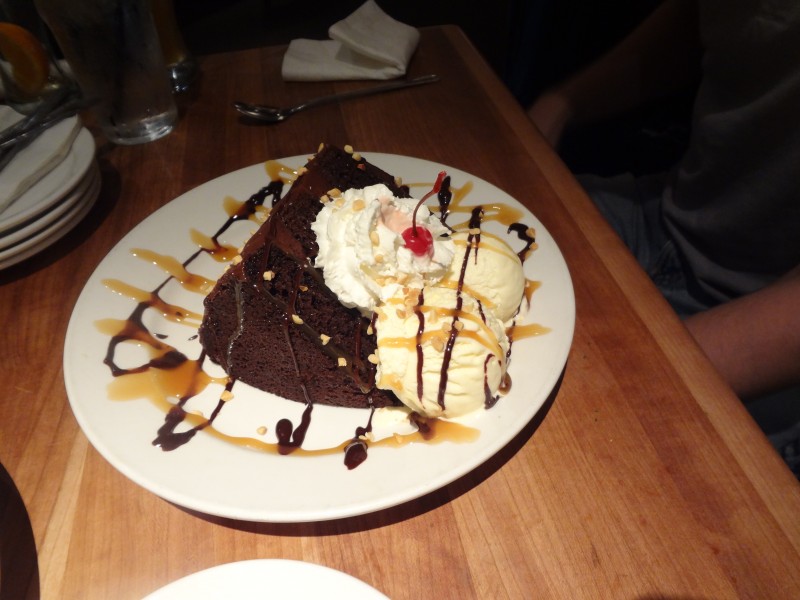 Dessert was phenomenal. We indulged in a Hot Fudge Cake Sundae as well as a Seasonal Crisp A La Mode. Most restaurants use a frozen situation when it comes to desserts but you could completely tell that both of these dishes had someones hands hard working to make them just right. We brought these home and enjoyed again later in the night!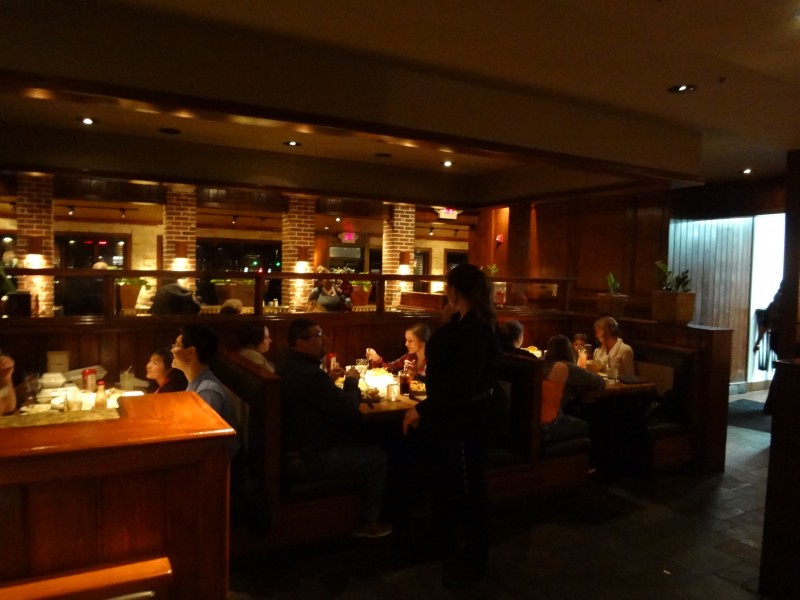 So many times my husband and I have tried our local restaurants in hopes of good home cooked food, unfortunately every time that we've gone to these places, we've walked away thinking wow I can't believe I just paid that much for some food that wasn't even as good as a home cooked meal. I love that we can trust the food was handmade at Cheddar's Scratch Kitchen with the intention of keeping prices affordable. I'm so glad that we now have Cheddar's Scratch Kitchen as an amazing place to go with a beautiful calm atmosphere and amazing food that I find myself craving quite often!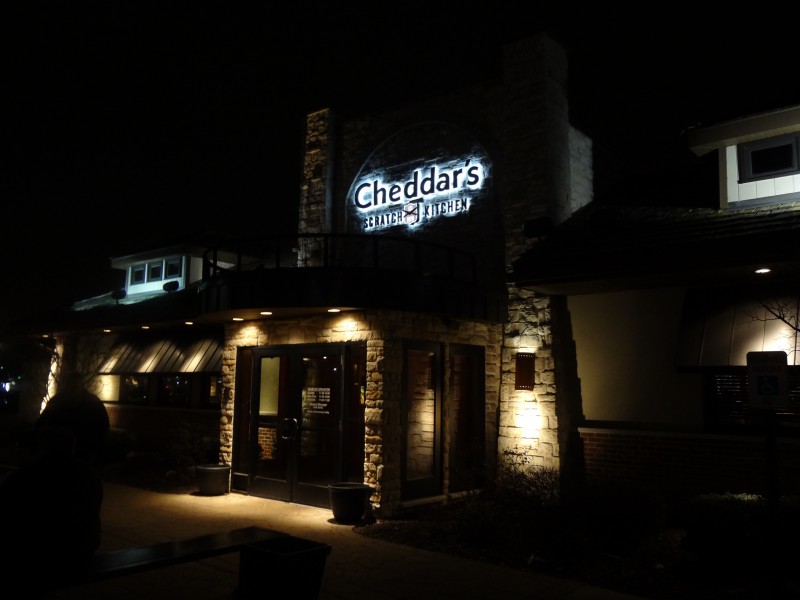 We are so lucky to have this restaurant near us, I honestly can not wait to get back in there!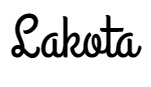 I am a stay at home mother of two, who loves to create in every form, from cooking, to henna, to painting or sculpting, creating with my hands is my passion! I love to dance and let loose when the music flows right. Being outside is a special kind of therapy I think humans need more of as well as mindfulness! I love all things new and adventurous and am always looking to experience more of life 🙂
This post currently has 5 responses.