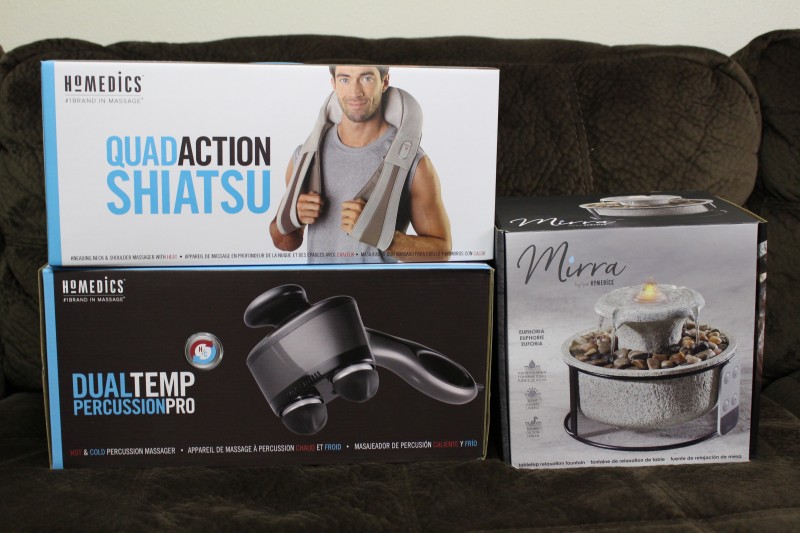 Thank you to HoMedics for sending products in exchange for my honest opinion in this review.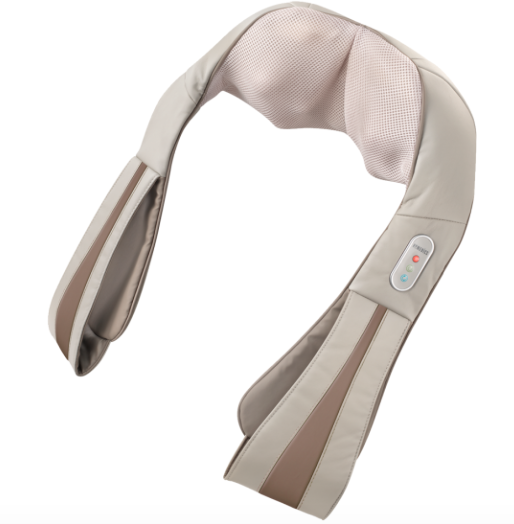 Who isn't looking for more relaxation in their life? This holiday season HoMedics has some wonderful options for gifts that provide relaxation for the recipient. I received the Quad Action Shiatsu Kneading Neck & Shoulder Massager With Heat, the Dual Temp Percussion Pro Hot & Cold Massager and the Mirra Euphoria Tabletop Relaxation Fountain for review.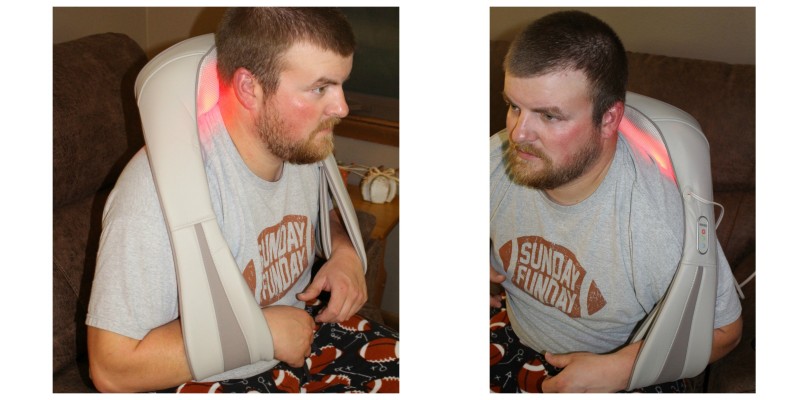 The Quad Action Shiatsu Kneading Neck & Shoulder Massager With Heat (shown above) provides deep kneading shiatsu massaging to loosen tight muscles. My husband and I both appreciate that this massager can be used on your own without the assistance of someone else. You can choose between a deep kneading shiatsu massage, a soothing vibration massage or a combination of both. There are three speed settings that allow you to control the intensity of your massage. You can also choose to add heat for a more relaxing massage. My husband is a farmer and he often complains of tight neck and shoulder muscles so this was a welcome addition to our home. He uses it often at night while sitting on the couch watching TV and relaxing. He really enjoys it.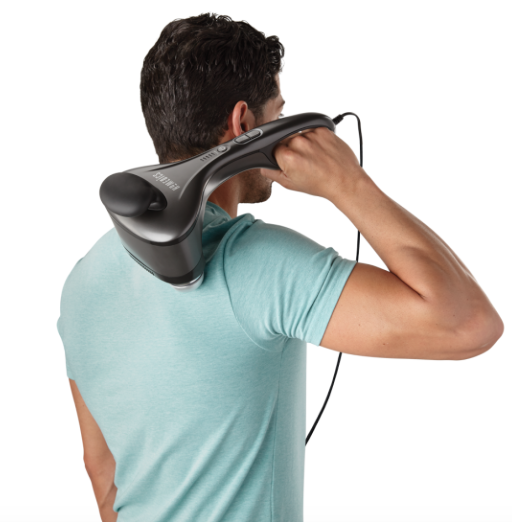 We also received the HoMedics Dual Temp Percussion Pro Hot & Cold Massager (pictured above and below). This massager features hot and cold settings to help enhance your massage experience. The dual head delivers a deep, targeted massage. It comes with three interchangeable massage nodes so the massage can be customized even further. Again, my husband and I appreciate that this massager can be used on your own. Should you want an area massaged that is a little harder to get to (low back?) then another person can easily run the massager. It has an ergonomic handle and is very easy to maneuver.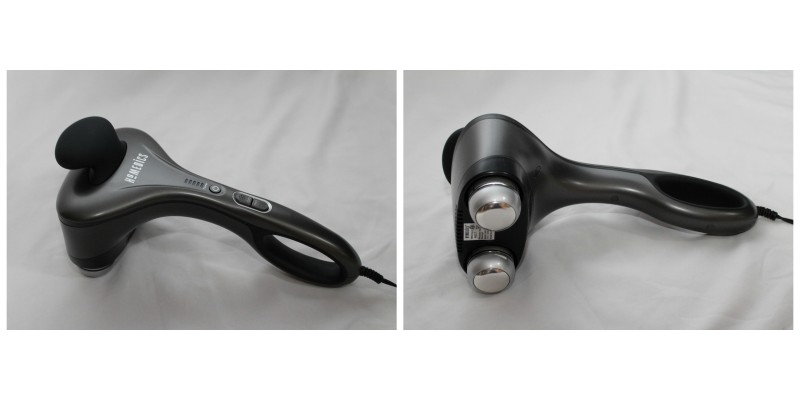 Finally, I received the Mirra Euphoria Tabletop Relaxation Fountain. I originally was thinking about using this fountain in my office at work, but I set it up at home in the bathroom and am really enjoying it here. Time will tell if I bring it to work when I return from my maternity leave! The Mirra Fountain uses natural water sounds to help relax you. It has a soft light/glow at the top to help increase the ambiance. It measures 7.5 by 7.5 by 6.75 inches, so it is the right size for use on the bathroom countertop or a desk at work. The Mirra also optionally plays soothing music, which can be controlled by a remote control. The only critique I have about the Mirra is I wish It would have come with more stones. In the pictures on the box and online it looks like there are a couple layers of stones, and mine barely came with enough to cover the stone area in one layer. Other than that I am pleased with the fountain.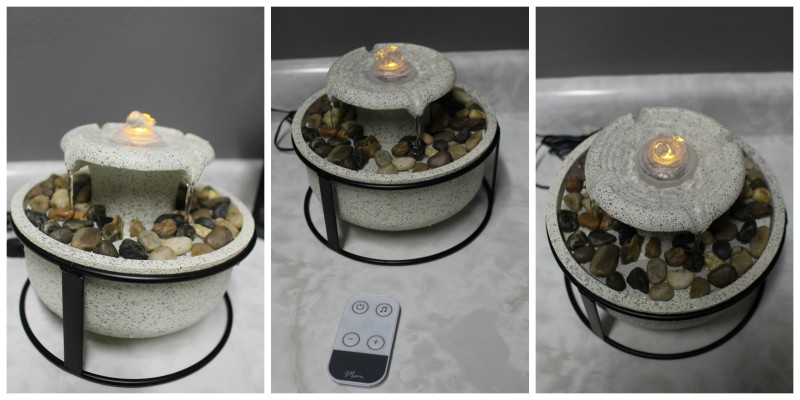 Do you have anyone on your holiday shopping list that might like one of these items from HoMedics?
Buy It: Head over to HoMedics to see for yourself the great selection of products they offer.
Connect: Don't forget to like them on Facebook, follow them on Twitter, Pinterest, Instagram and YouTube for all the latest news and promotions.


Hi, my name is Asha. I am 30 years old and am a nurse by profession. My husband and I have been married for over five years and together we have a sweet three-year-old daughter, an infant son, and a lovable bunny named Caramel. I enjoy spending time with family, taking photographs, scrapbooking, hunting, fishing, cooking and gardening.
This post currently has 9 responses.