*Coupons.com provided me with a Kohl's gift card to use for this post. All opinions are my own.
I've loved shopping at Kohl's ever since I was a child. I am a deal seeker by nature and I've probably found more "gems" in the clearance racks at Kohl's than anywhere else. In high school I went through an "edgy" stage and I still try to avoid looking too mainstream but my edgy stage made me appreciate how Kohl's covers such a wide variety of styles – as my style has changed over the years, I've always been able to find clothing that suits my taste. The weather here in Michigan has been pretty up and down this summer but I was able to put together a casual date night outfit that I love from Kohls (with the help of coupons.com ) for a grand total of $48.86!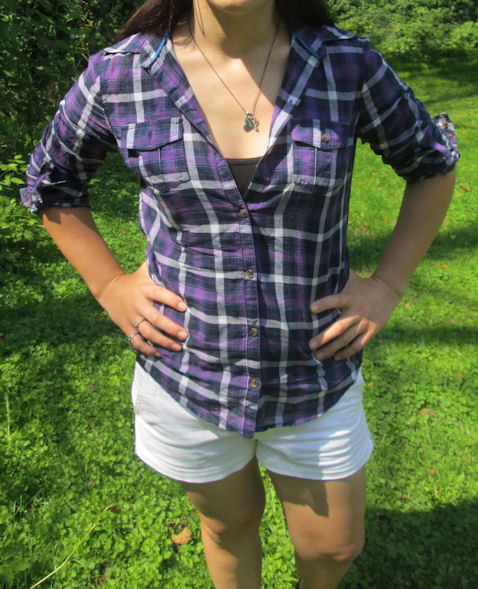 I have always loved black and purple together, and I own two other button front plaid shirts that are primarily purple and black but this shirt is set apart from my other ones because of the material. It's a very thin material that is super breathable, making it comfortable to wear in warm weather. It has a button so you can roll the cuff and hold the sleeves in place but it is not sewn on so you can unbutton and unroll the cuffs to wear the sleeves long. With a camisole or other undershirt underneath, its warm enough to work in fall weather as well. I ordered a medium in this shirt (I wear small and medium both about 50% of the time) and it still fits me me well so its designed to be cut close to your body giving it a nice, feminine look. This same shirt style is available in 5 other colors as well.
The SO Chino Shortie Shorts are my favorite item from the order. I have a friend who wears chino shorts and they are adorable on her but she has a very different body type than me (long, slim legs), so I didn't think they'd work on my short, pear shaped body but I love them. I have thick hips and thighs in comparison to the rest of me, so it's hard for me to find shorts that fit around the waist but aren't snug around my thighs. I love how these have a bit of space around my thighs making them comfortable and I don't have to pick at them all the time. I also think that they flatter my body shape really well which truly shocked me. It definitely goes to show that you should always try on new styles even if you're "sure" they won't work for you! At $9.99, these were an incredible buy for me.
Seems how my outfit was a bit on the casual side, I wanted to use the shoes I chose to make the outfit seem more dressy but not too dressy. I went with the a pair of Mudd heels that have a closed toe with a small bow on the front. The heels is only 2 1/4 inches, so it's shorter than most and the shoe bedding has a slight pad to it making it slightly squishy. I have wide feet and always order heels 1/2 size larger than my tennis shoe size as a result. These heels have a more generous width than most heels so I think I could have gotten away with ordering my regular shoe size, and that added width combined with the low heel make these incredibly comfortable heels. I am very guilty of getting to a restaurant, wedding, etc and kicking my heels off as soon as I get sat down at a table. That isn't at all necessary for me with these heels because they are just so comfortable. They are also plain enough that they can fit with most any outfit so i'm sure I'll get tons of wear out of these heels. Seems how I have wide feet, I tend to only wear heels occasionally so I haven't owned a ton of them but these are definitely my favorite pair! I'd recommend them to anyone looking for a comfy pair of heels, especially if you have wider feet.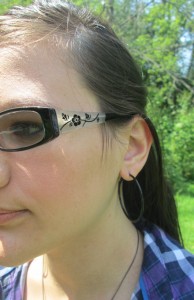 Last but not least, I wanted to add in a piece of jewelry. I am a simple girl who tends to go with simple jewelry, and I loved how classic and simple the SO Two Tone Hoop Earring Set was. It includes three pairs of hoops – black, silver and "jet" earrings so again these can go with just about anything. I went with the black ones for this outfit to help match my shoes and the black in my shirt.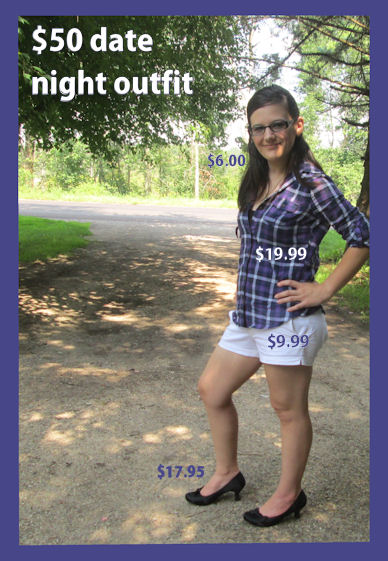 The order total would have been $53.95 but I used a 15% off your total order coupon code from Coupons.com bringing my total down to $48.86. I love this outfit and I can easily use all of the pieces in several other outfit options as well so I am quite pleased with the value that I got.
Do you use coupon codes when shopping online? What are your best tips for saving money on clothing? 


This post currently has 11 responses.