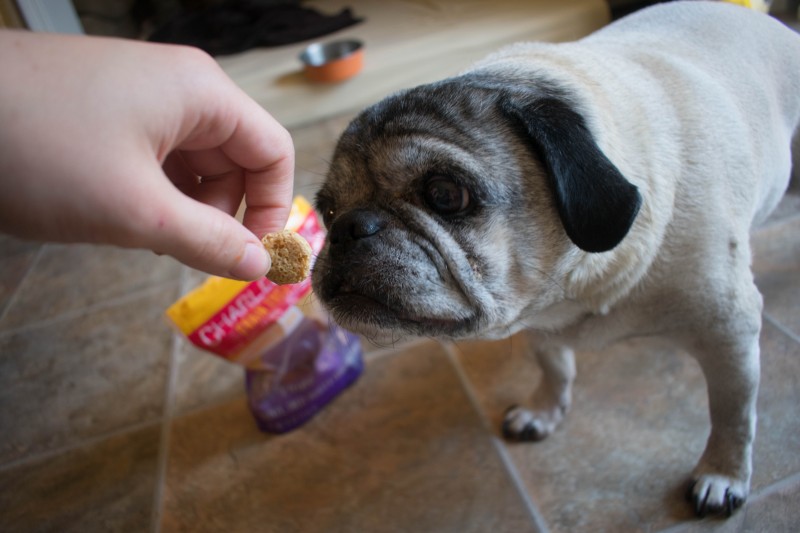 Charlee Bear sent me dog treats for review. All opinions are my own.
Earlier this week was the 6 year anniversary of when we brought Frank and Beans home. It was clear to us that they expected a treat after coming inside from going to the bathroom. They would turn around as soon as they got inside and look up at us excitedly and expectantly. They were so excited to get a treat after coming in, that we just couldn't resist. Six years later, we're still in the habit of giving them a treat for going outside. I guess we're softies!
At the same time, we try to watch their weight. They were rather overweight when we got them, so we started measuring their food and that helped a lot. However, some days they go outside more than half a dozen times, so the calories in treats can add up as well. We love finding lower calorie treats, and/or treats that can be broken into small pieces.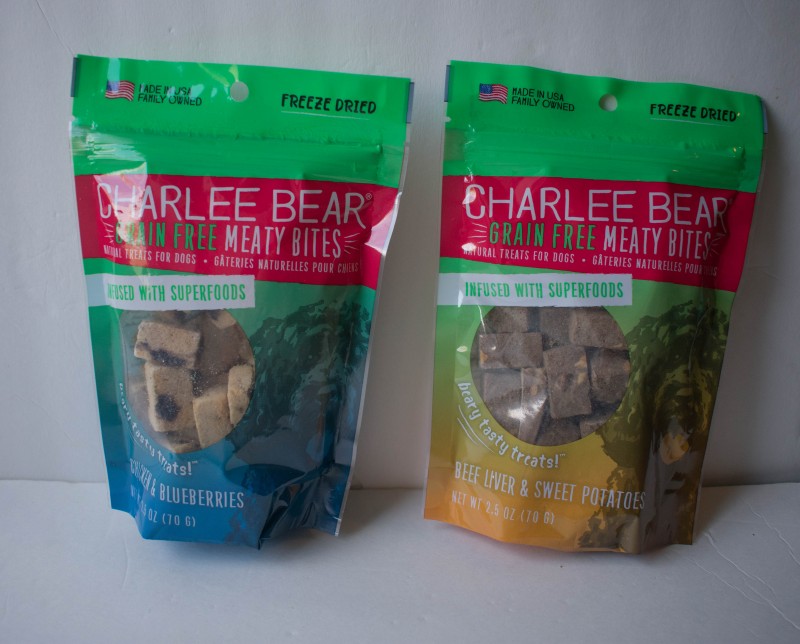 We tried Charlee Bear Grain Free Crunch treats from a dog subscription box a long time ago and we loved them. Recently I was able to work with Charlee Bear and I knew my dogs would love having the Grain Free Cruch treats again, but we were also excited to try their new Freeze-dried Meaty Bites.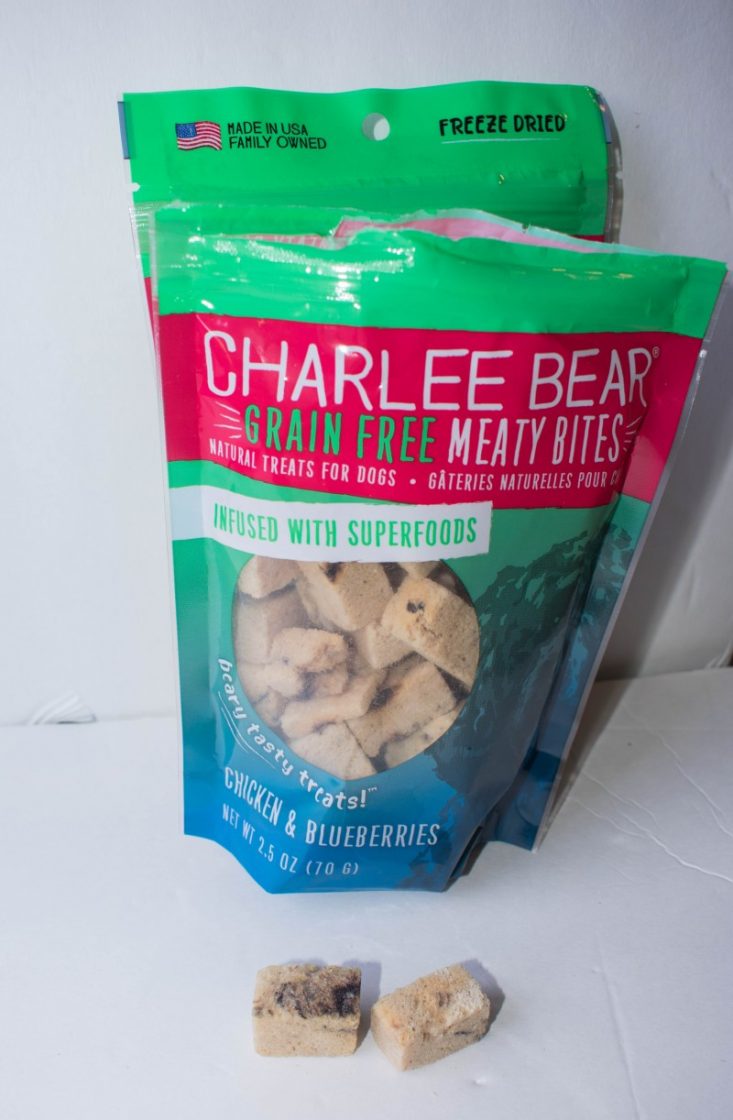 The Charlee Bear Meaty Bites are made using whole food ingredients, (chicken and blueberries in this case). There are no fillers, soy or grains and they are made in the United States. They are available in six varieties. These chicken and blueberries treats are about 6k/cal per treat and most of the treats are somewhere between half an inch and an inch long so we opted to break them in half to make smaller treats for our pugs. They are really dry and a bit hard, the texture reminded me of croutons somewhat, but we were able to break them in half it just took a bit of effort. Our dogs are old (14 and 15) so they have a harder time with really crunchy foods or treats sometimes, but they were able to manage with these. When we've tried freeze-dried treats in the past, my dogs get extra excited about them and they didn't do that with these, I think maybe because they are drier and have less scent. They enjoyed them though!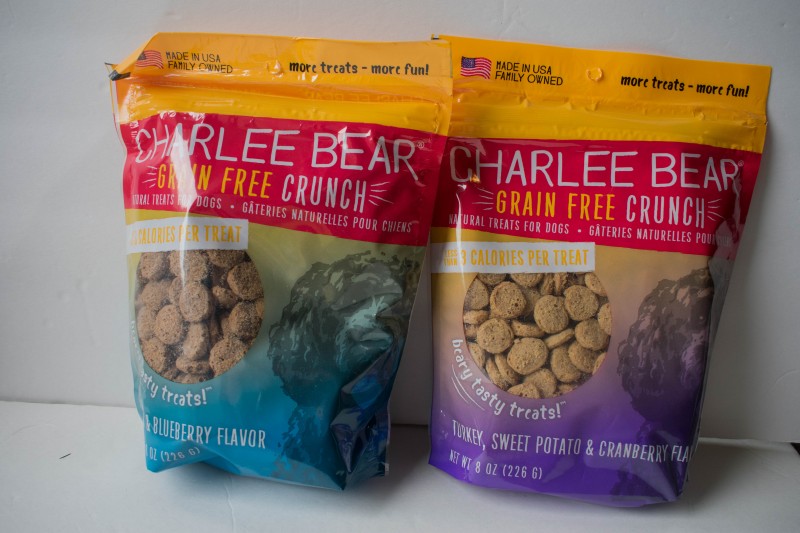 We also got to try out Charlee Bear Grain Free Crunch treats again. These look like miniature cookies which I think is fun! They are available in three varieties and are less than 3 calories per piece. This makes them great for training, or for people like me who just like to use low-calorie treat options for their spoiled dogs. These 8-ounce bags have tons of treats, these bags last us a really long time which we love. These treats have no wheat, corn, soy, artificial colors, flavors or preservatives.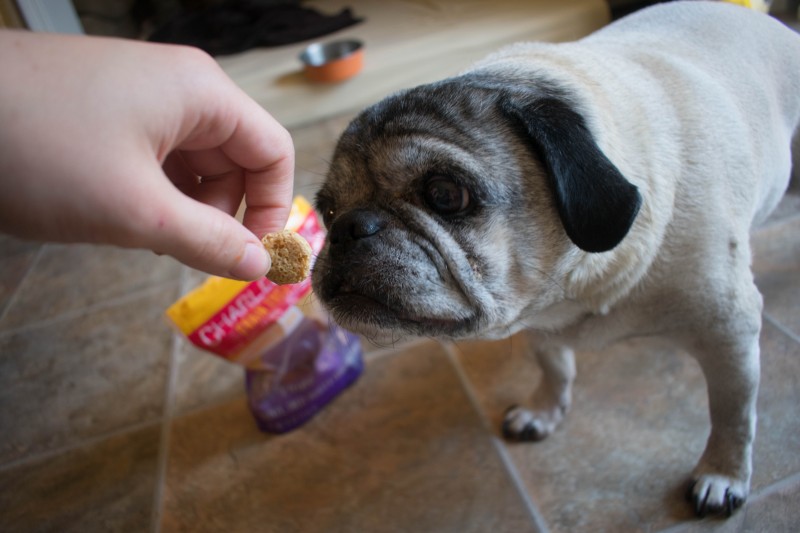 Buy it: Use the "find" tool on CharleeBear.com to find where you can buy these treats near you, or purchase them on sites like Chewy.com or Amazon.
Win it: We will have TWO winners who will each get one bag of Charlee Bear Meaty bites, and one bag of Grain-Free crunch treats! This giveaway is open to the US and will end 8/4/2019 at 11:59pm EST.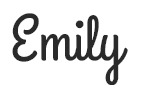 Hi there! I am Emily Evert, the owner of Emily Reviews. I am 28 and live in a small town in Michigan with my boyfriend Ryan and our two pugs. I have a large family and I adore my nieces and nephews. I love reading memoirs, and learning about child development and psychology. I love watching The Game of Thrones, Teen Mom, Sister Wives and Veep. I like listening to Jason Isbell, John Prine, and other alt-country or Americana music. I created Emily Reviews as a creative outlet to share my life and the products that I love with others.
This post currently has 4 responses.