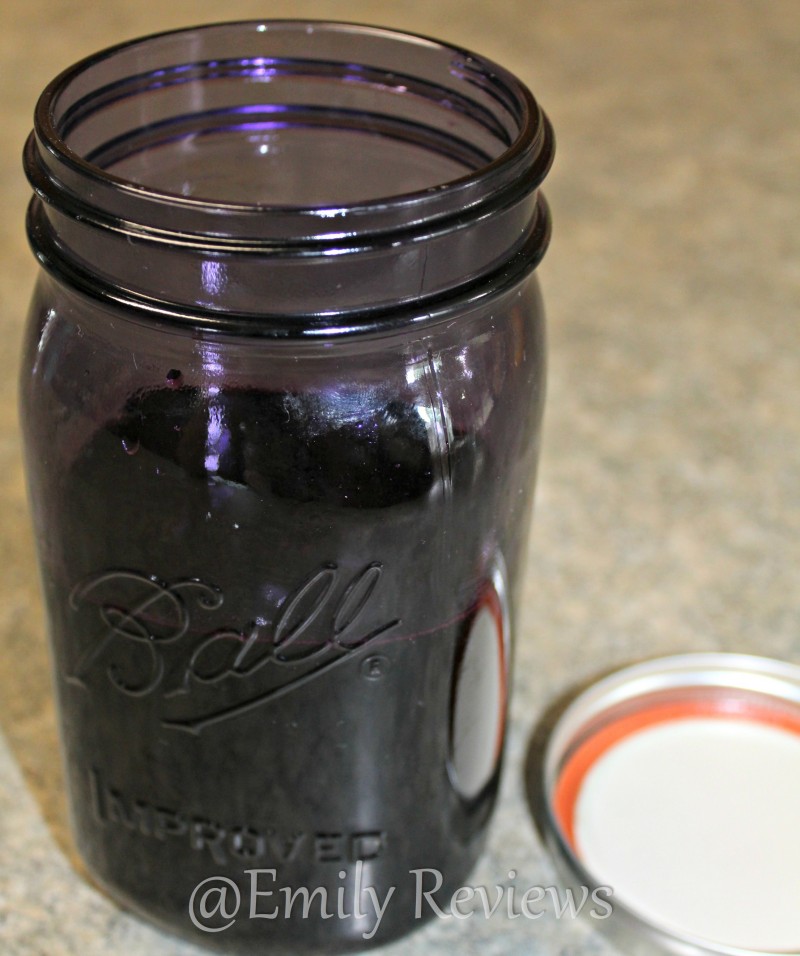 Ball Canning sent product to assist me with this post. All opinions are my own.
One of my favorite things about summertime is being able to see product grow right in our own yard and reaping the fruits of our labor.  Last year was less than great because a deer ate my garden – TWICE!  Thankfully, my sister and her husband were kind enough to share their abundance with me so I was still able to do some canning.  This year, I can't wait for all the harvesting so I can get busy again!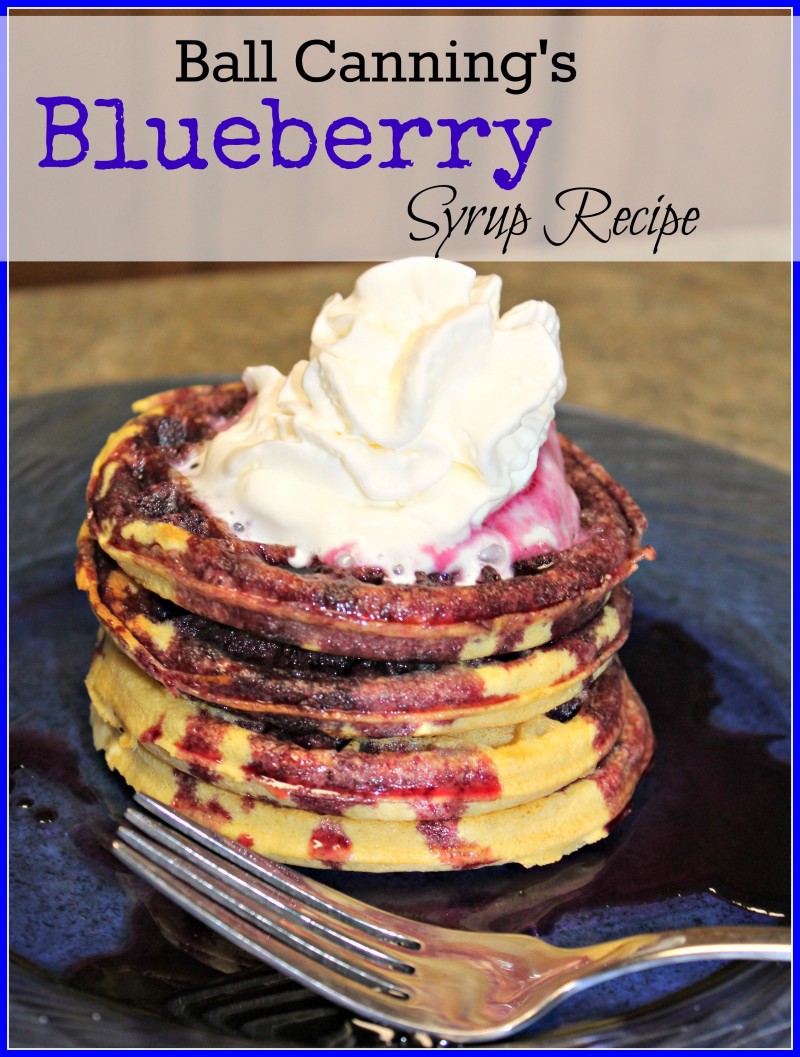 Thank you to Ball Canning for providing me with goodies to create this post!

To warm up, I utilized The All New Ball Book Of Canning And Preserving and made a batch of the Blueberry Syrup from page 122.  When I served my husband, he was really impressed and thought I had bought the syrup because it was so yummy!  So this recipe will definitely be added to my "Must Make Again" list when it's gone.
Blueberry Syrup Recipe
Ingredients:
4 1/4 pounds fresh blueberries
3 cups water, divided
cheesecloth
3 cups sugar
1 1/2 tablespoons bottled lemon juice
Instructions:
Wash and drain blueberries and place in an 8 quart pot along with 2 cups of water.  Bring to a boil over medium-high heat and crush the blueberries with a potato masher.  Reduce the heat and simmer for 12 minutes, stirring occasionally.
Line a fine wire-mesh strainer with 3 layers of dampened cheesecloth.  Place the strainer over a bowl and pour the blueberry mixture into strainer.  Let stand for 20 minutes (do NOT press mixture).
Combine 3 cups of sugar and 1 cup of water in a large saucepan and bring to a boil, stirring until sugar dissolves.  Boil, uncovered for 20 minutes or till mixture reaches 220 degrees, stirring occasionally.
Stir in blueberry juice and lemon juice and return to boil.  Reduce the heat and simmer, uncovered, for 5 minutes, stirring once.  Remove from heat and skim off and discard any foam.
Ladle syrup into a hot jar, leaving 1/3″ headspace.   Remove air bubbles and wipe jar rim.  Place lid and band on, and turn fingertip tight.  Place jar in boiling water canner.
Process jars for 10 minutes, adjusting for altitude.  Turn off heat, remove lid, and let jars stand for 5 minutes.  Remove jars and cool.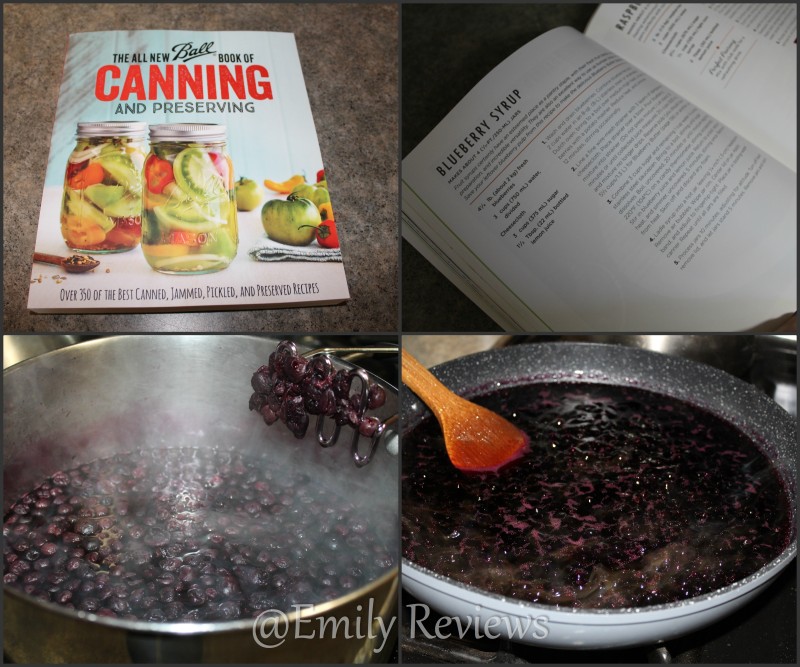 Be sure to also check out Ball's sixth annual Can-It-Forward Day on July 22nd, 2016.  Join this fun and unique experience entirely online via Facebook Live.  Throughout the entire day, enjoy a variety of a variety of canning recipes, celebrate the joys of fresh preserving, and every engagement received on the videos equals another $1 to a local charity!
If you want to take the Can-It-Forward pledge this year, head over to Ball Canning's Tumblr Page where they will be launching their be launching Digital Pledge Page.
Buy It: Head over to Ball Canning to see for yourself the great selection of products they offer.
Connect: Don't forget to like Ball Canning on Facebook, follow them on Twitter and Pinterest, and subscribe to their You Tube Channel for all the latest news and promotions.
Win It: Ball Canning is generously offering one of our lucky readers a fun prize package consisting of:
The All New Book Of Ball Canning And Preserving
Case of Collection Elite Wide Mouth Pint Jars
(One) $5 off coupon to be used on FreshPreservingStore.com
This giveaway is open to the US only and will end July 26th, 2016. For your chance to win, enter the Giveaway Tools below. Good luck!
Entry Form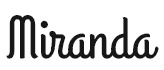 This post currently has 31 responses.