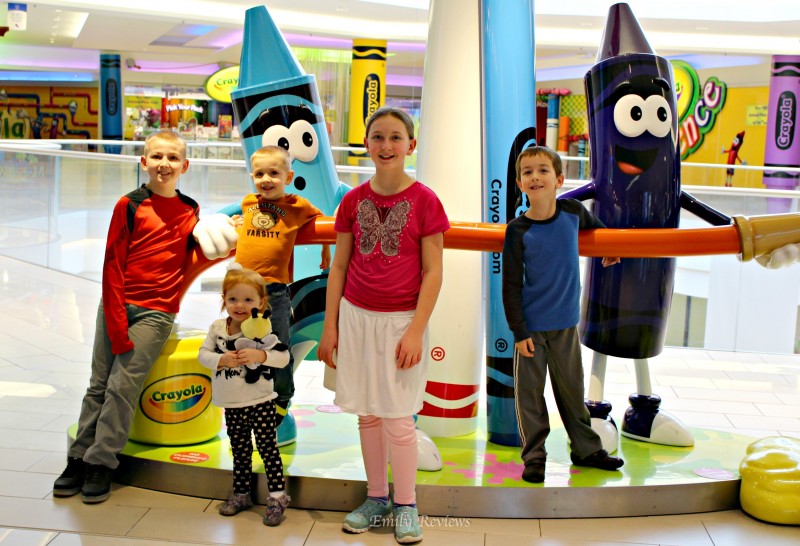 When finally taking a break from every day life and heading off on a vacation, no matter how long, it's nice to experience extra things you wouldn't typically encounter.  During our visit to the Radisson Blu Mall of America, both my husband and myself splurged on a massage from their on-site spa, Solimar Spa.  It was absolutely amazing and such a fun way to each take a little me time.  But the great part about this mini-vacation is the fact that it can accommodate so many different options, including things for the kids.  One of Radisson Blu MOA special packages includes tickets to the Caryola Experience.
Sending a big thank you to Radisson Blu for sponsoring this post!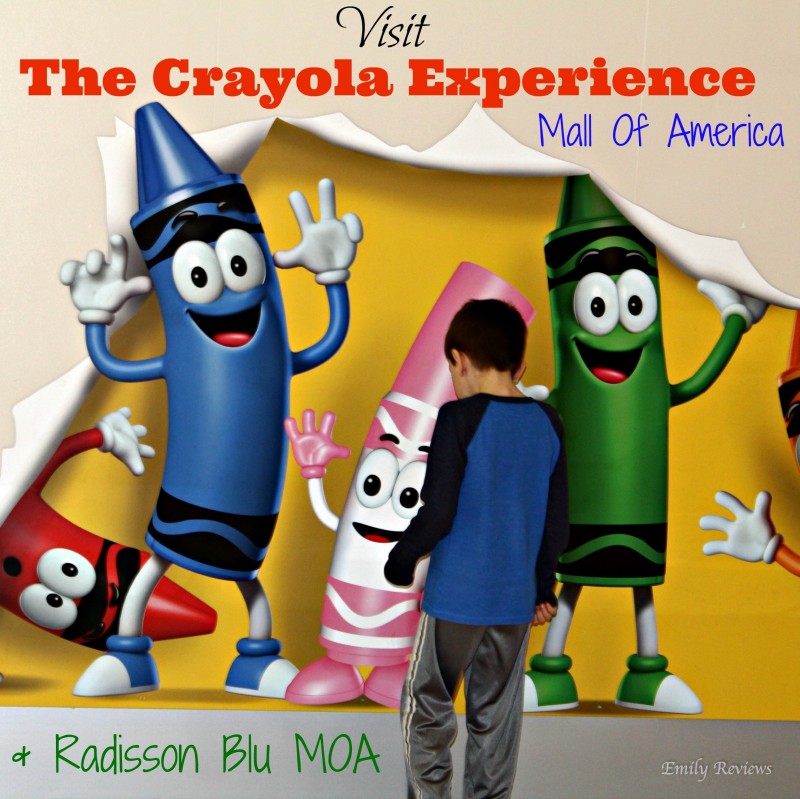 Before heading in to the Crayola Experience, I asked the lady up front how long to expect and she said to give at least 4 to 5 hours.  I'll just start off by saying the our kiddos could have literally spent the entire day there.  They had such a blast at all the different stations and we definitely spent at least the 5 hours but could have stayed even longer as we didn't even get to do everything!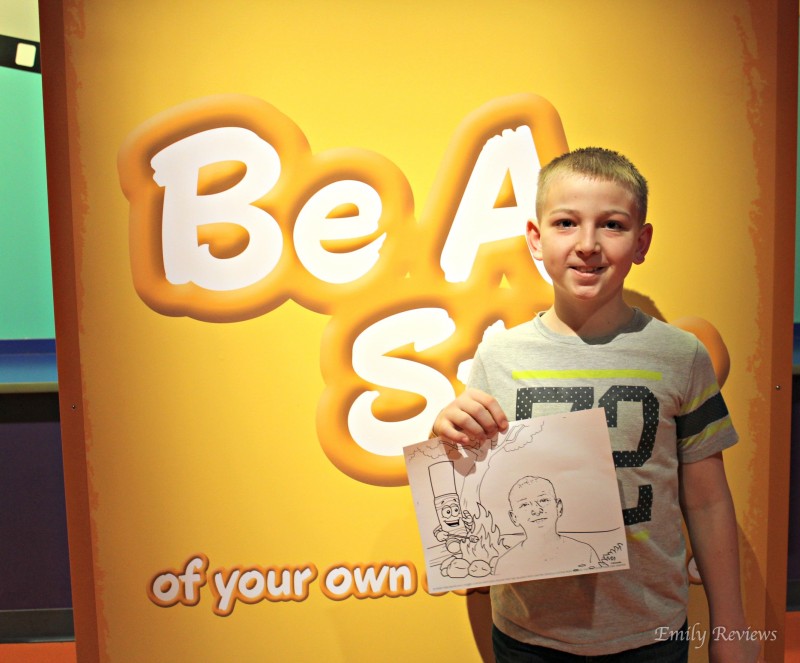 One of the first things we came across after heading in was the Be A Sketch station that allows kids (okay….and adults) to be in their very own coloring page.  There are several stations and the cameras are set up to capture you.  Then, once you accept the results, it prints your coloring page right on the spot.  So cool!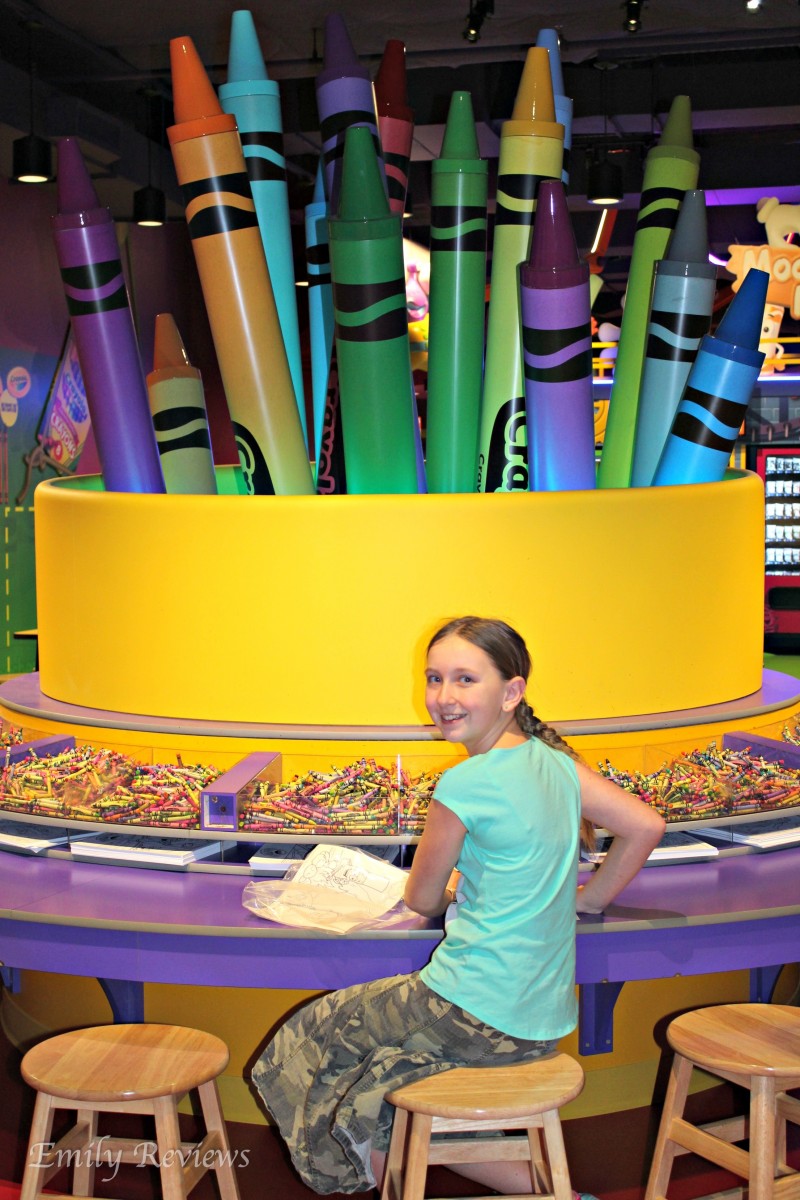 Of course, it wouldn't be a Crayola Experience without a giant coloring station.  In another area (that I didn't take a picture of), there is actually a live show in the theater that goes through the process of how crayons are created.  It's a live show and, at the end, each child even gets a brand new crayon that they just saw made.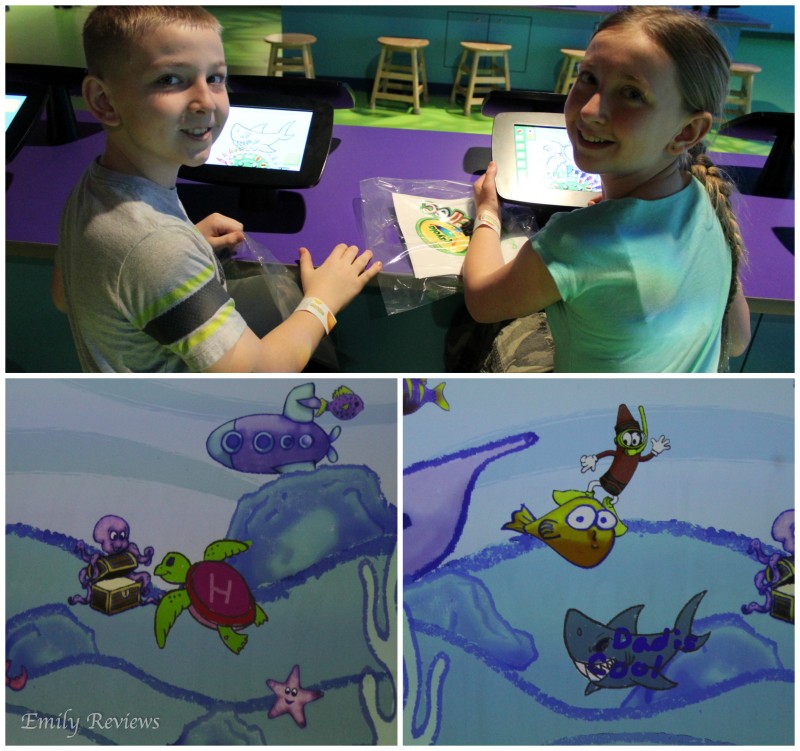 Next up, the Art Alive! exhibit caught our eye so we took a turn and stopped there.  This station was filled with long tables and each had a line of tablets.   They were set up with coloring pages as well as a blank canvas and it allowed us to bring our creativity to life on the big wall as the finished creations were projected shortly after submitting.  (Can you guess who made the "Dad is cool" shark?)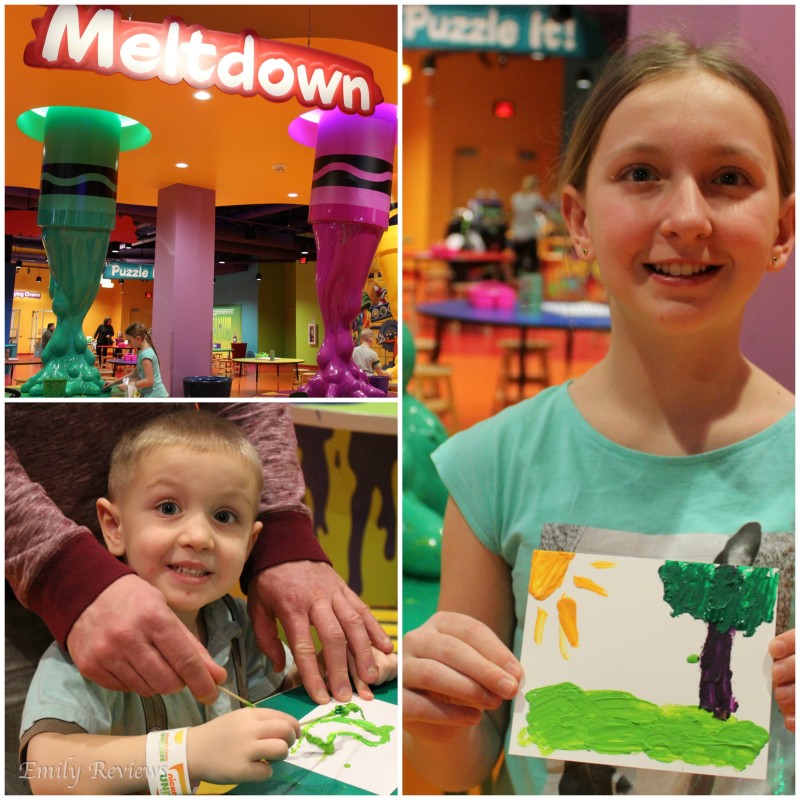 Then, we walked up to the Meltdown area where there were tubs of melted crayons, paper, and cotton swab sticks where creativity could run wild.  The kids were amazed to see the melted wax dry almost instantaneously as they created their art.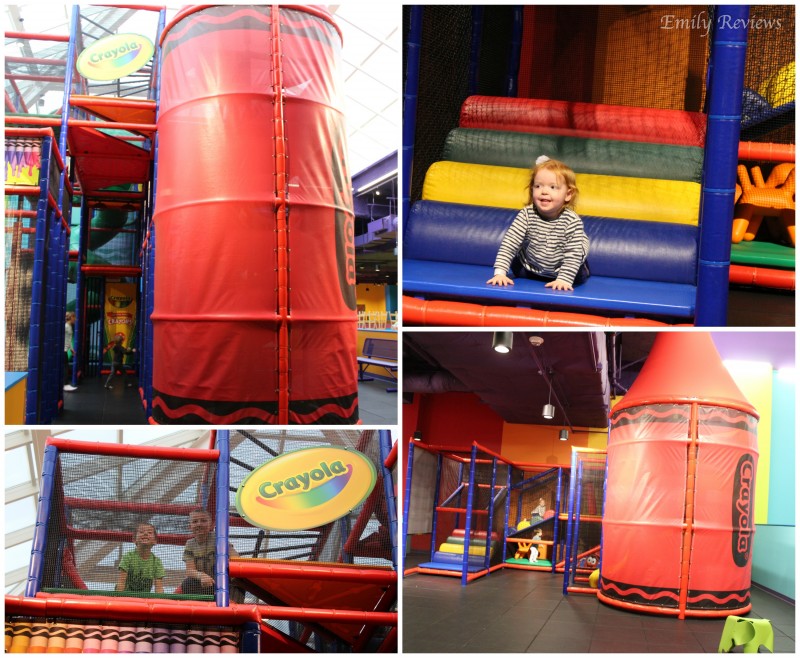 Also a really awesome part of the Crayola Experience was the fact that they had two nice sized indoor play areas.  One was geared for toddlers while the other was fit for "big kids".   They were both enclosed by half walls with the exception of the dual entrances/exits.  The best part was they are located side by side so I was able to man them at the same time when our 2 year old was in toddler sized one and two of the boys were in the big one.  And I wasn't even stressed!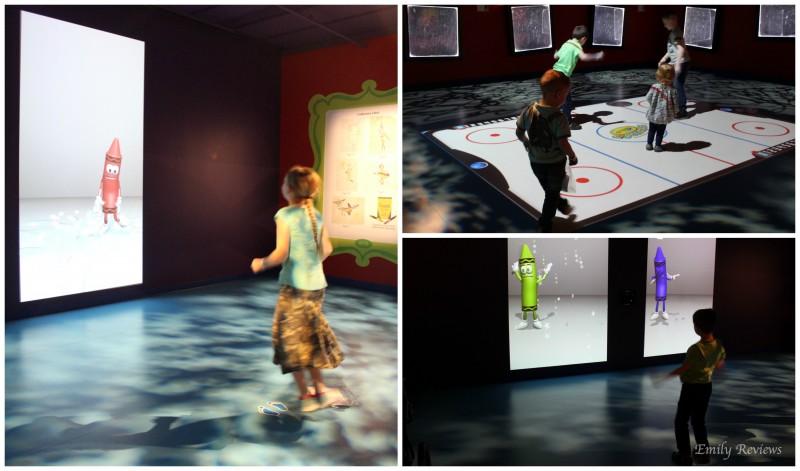 We had skipped over a few exhibits in our excitement so when we back-tracked to the Stomp & Play, Cool Moves, and Doodle In The Dark Room, the kids were pretty enthralled.  The giant board on the floor in the center of the room would sporadically change and become a new game or activity.  Pictured is them playing hockey, which happened to be their favorite.  (They could have stayed here playing that all day if we would have let them!)  The Cool Moves allows the kids to become one with the crayon as they step in front of this special screen that mirrors every move and offers fun effects.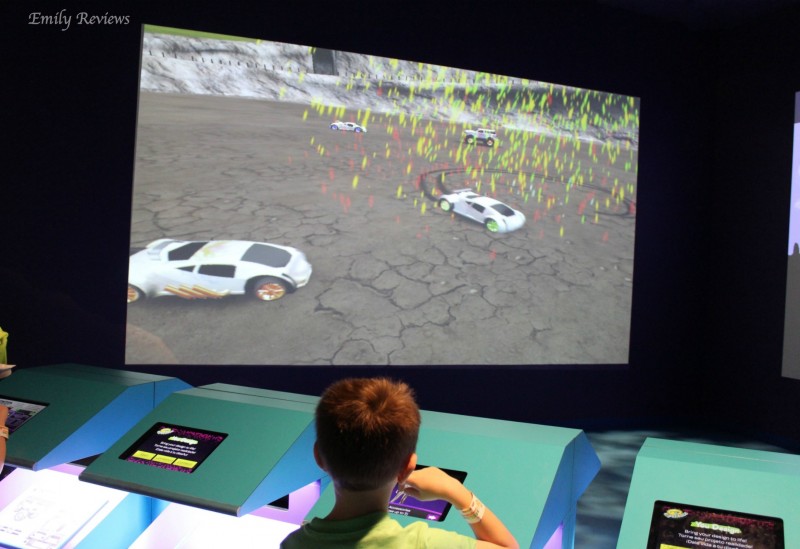 Heading back through, we came across the Color Magic Area where we were able to turn our coloring pages into a 4D adventure!  They had cars as well as a fashion show option.  The cars are what is pictured above, although it's hard to see his detailing in the photo while the fashion show offered either a male or female "model" that we could color and then scan in.  Shortly after scanning, we'd see our creation on the screen.  The models would actually walk down a runway showing off the outfit that we designed.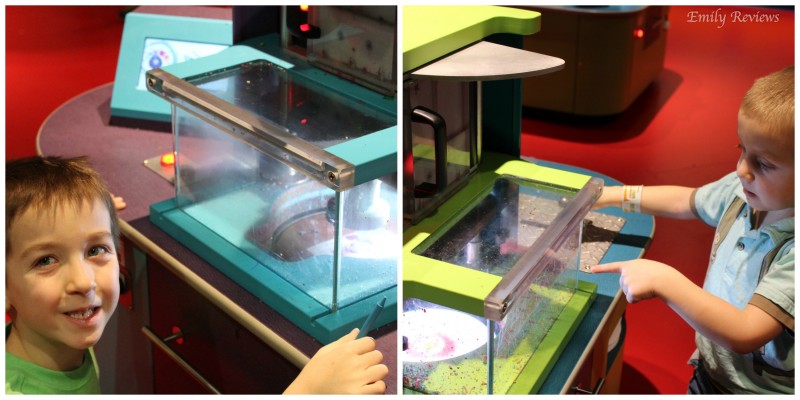 While I didn't include all the fun that Crayola Experience has to offer in my post, I wanted to be sure to make mention of this final stop before heading out, the Melt & Mold Exhibit.  Here, visitors get to melt (new or used) crayons down into a mold to create a brand new crayon!  Our kids were completely enthralled with this exhibit as they created race car crayons, ring crayons, and bull crayons.  We spent quite a bit of time here before making our final exit and heading back to our room at the Radisson Blu MOA for supper and bed.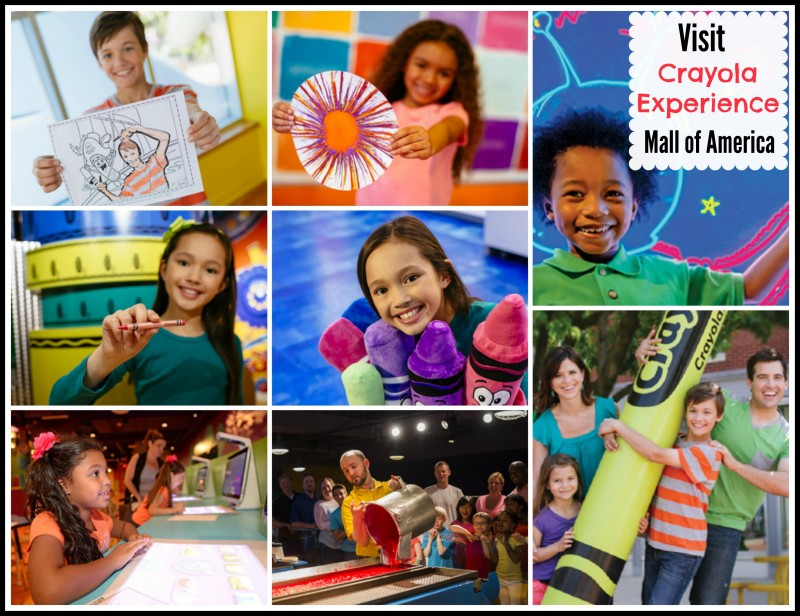 One more thing to note about the Crayola Experience at Mall of America is the fact that your ticket is good for all day play.  So we were able to come and go which was perfect for heading back to the room for that mid-afternoon break.  They just stamp your hand as you exit and that will allow you to come back later!
Visit: Head over to Radisson Blu to learn more about all of their great packages including the Crayola Experience.
Connect: Don't forget to like Radisson Blu on Facebook, follow them on Twitter, Instagram, and Pinterest, and subscribe to their You Tube Channel for all the latest news and promotions.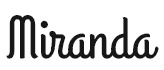 This post currently has 7 responses.