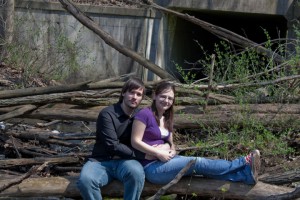 I feel kind of old because for the first time I'm participating in an annual event for the second time. Last year when I participated in the ultimate blog party I was only three or four months into review blogging and had a lot to learn. The ultimate blog party is basically a huge blog hop for blogs, facebook pages, twitter,s etc. Except, instead of just finding new blogs to follow, you also get entered in to win some great prizes. I didn't win anything last year, but I did have a blogger contact me from the blog hop and ask me to do a review for them, so it was worthwhile for me anyway. The blog hop runs from april 1st through april 8th, to find out more you can visit 5 minutes for mom who hosts the event.
My blog is almost entirely just reviews and giveaways, but occasionally I throw in a personal post. I'm a 19 year old college student living in Michigan. My boyfriend is Ryan, and any day now we're going to be getting a pet hedgehog. I don't have kids of my own but I adore children, have a huge family with lots of kids and I babysit a lot. Therefore I do review some kid items and baby items, but most of the time I stick with household items and things that most anyone could use. Welcome to my blog!
This post currently has 12 responses.