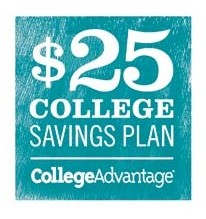 College is so incredibly expensive, and will probably only be getting more expensive in the future. More and more parents are realizing that they should start saving for their children's college educations as early as possible. College Advantage allows parents to save for college education, whether it's for their teen, newborn or even for themselves for future use. Even if you have a child, grandchild, etc who has already started college you can still open an account for them, as the money can be taken out immediately if needed. A big benefit of using a college advantage 529 plan, is the money is exempt from federal and ohio state taxes, if used to pay for higher education costs, as long as you the recipient isn't claiming any other education based tax incentives. If the account money is used for reasons other than education costs, it will still be taxed like ordinary income depending on the laws in your state. If two adults want to make accounts for the same child or person, they can do so and the child will be able to use funds from both accounts. You don't have to have a lot of money to invest to start an account either. You can open an account for as low as $25.00.
Check it out: You can check out the website at collegeadvantage.com
Win it: I get to giveaway a college advantage account that has $100.00 in it to start you off, to TWO lucky winners! Already have an account? That's okay! We can simply add the prize to your already existing account if you win.
Disclaimer – I was not compensated for this post.
Hi there! I am Emily Evert, the owner of Emily Reviews. I am 28 and live in a small town in Michigan with my boyfriend Ryan and our two pugs. I have a large family and I adore my nieces and nephews. I love reading memoirs, and learning about child development and psychology. I love watching The Game of Thrones, Teen Mom, Sister Wives and Veep. I like listening to Jason Isbell, John Prine, and other alt-country or Americana music. I created Emily Reviews as a creative outlet to share my life and the products that I love with others.
This post currently has 237 responses.