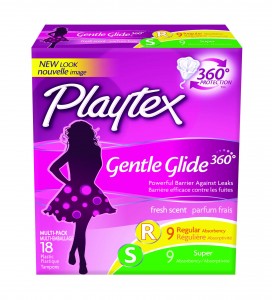 *Warning, this blog post discusses menstrual cycles and female hygiene products.
The worst part about being female is dealing with the monthly cycle. On many products, I opt for store brand items to save money. Tampons are one of the items where I feel that you get what you pay for, and when it comes to tampons I'm not willing to sacrifice quality. So, I almost always find myself sticking with Playtex brand because I know that they are the best product out there for me. I've used Playtex sport tampons for a long time now, but when I heard about Playtex's's new line of tampons which are Playtex gentle glide 360 I was curious to see what they were like. I recently got the opportunity to test some out as part of this review. I was sent the super absorbency size, where as I only purchase light and regular absorbency. The goal of the gentle glide 360 tampons is to provide you with a custom fit because they expand to fit your body. I found that they do a great job of preventing any issues with spotting, so they are a great solution for people who struggle with that while using other brands. I did find that I find Playtex sport to be more comfortable for me, but perhaps they would be equally comfortable if I were using the regular absorbency size. I'll definitely be trying out other sizes to see how they go.
Each woman is different, so the best way to tell what works for you is to try it yourself. Want to try the new playtex genle glide 360 tampons? Enter here! Or if you are going to head out and buy them, head on over to the facebook page to print off your 1.00 coupon.
Prize: A box of playtex gentle glide 360 ultra, and playtex gentle glide 360 multipack!
This contest is open to the US and will end Oct 23 @ noON EST. Winner will be chosen at random and will have 48 hours to reply and claim their prize.

Hi there! I am Emily Evert, the owner of Emily Reviews. I am 28 and live in a small town in Michigan with my boyfriend Ryan and our two pugs. I have a large family and I adore my nieces and nephews. I love reading memoirs, and learning about child development and psychology. I love watching The Game of Thrones, Teen Mom, Sister Wives and Veep. I like listening to Jason Isbell, John Prine, and other alt-country or Americana music. I created Emily Reviews as a creative outlet to share my life and the products that I love with others.
This post currently has 224 responses.