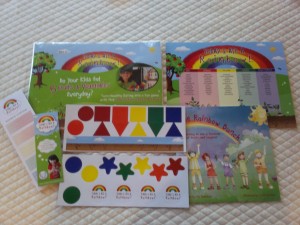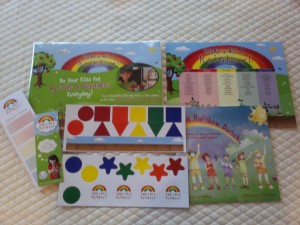 Do you eat 5 servings of fruits/veggies each day? Do you eat one from each color in the rainbow? Today I Ate A Rainbow helps kids (and adults) eat a rainbow of at least 5 fruits/veggies a day. We know that kids replicate what they see their parents/caregivers doing…good and bad. Today I Ate A Rainbow is a fun tool to establish or improve healthy eating habits.
For our review, we received the Today I Ate A Rainbow kit which includes an adorable NEW Garden theme chart with four sets of color coded magnets, four achievement magnets, two fridge magnets, the Rainbow Bunch- Learning to eat a Rainbow of fruits and veggies! book, Rainbow bookmark and color coded shopping lists.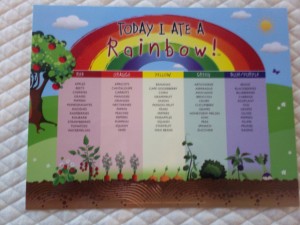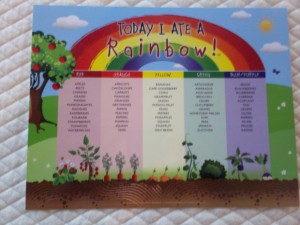 My kids love eating fruits and veggies; however, I have never really kept track of the number of servings or colors that I was giving them throughout the day. As soon as we opened our kit, my girls started reading the book. I knew I was going to have some work to do with our chart because its magnet based and we have a SS fridge. I grabbed some Velcro squares and added them to the back of the magnets and the front of the chart. Easy peasy and it worked.
The next few days we tracked our produce consumption; I was shocked. Even though we are getting enough servings of fresh produce, I was only serving a few colors. This chart has helped me open my eyes to "new" fruits and veggies. Our diet has become more colorful and we have found some new favorites.
I encourage you to start a conversation with your kids about the produce they eat, where it comes from and why it's important to eat a rainbow. Check out this educational video from the Rainbow Kitchen.
This kit is a neat way to keep track of your rainbow and encourage children to be responsible for what they are eating throughout the day.
This giveaway is open to the continental US and will end February 28th at 11:59 pm EST. Winner will be chosen via random.org and will have 48 hours to reply to the winning notification email to claim their prize before a new winner will be selected.



Hello, my name is Laurie. I have been married to my husband for 16 years. We have two young daughters, ages 15 and 13 years old. My family and I live in Oregon so that means we are just minutes from the beach, mountains, and desert.  We love it here and try to spend as much time outdoors playing as we can. When we aren't outside playing, I enjoy reading, gardening, refinishing furniture, and other crafts.
This post currently has 162 responses.