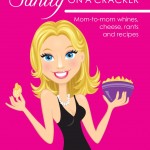 There is something about being a Mother that is kind of like being initiated into a secret society. One can be told different things about Motherhood, but until you become one, it is not entirely possible to understand. There are days that make you feel as if you are losing your mind in a way that having a pre-Motherhood mind could have never happened. The world can become a place with much deeper highs and lows than before Baby came. I received a book for review entitled"How to Spread Sanity on a Cracker: Mom-to-mom whines, cheese, rants, and recipes." This book is a good read for any mother and would, in fact, make a great Mother's day gift. The author of the book is Jackie Hennessy and she is a Mother. She knows that sometimes we need to crawl up in a little ball, eat a whole chunk of cheese and have a little "whine" with some friends. That's the premise of this pithy little book and I found it very enjoyable.
Jackie shares stories of her own and others' stories of Mothers across the country. A little bit of commiseration when you don't actually have time to sit down with your girlfriends and vent. I like that the book is set up in such a fashion that you can pick it up and read a chapter within a short period of time. Just for one of those moments that you have stolen away just for a minute's sanity! It is nice in the midst of a nervous breakdown to be able to pull out this book and see that other women have been there, too. Then you can maybe have a little giggle with it before you have to go back to the World of Mommy.
Each chapter begins with a recipe for some type of cheese dish! Cheese is a dear vice of mine and I am happy to say that Jackie also has this in common with me. The recipes are mostly pretty straightforward and easy to prepare quickly when you finally get to spend a little time "whining" with your girlfriends. I am looking forward to making the baked Brie recipe next girl's-night-in!
You can find more information on the book and the author on her blog, twitter, and facebook pages.
Jackie has agreed to give one of our readers a copy of "How to Spread Sanity on a Cracker." Just fill out the widget below by 11:59 pm on 5/11. Open to the US only. Good luck!



This post currently has no responses.