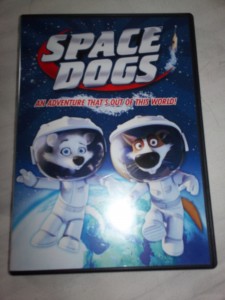 Space Dogs is one of the latest movie releases under Phase 4 Film's Children and Family label kaBOOM! Entertainment.   Phase 4 Films has created many fun family movies including: SMITTY, The Voyages of Young Doctor Dolittle, and The True Story of Puss 'N Boots.
Space Dogs is based on the true story of the first dogs that traveled to outer space.  Actress Chloë Grace Moretz stars in this movie. Space Dogs is a fully animated film with a G rating and it runs for 88 minutes.
 In 1960 two dogs named Belka and Strelka left Russia on a space voyage that would be instrumental in the space program.  Not only did these dogs make history but they also are the basis for this movie.
In this story, the two main characters are dogs- one from the streets and the other has a history with the circus. We watch as these two brave dogs form a bond with a common goal of getting to travel into outer space.   Like the real Belka and Strelka, the two main characters in this movie work hard training; they have a few setbacks; and they keep working together toward their eventual goal. Will their mission be a success?   I know….and you will too after you watch this movie!
My girls (ages 3 and 5) liked this movie, the characters are well developed, the music is catchy and the underlying message of persistence is well played out.
You can view a movie trailer for Space Dogs on the Phase 4 Films website or look around and discover some of their other movies.

Hello, my name is Laurie. I have been married to my husband for 13 years. We have two young daughters, ages 9 and 12 years old. My family and I live in Oregon so that means we are just minutes from the beach, mountains, and desert.  We love it here and try to spend as much time outdoors playing as we can. When we aren't outside playing, I enjoy reading, baking, refinishing furniture, and other crafts.
This post currently has no responses.