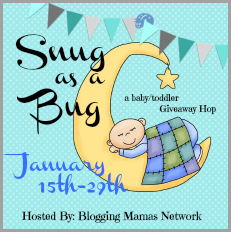 Welcome to the Snug as a Bug Giveaway Hop, hosted by the Blogging Mamas Network. With the cooler weather coming strong, I've joined with over 40 other bloggers to bring you great products to keep your baby snug as a bug!
Each blogger participating has a great Baby/Toddler Prize Package for you to win, worth at least $25, so after you enter mine, be sure to hop around to all the others in the linky!  Don't forget to enter to win one of the GREAT GRAND PRIZES for the Event as well, including a Beco Baby Carrier, Kowalli, and The First Years Feeding Prize Pack!
The prize here on my blog is the line of Seventh Generation baby care items. With New Years Eve just past us, I know a lot of you are still thinking about going green for the new year. Seventh Generation is a brand whose products are USDA certified as biobased 100%. They don't contain parabens, phthalates or synthetic fragrances. They are also hypoallergenic and gluten free. The line includes bubble bath, shampoo & wash, foaming shampoo, sunscreen, baby lotion and diaper cream. My sister is expecting a baby girl in March, so part of the reason for my participating in this hop is to celebrate my new niece who is on her way. Seems how she isn't here yet, I haven't been able to test these with a baby but I did want to review them as much as I can ahead of time.
The diaper cream I really wasn't able to check out at all, but I like how it is hypoallergenic so that even if this baby ends up with sensitive skin, we won't have to worry about it causing her problems.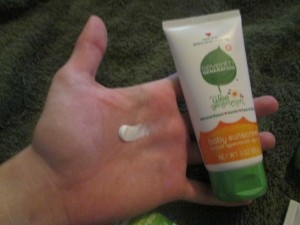 The sunscreen has a smell that i'm neutral about and can't really put my finger on what it smells like. While it looks rather oily, it doesn't feel oily against my skin and a little goes a LONG way. I haven't been able to try using this in the sun for long periods of time with it being cold and winter here, but I like its consistency and feel on my skin which is hard to find in a sunscreen. It does say to ask a doctor about usage for babies under 6 months so keep that in mind.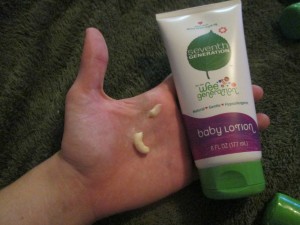 The lotion has a very gentle, calm scent. As you can see, it comes out in a very "formed" shape making it appear rather thick. Yet, when it's rubbed on it feels creamy without having that oily "there is gunk on me!" type feeling. This tiny amount that is shown in the photo was enough for both of my hands and I wiped it part way up both wrists as well, so it goes really far with just a tiny amount.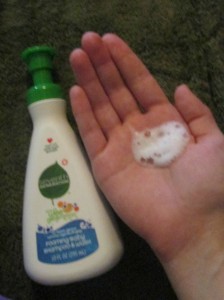 The Foaming Baby Shampoo and Wash comes out feeling very thin and airy. It has a nice gentle citrus scent. It's designed to not be an irritant if it gets in your little ones eyes and like so many of the other seventh generation products, a little goes far.
The regular baby shampoo and wash smells the same as the foaming version. This comes out completely clear and with a thick feeling to it at first. Yet, when you rub your hands together it seems very thin. It doesn't seem to make many bubbles (if any) like most shampoos do. However, I have read from various eco-friendly personal care sites that most traditional shampoo and soap companies create their products to intentionally create lots of bubbles because it makes people think it's "working" or cleaning well but bubbles don't really have anything to do with how efficiently something cleans or works. So while it might take some adjusting to get used to, the thinness of this product isn't unnecessarily a bad thing at all it's just different.
Last but not least, the bubble bath. The color and consistency of the bubble bath is quite similar to the regular shampoo and wash. When I mixed it together in my hands, it felt slightly thicker than the shampoo did. With just this small amount of product on my hands, the entire surface of the water in my sink was covered with bubbles as a wrinsed my hands. So yet again, these products go really far for how little you use.
This line would be great for any baby shower or as a new baby gift, but especially if the mother is living a green lifestyle or is concerned about the ingredients in traditional baby care products.
If you're like me, you're more likely to stick with eco-friendly products if you can access them at stores you'll already be going to, which is a great thing about seventh generation – you can find these products at stores like Walmart, Target, Meijer, Kroger and other such stores that you're likely already shopping at for other items.
Win it: The Seventh Generation Baby Personal Care line – Sunscreen, diaper bream, baby lotion, bubble bath, shampoo & wash, & foaming shampoo and wash.
To enter: Fill out the GT form below before 11:59pm EST on 1/29. This giveaway is open to the US.
.Once you've entered my giveaway, use the linky list below to check out the other awesome giveaways that are going on for this event. They are all items that are great for babies or toddlers.




According to Jenny, So Easy Being Green, and the Snug as a Bug participating bloggers are not responsible for sponsors who do not fulfill prize obligations.
This post currently has 8 responses.