*I was sent a My Allergy Test kit in exchange for this post. All opinions are my own.
I know so many people who get itchy eyes, a scratchy throat, or headaches at certain times of the year and refer to the symptoms as allergies – yet they have no idea what it is that they are allergic to. I have always been that way myself. My allergy symptoms seem to pop up the worst in the fall though they sometimes pop up at random other times, too.
I've always wondered what is actually causing my allergy symptoms, and I've thought that if I knew what caused them, I could avoid the irritant (hopefully, anyway). However, short of spending tons of money having a detailed allergy test, I didn't think this was possible.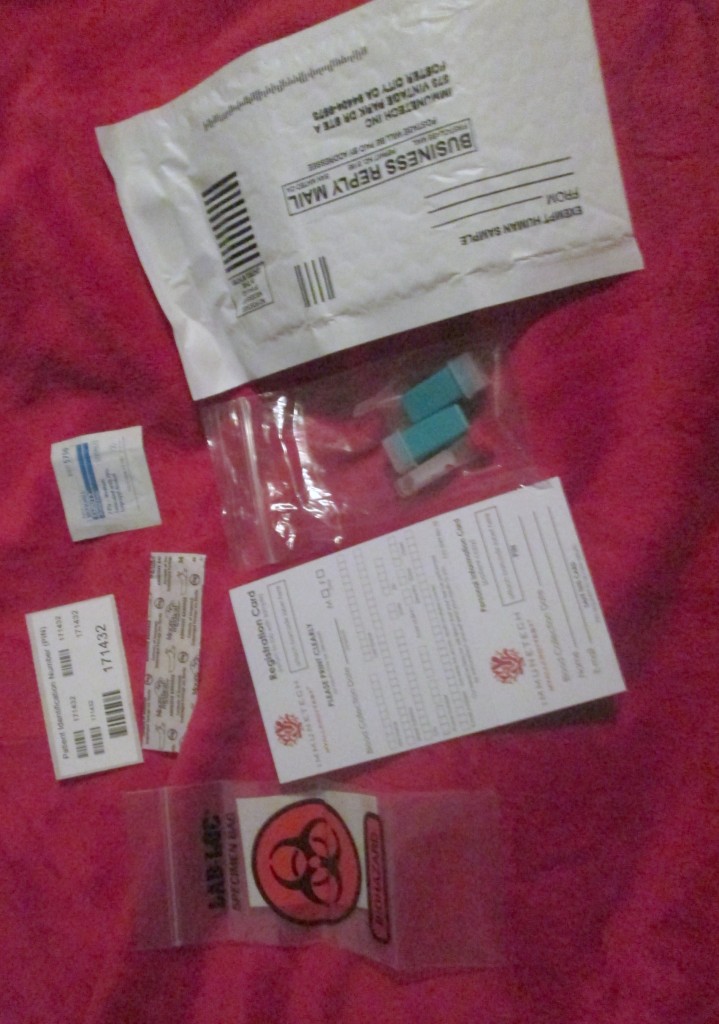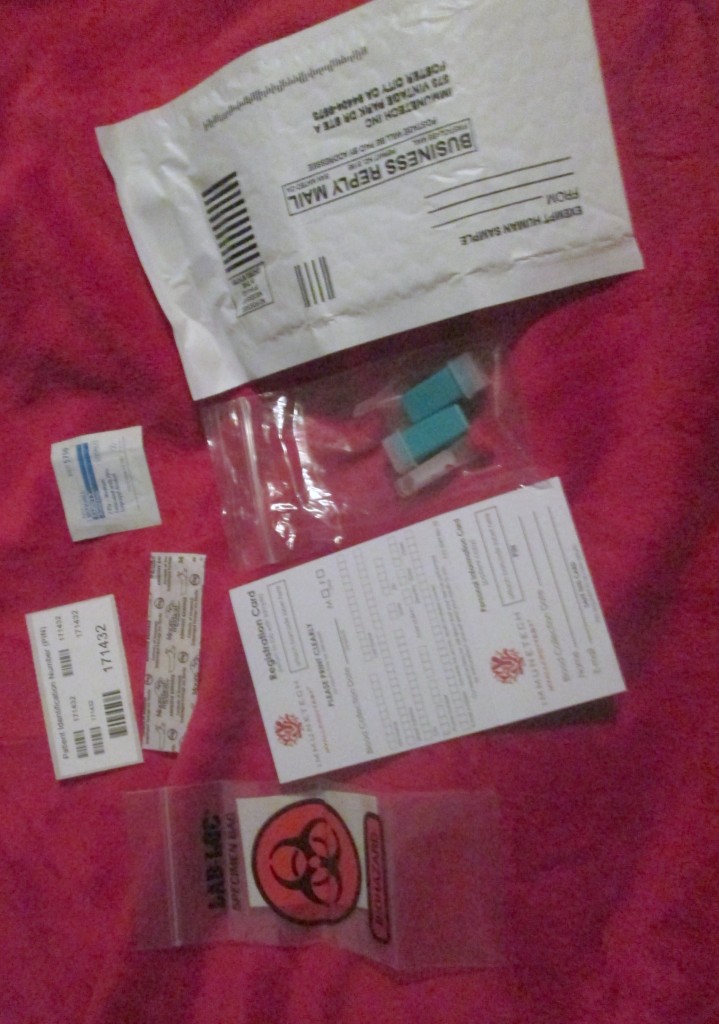 However, MyAllergyTest is a new kit that you can purchase on the MyAllergyTest website or at physical locations such as Walgreens, Walmart and Meijer that you can take at home. The kit costs around $50 and tests for allergies to ten of the most common allergens including egg, milk, wheat, mold, dust mite, bermuda grass, timothy grass, cedar, ragweed and cats.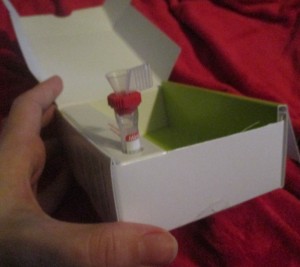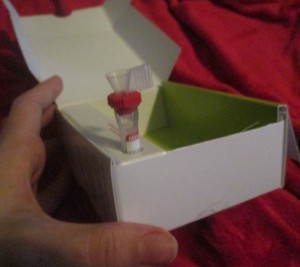 The kit comes with a device that helps you prick your finger so you can collect a few droplets in the container that is also provided. The box that the kit comes with has a punch-out hole that the blood collection container can be pushed into so it can stand upright. There is also a mini funnel so that you touch your finger to the funnel and the blood droplet can run down the funnel into container. It also includes a pre-paid shipping envelope that you put the sample in and send to the company. It takes roughly 7 days for the lab to process your results. Then, you can log onto the website using your email address and a special code that was given to you with your kit to see your results. Or, if you don't have an email you can opt to have your results mailed back to you instead.
I was able to review the kit and process recently. I have had allergy-like symptoms my entire life and was hoping to get some insight as to the cause. The first time that I pricked my finger, I barely was able to collect any blood. I was worried that I wouldn't get enough of a sample even with two finger pricks. Thankfully, the second one seemed to work much better and I was able to collect enough. I pricked two different fingers, but pricked each one in the same spot and (I think) in the same way so I'm not sure what caused that.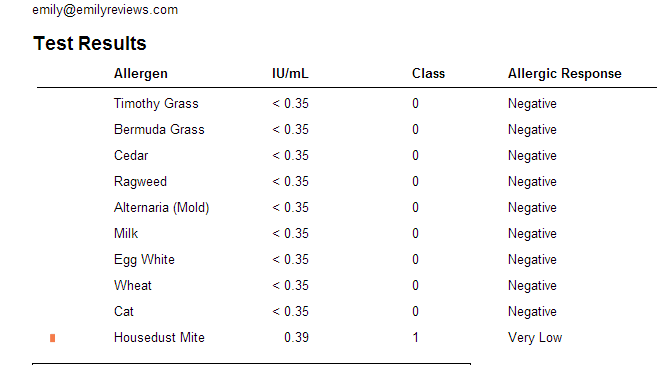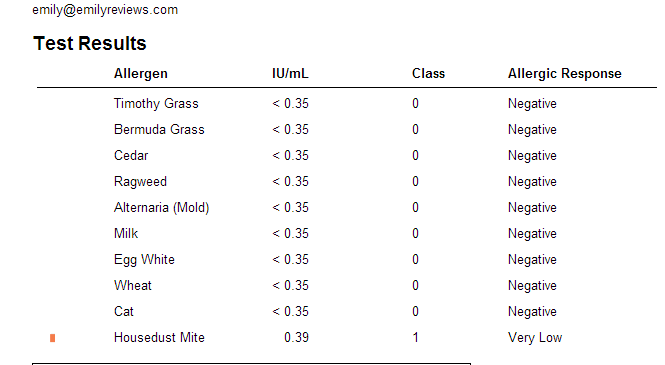 After sending the kit in, I logged onto the My Allergy Test website to view my results. There are no shipping, lab or any other "fee" outside of the cost of the kit. As you can tell, I basically tested allergy free from everything listed. I was particularly surprised that I didn't get any results for the cat allergy because I always seem to wake up with a headache when I sleep over at peoples houses that have pets.
While the results were interesting, I'd love to see the company create a kit that tests for a wider range of allergies or perhaps a kit that let you select which allergies you'd like to test for, as I think a lot of people suspect that they are allergic to one thing or another so it would be neat to test for the specific things that you are suspicious about.
I can see this test being incredibly useful for people who are considering getting a cat or who think they have an allergy to one of the allergens that are tested for.
Connect: You can connect with My Allergy Test on Facebook and Twitter.
Win it: Want to win a kit to see if you or a family member is allergic to the 10 allergens that the kit tests for? Enter below via GT. This giveaway ends at 11:59pm EST on 7/2. Giveaway is open to the US.



Hi there! I am Emily Evert, the owner of Emily Reviews. I am 28 and live in a small town in Michigan with my boyfriend Ryan and our two pugs. I have a large family and I adore my nieces and nephews. I love reading memoirs, and learning about child development and psychology. I love watching The Game of Thrones, Teen Mom, Sister Wives and Veep. I like listening to Jason Isbell, John Prine, and other alt-country or Americana music. I created Emily Reviews as a creative outlet to share my life and the products that I love with others.
This post currently has 18 responses.