I love tomatoes, and while like most people I prefer fresh tomatoes, it's just not a possibility to get good tomatoes all year, and they can get quite expensive at times. So, I often used canned tomatoes when I cook. Dei Fratelli has a line of canned tomatoes, and tomato products that are all natural, most are gluten free, use sea salt, and lack unnatural, harmful preservatives. Dei Fratelli uses top notch, quality ingredients and take pride in all of their products. I was very excited to be able to try out some of their products!
I received the following products from Dei Fratelli to review: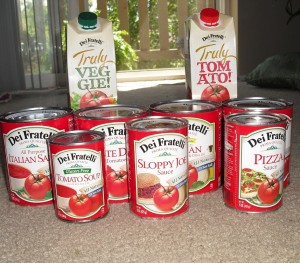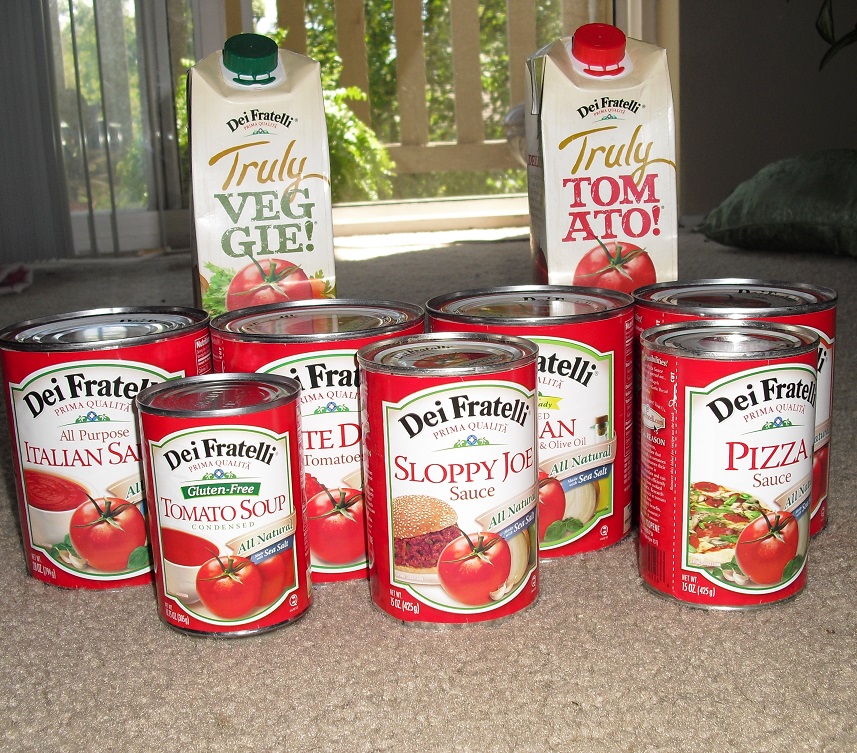 I received Dei Fratelli Gluten Free Tomato Soup, Sloppy Joe Sauce, Pizza Sauce, Italian Sauce, Petite Diced Tomatoes, Chopped Italian Tomatoes, Crushed Tomatoes, and their Truly Veggie Juice, and Truly Tomato Juice.
The first products I tried out were the Sloppy Joe Sauce and Pizza Sauce. There were very easy instructions for making Sloppy Joes, and they turned out really yummy. It had a bit of a more natural, tomato taste than the typical Sloppy Joe sauce you find in stores, and I really liked that. I thought the Pizza Sauce was pretty good too, although a bit on the sweet side for me, however my fiance loved it. We made a nice pepperoni pizza out of it.
I also liked the canned tomato products. I used the Petite Diced Tomatoes to make turkey tacos that everyone loved. The tomatoes had a really nice flavor. I used the crushed tomatoes to make a nice marinara sauce for chicken parmasen, which turned out great.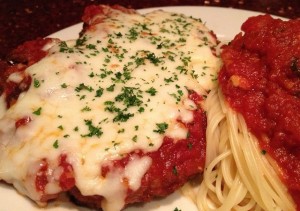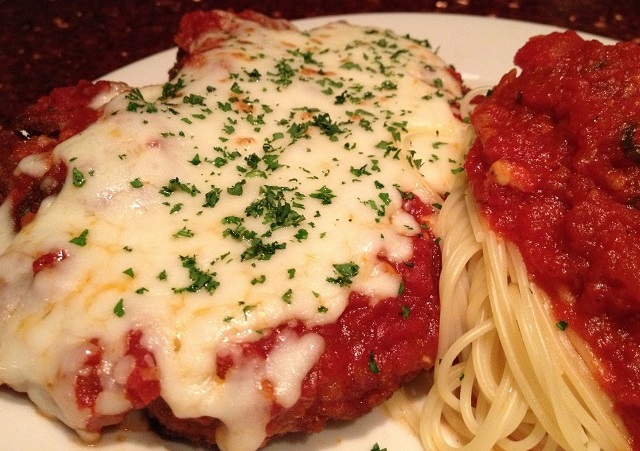 I also liked the Gluten Free Tomato Soup. I've taken to making my own tomato soup, as I prefer the taste over canned soup. However, it's nice to know that there are all natural, gluten free canned soups I can try out when I don't feel like making my own. This soup was pretty good. I wish it was a little less sweet, but I know most people like their tomato soups to be fairly sweet.
Overall, sweetness was the one thing I did not like about these products. Sugar is the second or third ingredient in most of these products. I do understand that sugar is a great preservative, and since these tomatoes lack other, more unhealthy preservatives, the sugar plays an important role in preserving the tomatoes. I suppose having sugar in the tomatoes is better than unnatural ingredients, but it does make the products fairly sweet. I wish they had just a bit less sugar, and definitely think if you are a diabetic, you might want to consider the sugar content in these.
My favorite products were the Truly Juices.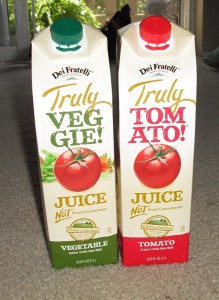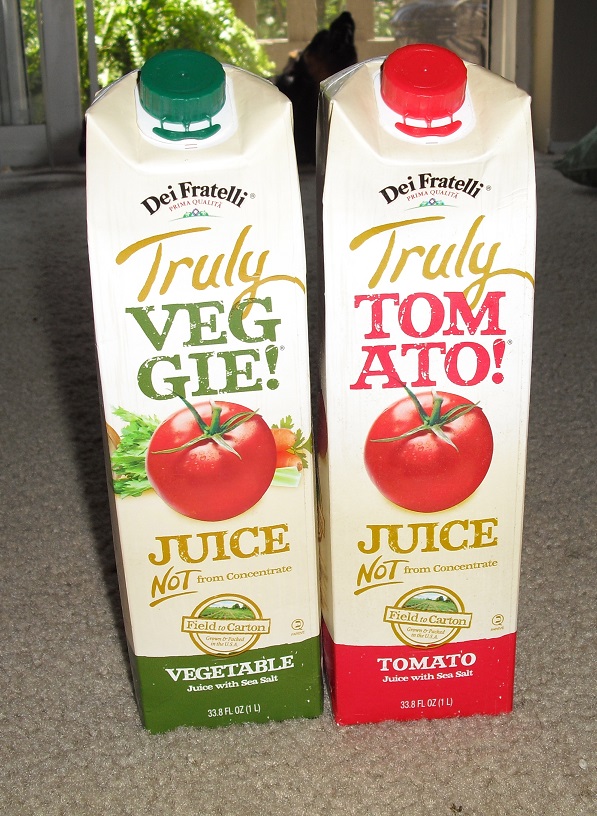 The Truly Veggie and Truly Tomato Juices are all natural, BPA-free, packaged in an environmentally responsible carton, and are not from concentrate. The Truly Veggie contains the juice of 12 tomatoes, and the ingredient list is: Tomato Juice, Celery, Sea Salt, Carrots, Beets, Peppers, Sugar, Dehydrated Onion, Dehydrated Garlic, Natural Flavor. The Truly Tomato Juice also contains the juice of 12 tomatoes, and its ingredients are incredibly simple: Tomato Juice, Salt. That's it!
These juices tasted great. They're definitely a lot yummier than tomato juices that I've had before. I would have a cup of this every day, and absolutely loved it. It's great as a really healthy snack, because the tomato juice, or veggie juice is just so filling. I was so sad when I ran out of this juice! I will definitely be buying more.
Overall, I liked my Dei Fratelli products, especially their Truly Juices. I will definitely be looking out for these in my grocery store!
Buy it: You can buy the Dei Fratelli products seen here at a grocery store near you, or at the Dei Fratelli Website.
Connect: You can connect with Dei Fratelli on their Facebook and Twitter.


This post currently has 9 responses.