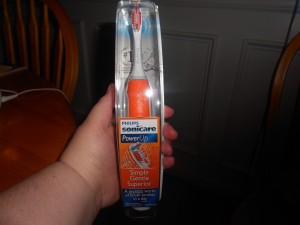 Most kids are already back in school or headed back to school very soon.  For great back to school smiles you must try out the Sonicare PowerUp toothbrush.  I was sent a Sonicare PowerUp toothbrush for review and my son absolutely loves it!  He has been dying to have a powered toothbrush so I jumped on the opportunity to check this one out.  The Sonicare PowerUp toothbrush is a powered toothbrush that vibrates.  It doesn't spin, but I am fine with that.  It came with two batteries so that we could try it out immediately.  I think that it is fabulous that the toothbrush comes with the batteries that are needed so that you don't have to make an extra purchase which ultimately would make the price go up.  The head of the brush is removable so that if you get sick or just think it is time to change out your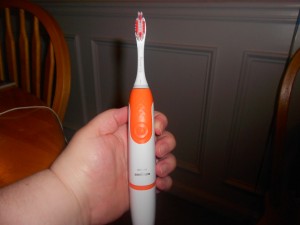 toothbrush you can just go and buy a new head for it instead of a whole new toothbrush.  I love that as well.  I have looked at other powered toothbrushes and in order to change heads you would have to buy a whole new brush.  I have looked at my local store for the heads of the PowerUp and they are priced at about $17.99, but you get 3 heads!  Since my son uses the toothbrush and I know that he is eventually going to catch something from school, I find this to be a great value.  The PowerUp itself is under $20 as well.
I have watched my son with the toothbrush and I worried that he might be a bit too young for it, but he seems to do great with it.  Little C is only 5, but by having the PowerUp toothbrush he is excited to brush his teeth and actually brushes longer then he does if he is brushing with a manual toothbrush.  When we first received the toothbrush I would hear him giggling in the bathroom because the vibration tickled him.  It was so cute!  We were sent an orange brush which is his favorite color so he was even more excited about it.  His next dental appointment hasn't come around yet, but it will be interesting to see if the dentist notices a difference in Little C's teeth.  There may not be a difference, but I do know that it isn't a struggle to get Little C to brush 2-3 times a day.  It is know longer a hassle to brush, but something fun to do.  The head of the brush hasn't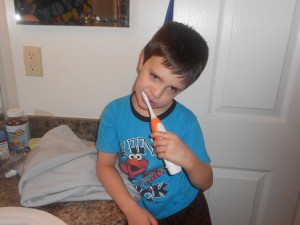 caused any trouble for Little C.  When we received the brush his two bottom teeth were loose so I thought that the toothbrush may be a little too rough for him to use, but he didn't have any trouble and he never complained about it hurting.  He still has one tooth that is loose, but refuses to come out and he still has absolutely no complaints.  Overall our experience with the Sonicare PowerUp toothbrush has been a very positive one and I would recommend it to anyone who asked.  I would love to try one out for myself!
If you have a student heading back to you school or if you just want a brighter smile make sure to check out the PowerUp toothbrush at your local store.  For more information please make sure to check out the PowerUp on Facebook.


This post currently has 7 responses.