My dogs seem to show allergy symptoms when they are on dog foods that contain grains. Having an allergy to grains is one of the most popular allergies for dogs to have. Most dog foods have high levels of corn and wheat, but these grains are hard for dogs to digest, even if they aren't allergic to them. Corn and wheat are cheap ingredients to include in dog foods, so grain free dog food can be more expensive seems how they don't include them. So, I was really excited to learn that Whole Foods has come out with the first private label dog food that is grain free! The line is called Whole Paws and includes both kibble and canned foods for cats and dogs. I buy store brand products to save money whenever possible, but dog food wasn't one of those areas that I could switch to name brand to in the past because there weren't grain free options. Now there is!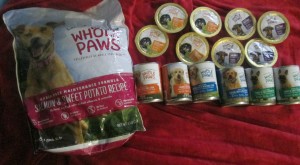 My pugs Frank & Beans were able to try out a variety of the grain free options from the Whole Paws line recently. We were sent Whole Paws® Grain Free Maintenance Formula Salmon & Sweet Potato Recipe which is a dry kibble. Aside from grains, some of the more popular dog allergies include beef and chicken so it was a big bonus that it's salmon based! My dogs really go for sweet potato treats so I liked that as well.
My dogs are pugs and so they are smaller than a lot of other dog breeds and they are 8 and 9 years old – this combination means they struggle to eat dry dog food that comes in large pieces. The whole paws kibble is unique because each piece is of average size i'd say, but instead of being "ball" shaped, they are flat pieces, making them more disc shaped. My dogs had no problem chewing the kibble. They both seem more drawn to the smell of the kibble than other dog foods, as they always come over and sniff whenever I open the bag to feed them and they don't do that with other dog foods.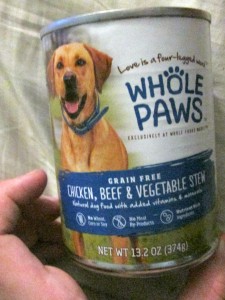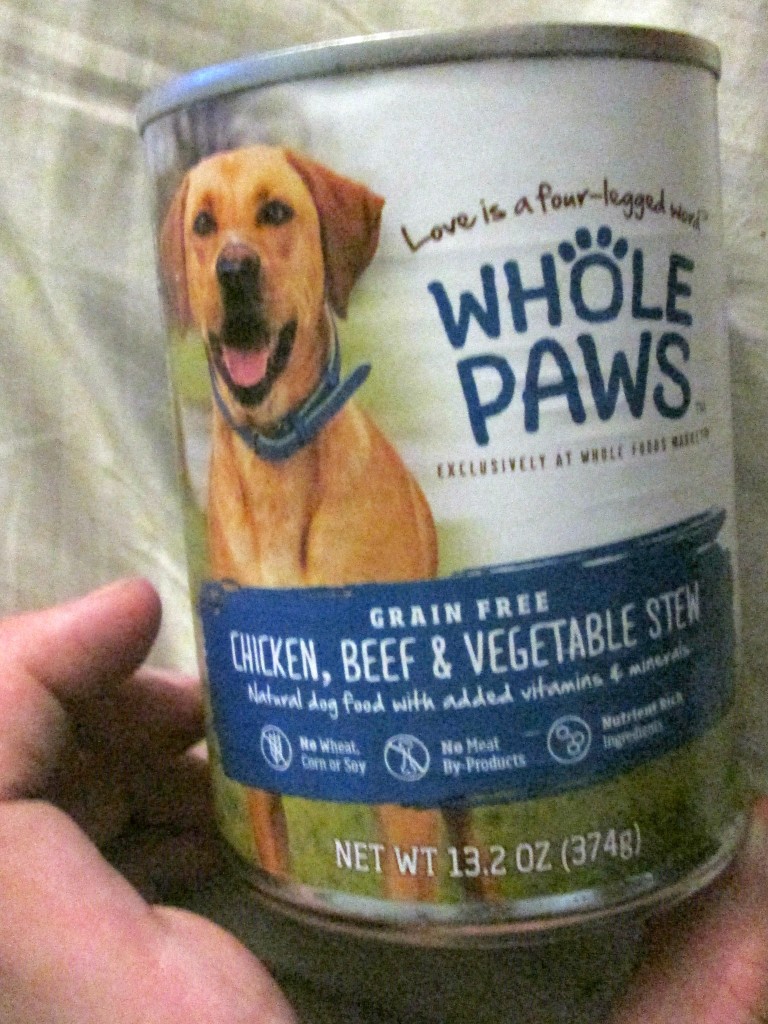 We were also sent some of the canned dog foods from Whole Paws that are grain free. The varieties include Turkey & Sweet Potato Stew, Chicken, Beef & Vegetable Stew, Chicken & Vegetable Stew, Chicken Dinner, and Lamb Dinner. I hadn't purchased any canned dog foods for my dogs since getting them in July so I can't compare it to any other canned foods but they went nuts for these, gobbling them down like they had never eaten before in their lives. So they definitely approve! I like how I can put a pill in a small bowl with the canned foods and they take it and eat the pill without even noticing that they took the medication.
One way to get an idea of the quality of a dog food is to check out the top ingredients listed, good dog foods have meats and veggies listed as the first couple of ingredients, and the Whole Paws dog foods that we tried pass that test with flying colors. For example, the Chicken, Beef and Vegetable stew canned foods top five ingredients are: Beef broth, chicken, beef, dried egg whites, and carrots.
Win it: Want to win a $50 gift card to Whole foods? Enter using the GT widget below. This giveaway is open to the US and will end 11/13/2013.



Hi there! I am Emily Evert, the owner of Emily Reviews. I am 25 and live in a small town in Michigan with my boyfriend Ryan and our two pugs. I have a large family and I adore my nieces and nephews. I am a calorie counter who loves soda. I budget to save money so I can spend it on my dogs. I love reading memoirs, and learning about child development and psychology. I love watching The Game of Thrones, Teen Mom, Sister Wives and Veep. I like listening to Jason Isbell, John Prine, Kris Kristofferson and Blue October. I created Emily Reviews as a creative outlet to share my life and the products that I love with others.
This post currently has 7 responses.