Hair care is something that's important to most women. However, everyone's hair is different, and has different features and flaws. Lots of us deal with hair frizziness. I know that my hair gets pretty frizzy at times, and it can be a real annoyance. YUKO has a line of hair care products specifically meant for frizzy hair. Their anti-frizz collection is made with the best natural and safe ingredients, formulated to fight hair frizz. I was very excited to be able to try out the YUKO Anti-Frizz line.
I received the following from YUKO to review:

I received the YUKO Anti-Frizz Home Care Kit, which includes YUKO Anti-Frizz Shampoo, Conditioner, Leave-in Conditioner, and Anti-Frizz Serum.
I've enjoyed the YUKO Anti-Frizz Home Care Kit. I found that using the shampoo and conditioner alone didn't really combat much hair frizz, but it did leave my hair feeling very clean and soft. I have a sensitive scalp, and this shampoo and conditioner didn't bother it at all. I did notice that when I used the whole line in conjunction, that I did see a difference in my hair's frizziness.
I liked the YUKO Anti-Frizz Leave-in Conditioner. It is heat activated, so I used it whenever I blow-dried and flat ironed my hair. I noticed that my hair looked nice and shiny afterward, and wasn't as frizzy as it normally is. I also liked knowing that it was helping to protect my hair from heat damage. The Leave-In Conditioner also helps de-tangle hair. My hair is fairy straight and thin, so tangled hair isn't a big problem for me, but I know that it can be a big problem for other people.
I liked the YUKO Anti-Frizz Serum the best of the products. I found that it made the biggest difference in combating my hair frizz. You only need a tiny bit of it. I would use smaller than a dime size amount, rub it between my palms, and then run it over my hair. It leaves my hair looking shinny, and tames the frizz. This is definitely something that you can easily use too much of, so it's best to just use a small amount, and then use more as needed. I have long hair, and still only needed a very small amount to make my hair nearly frizz-free.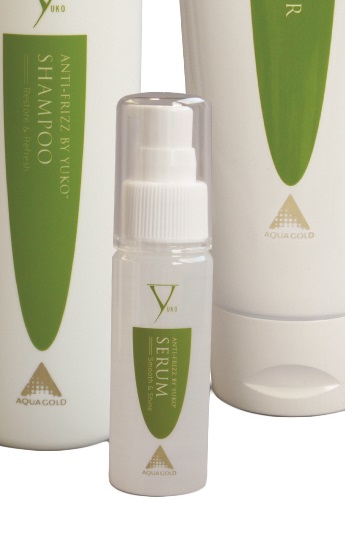 I also liked that the YUKO Anti-Frizz line is made from naturally derived ingredients. It contains no sulfate, paraben, preservatives, sodium chloride, petrochemicals. The products are made from ingredients like palm oil, apple oil, soy. These products are not vegan however, as they do use beeswax, however there is no animal testing involved.
Overall, I liked my YUKO Anti-Frizz Home Care Kit. The line helped reduce my hair frizziness, and makes my hair feel soft, and shiny. The Yuko Anti-Frizz line would make a great holiday gift for any women or young lady who wants some great quality hair care products to help with their frizzy hair.
Buy it: You can buy the YUKO Home Care Kit, or the individual products on Amazon, or at the YUKO Website.
Connect: You can connect with YUKO on their Facebook, Twitter, and YouTube channel.
Win it: One lucky reader will get to win a 3 month supply of the YUKO Anti-Frizz hair care line, which includes a 3 months supply of the Anti-Frizz Shampoo, Conditioner, Leave-In Conditioner, and Anti-Frizz Serum, a $252 value! This giveaway is open to US residents 18 years of age and older. This giveaway ends on December 11, 2013 at 11:59 PM EST.
To enter, simply fill out the Giveaway Tools form below. Good luck!


This post currently has 7 responses.