I received a Bib and Booties Set from Baby Fanatic for review.  All opinions are my own.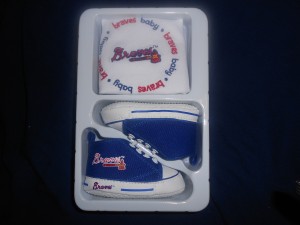 With baseball season just starting up you can have the cutest baby at the game when you shop at Baby Fanatic.  Your little one may not be able to root for the home team just yet, but they can support your favorite team with the baby essentials that are offered at Baby Fanatic. Baby Fanatic is a great company that offers anything from bottles, to bibs, to sippy cups, to pacifiers with clips, and so much more for your little sports fan.  These great baby products are offered for both boys and girls.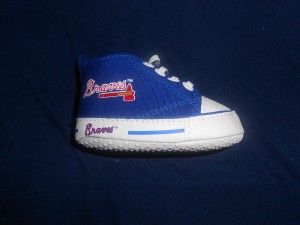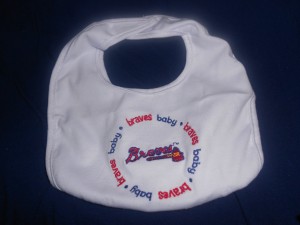 For my review I chose the Bib and Booties Set from Baby Fanatic because I figured since Baby A was 4 months old and no longer sucks on a pacifier and is very picky about bottles that we would get more use out of the bib and booties.  I live in the good old state of Georgia and love watching the Braves play baseball with my husband and Little C.  We have never actually taken Little C to a game, but plan on taking him in June.  We are so excited.  We will not be taking Baby A because I'm not sure that he would cooperate the whole time, but we still support the Braves by wearing team shirts and other clothing items when we are out and about.  Baby A has sported his bib and booties/shoes several times in the past couple of weeks.  We have received several compliments and Baby A has loved the attention!  The bib is white with Braves Baby embroidered on in along with the Braves insignia.  The bib is 100% cotton on the front and 100% polyester on the back.  It is very soft and doesn't bother Baby A at all.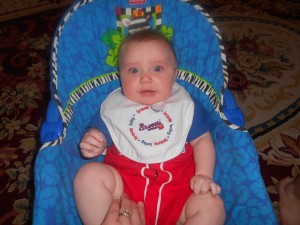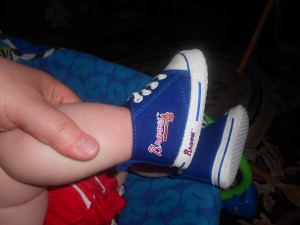 The booties/baby shoes are absolutely adorable!  They are blue with the Braves insignia on the sides of each shoe.  Baby A's feet are a little on the thick side, but not terrible.  His little feet definitely aren't skinny, but I haven't had any problems getting the shoes on his feet.  I wasn't sure if he would like them or not because typically I just put him in socks, but now that he has found his feet he loves playing with the shoes.  They don't bother him at all and I just love them on his cute little feet.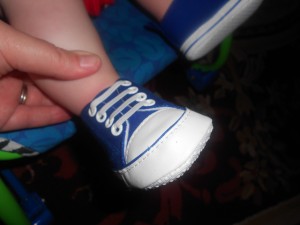 Baby Fanatic has some great sports gear for your baby and I am very satisfied with the quality of their products.  I also love the fact that they offer products for both boys and girls.  If you are an avid sports fan make sure to check out Baby Fanatic and see what you can find.  You can also find out more about Baby Fanatic on Facebook.
Win It: Baby Fanatic of offering on of our US readers one of their Starting Line-Up Essentials Gift Set.  You will get to pick the team of your choice.  The set includes a bib, pacifier and bottle.


This post currently has 8 responses.