I received a Fellowes Aeramax air purifier for review.  All opinions are my own.
When I was a child my dad was in the military so we moved around quite a bit.  I was at the age where I specifically remember living in California.  I never remember having any type of allergy problems and could play outside all day long if my parents would let me.  My family and I moved to Georgia in 1989 and my allergies hit me like a ton a bricks.  Throughout my childhood and adult life I have been treated for several sinus infections.  As a teenager I also took allergy shots because my doctor recommended them.  I didn't have a good experience with that and actually had a scary reaction to one of the shots one day.  I was by myself at the office and after I had gotten my shot it started becoming hard to breathe.  The doctors rushed me back to a room, made me lay down and gave me a shot to help.  It was one of the scariest things I remember going through by myself as a teenager.  To say the least, I never went back to get another shot.  I do know several people who have had great success with allergy shots, but it definitely wasn't a solution for me.
Now that I am married with a family of my own, I still deal with my allergies but they aren't as bad as they used to be when I was younger.  I think I have finally managed to find a few things that work for my advantage and I stick to my routine. I have noticed that my husband's allergies have gotten worse over the 7 years we have been married and my 5 year old has allergies and was diagnosed with asthma at a very young age.  Baby A is to young to know about yet, but I will be very surprised if he doesn't have some type of allergy problems.
With all of my background history I will share with you the ways that we try to keep ourselves healthy and our home as allergy free as possible.  We try to keep our apartment as clutter free as possible, which right now has been a huge challenge because we are in the process of packing up and moving into a house.  We are so excited about this transition, but I do believe it has stirred up some allergy issues for all of us.  We also try to keep our windows closed and use our air conditioner.  We can't afford the best filter for our air conditioner, but we get the middle of the line that helps with allergies.  As for pets, my son has been bugging us to get a dog.  We used to have one, but it was just to much for us to handle in an apartment.  Since we are moving into a house he has started asking again so I'm not quite sure what we will do, but for the time being he has been satisfied with a hamster and frogs.  He loves taking care of them, but they don't cause us to have any allergy problems at all.  The big thing that we use in our apartment is an air purifier.  This is the second purifier system we have tried.  I have to honestly say that I liked the first purifier, but it had a very strong chlorine smell to it that would cause us to have headaches until we got used to it.  It was kind of strange, but it did help.
I was recently given the chance to review a Fellowes Aeramax air purifier.  The Fellowes Aeramax air purifier safely removes 99.97% of airborne particles as small as .3 microns.  We have loved the Fellowes air purifier so far.  There is no odor, it is super quite and it actually lets us know what the air quality is in our apartment.  Most of the time it stays on blue, but there are occasions that the button will turn to orange.  I read our weather report this morning and we have a code orange alert for our area today which is not a good day for allergy sufferers.  I dread when our air quality is bad because I feel like I can't let Little C go outside and play for very long periods of time.  However, with the Fellowes Aeramax air purifier I at least know exactly what the air quality is in our apartment.  When the air quality is orange the air purifier will adjust until the quality level is back to blue on the machine.  I have absolutely loved that feature and I also love knowing that my family is breathing good air.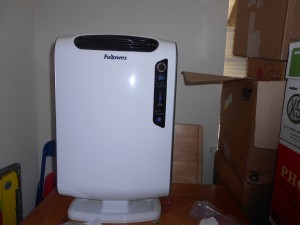 We had really bad weather last week and because we live in a 3rd floor apartment we always go and stay with my parents when we have any threat of really severe weather.  So last week, I unplugged everything in preparation for the bad weather and our stay away from home.  When we returned we all started off having allergy problems again, but since we plugged our air purifier back in things have calmed down and I have been able to stop giving my son his inhaler has much.  It really has been amazing to see the difference that we have seen in just a few weeks.  I can not say enough about the Fellowes Aeramax air purifier.
If you are in need of more information or tips on keeping your air as clean as possible this Spring and all year round make sure to check out Fellowes on Facebook and Twitter.



This post currently has 6 responses.