*I was sent products from Hartz. All opinions are my own.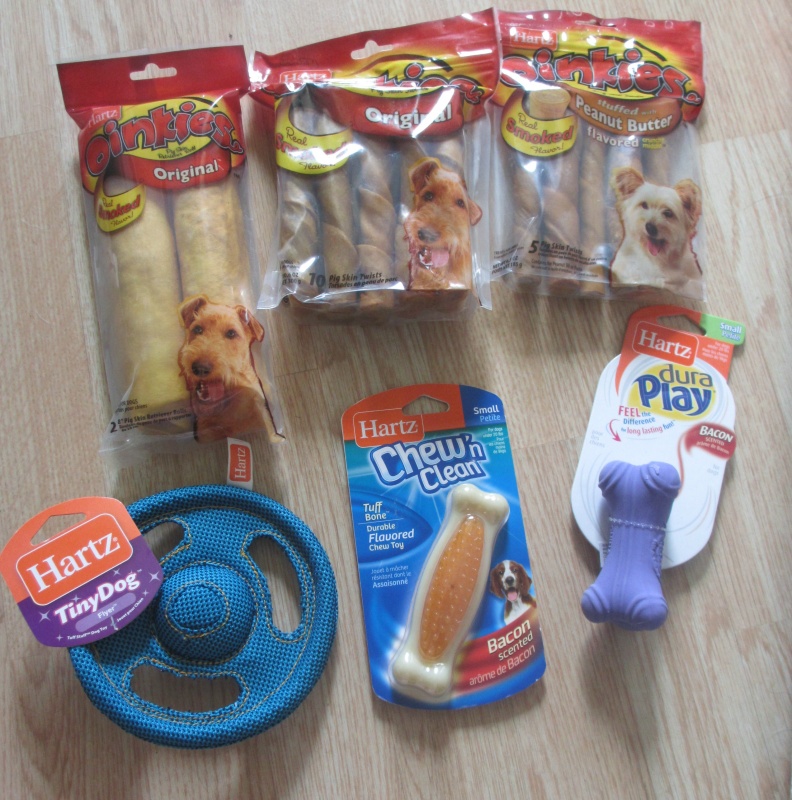 My dogs are incredibly picky about which toys they like. It took us a few months to get a good understanding of which types of toys they will and will not play with. Eventually we realized that they only play with small, plush toys. They are intimidated by large plush toys, balls and frisbees. They just don't seem to understand that non-plush toys are for them to chew on. Early on, we tested out a lot of different types of dog toys to determine which ones they liked. We were thankful for the Hartz brand of dog toys because they were available in our local area and they make a huge variety of toys at a reasonable price. Hartz makes many of their toys in 'small' size which is great for small dogs like mine who are intimidated by larger toys. They even have a line of Tiny Dog Toys just for small dogs. For example, they have a "TinyDog Flyer" which is a nylon frisbee with a squeaker in the center that is designed for dogs 20 pounds or under. Their Duraplay toys are made out of natural laytex, and they have a small option (for dogs 20lbs or less) that is perfect for Frank & Beans size-wise. I wish they would use chew-toys like this because it would be more affordable than buying them edible chews/treats to satisfy their need to chew.
Hartz also makes oinkies which are similar to rawhide but are made out of pig-skin instead of cow-skin. Some studies have shown that pig-skin is easier for dogs to digest than rawhide is, making it a safer option. Yet, it's still much more affordable than bully sticks and other long-lasting chews so it's a great budget option for pet owners looking to avoid traditional rawhide. Like their toys, Hartz makes Oinkies in a wide range of sizes for different sizes of dogs. Oinkies are made in China, but if they were to be manufactured elsewhere, they would become a staple in our household.
Hartz also makes leashes, puppy pee-pads, waste bags and other accessories for dogs.


Hi there! I am Emily Evert, the owner of Emily Reviews. I am 28 and live in a small town in Michigan with my boyfriend Ryan and our two pugs. I have a large family and I adore my nieces and nephews. I love reading memoirs, and learning about child development and psychology. I love watching The Game of Thrones, Teen Mom, Sister Wives and Veep. I like listening to Jason Isbell, John Prine, and other alt-country or Americana music. I created Emily Reviews as a creative outlet to share my life and the products that I love with others.
This post currently has one response.