Alex Toys sent me product for review. All opinions are my own.
By Christmas I will have two nieces who are 10 years old. I also have a 13-year-old little sister. All three of the girls can be tricky to buy for. Alex Toys has a wonderful selection of gifts for creative or crafty kids, so they are one of my go-to gift ideas for the creative preteen or young teen crowd. While I think of them for their craft kits, they have SO much more to offer, including items for much younger girls, and boys as well. Here are the Alex Toys items that I'm handing out in my family this Christmas.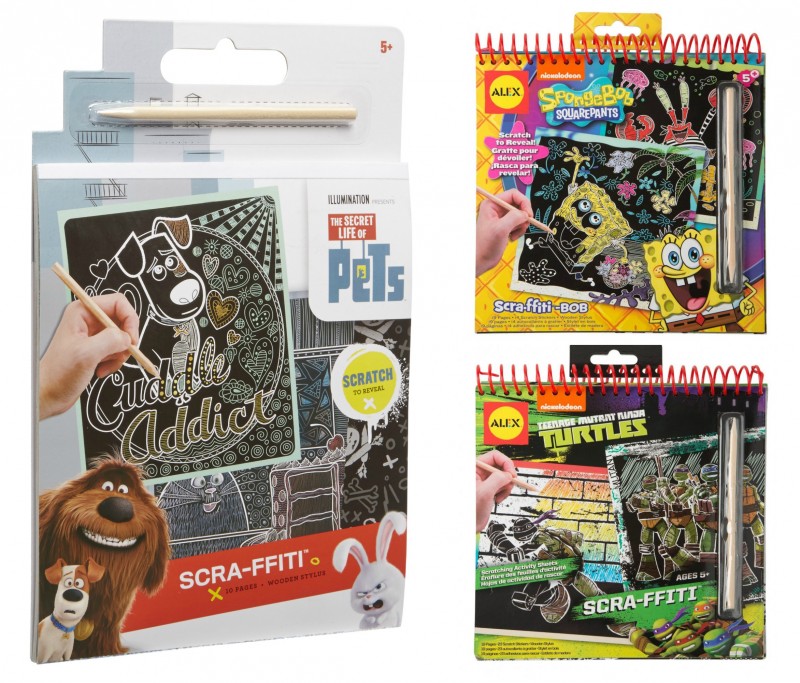 Scra-ffiti is a line of product from Alex Toys that comes with pages that are primarily black, and a small pointed stick that you use to scratch off the top (black) layer to reveal colors underneath.My 6 year old nephew Drew loves Teenage Mutant Ninja Turtles so I know he'll enjoy that book, while my older niece will enjoy the Spongebob and The Secret Life Of Pets versions. These are aimed at kids ages 5+. Two come with a spiral-binding, while the Secret Life Of Pets one comes in a pad form.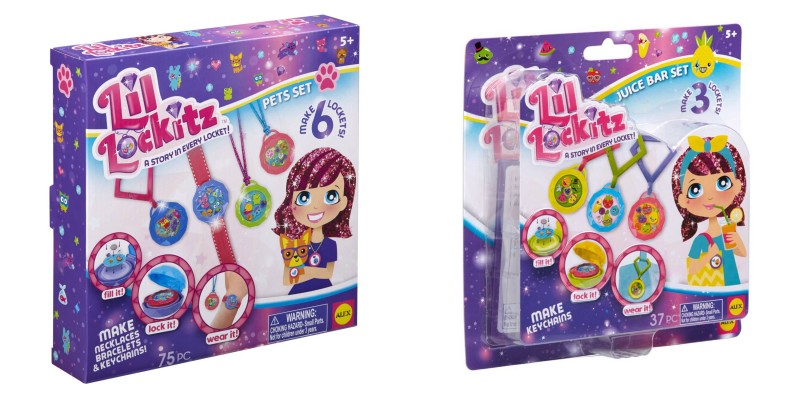 Lil Lockitz from Alex Toys are also for ages 5+. These kits let kids make their own bracelet designs. Each bracelet has a large locket-type closure that can be filled with the child's choice of charms that come with the kit. The Juice Bar set features cute food-themed charms and creates three keychains, while the Pet set feature pet related charms and lets you make six lockets including necklaces, bracelets and keychains. They do not get permanently closed, so you can open them later to include different charms to change up your style!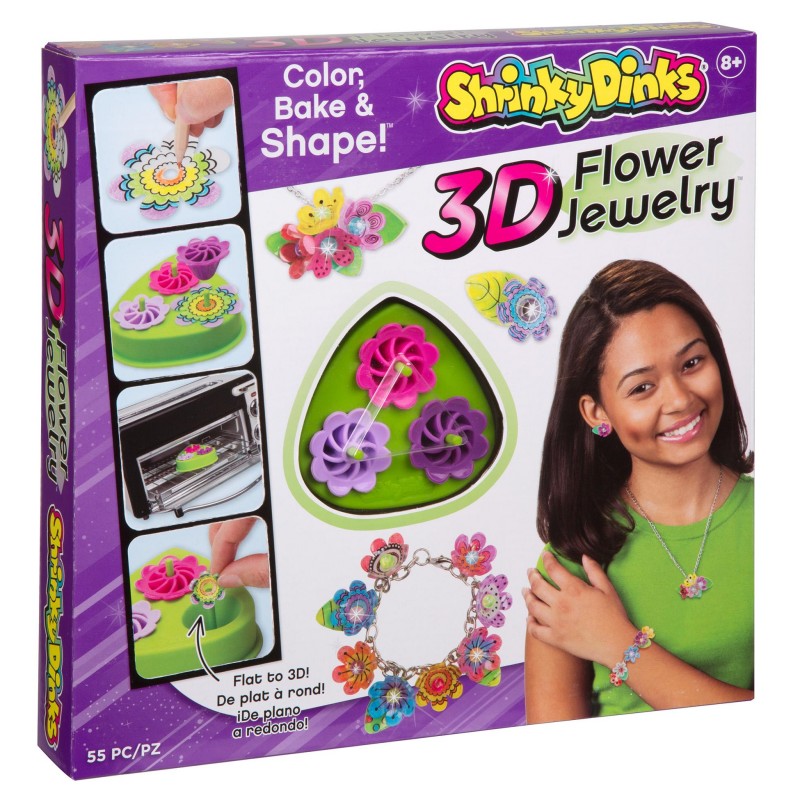 Shrinky Dinks is a great option for kids who want to make their own jewelry, but who are slightly older than the Lil Lockitz crowd. I actually had some Shrinky Dinks kits when I was a kid! In general, Shrinky Dinks come in flat sheets that you color while full sized, and then bake to shrink them down into charm sizes. This Shrinky Dinks 3D Flower Kit features sheets with flowers that can be colored, and once baked the charms can be formed on the flower molds to make them 3D instead of flat! From there they can be added to bracelets or necklaces.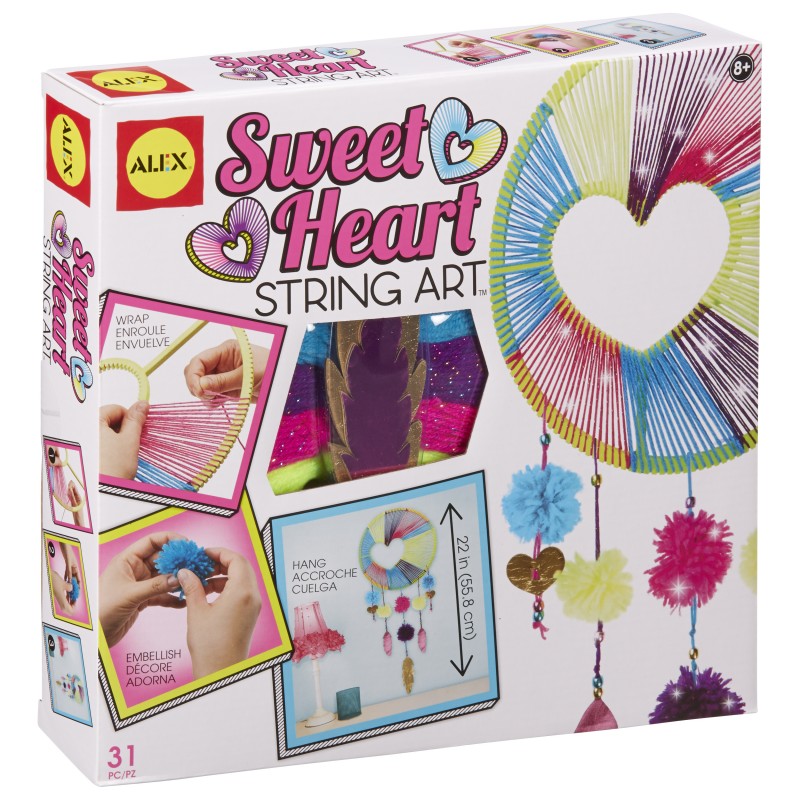 I was excited to discover the Sweetheart String Art kit from Alex Toys (For ages 8+). My 13 year old sister has had an interest in hippy-like style and design for a few years now. I'm not really sure where she found this passion but she loves peace signs, feathers and so on. It was probably over a year ago now that she asked me about a dream catcher that I had as a child that she saw in a picture. When I saw this string art kit I thought it looked a bit like a dream catcher and with the beads and feathers it looked a bit like her hippy-style as well! I am excited to give this to her to create and hang in her bedroom.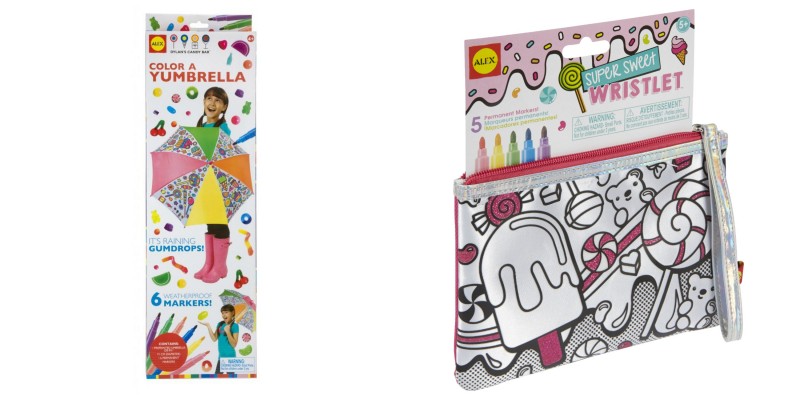 I loved fuzzy posters as a kid. I also had some plush toys that could be colored and then washed to get clean and re-color. Around the time that I hit high-school, products like color-your-own-backpack, or color-a-wallet and things like that started coming out. By then I was too old for them, but I wish they would have been out when I was a kid as I would have been all over them. Alex Toys has a line of "Color a" products that will appeal to wide range of ages. Their Color An Umbrella kit is for ages 4+ but I think my 10 year old niece will love it too. The colorable wristlet is for ages 5+ but I expect it will entertain kids from 5 all the way up through middle school as well. My sister likes clothing and accessories that have cute food so the Super Sweet Wristlet is something that will appeal to her I think. If you know a boy who likes to color be sure to check out the "Color a.." line from Alex Toys. It's very large and includes several boy-friendly designs and products.
My one niece likes being creative, but she doesn't like drawing or coloring. She loves working with clay or building things, for example. She made a ceramic bowl in her art class that she was really proud of, because it gets used regularly. My goal for her was to find a craft kit that would let her use her hands to make something 3-D (so no coloring or painting, etc) that would produce an end creation that she could be proud of and use a lot. For her, the Knot-A line at Alex Toys is perfect. They make blanket kits that come with squares that you knot together (no sewing needed!) to create throw blankets or pillows. I plan to give her the Knot A Quilt Pattern kit that creates a blanket 38.5 by 54 inches. It's aimed at kids age 6 and older. I am also getting her the Knot-A-Lion kit which makes a lion-head pillow and has a blanket attached. She loves animals so I know that one will appeal to her as well. My 13-year-old sister loves Chevron so the knot-a-blanket in chevron design will be going to her. This kit in particular I can see being enjoyed by older teens as well. I made my friends knotted blankets when I was 15 or 16, but they didn't turn out as great because I cut some of the pieces imperfectly. With the knot-a-quilts the pieces are cut for you so there isn't much room for error.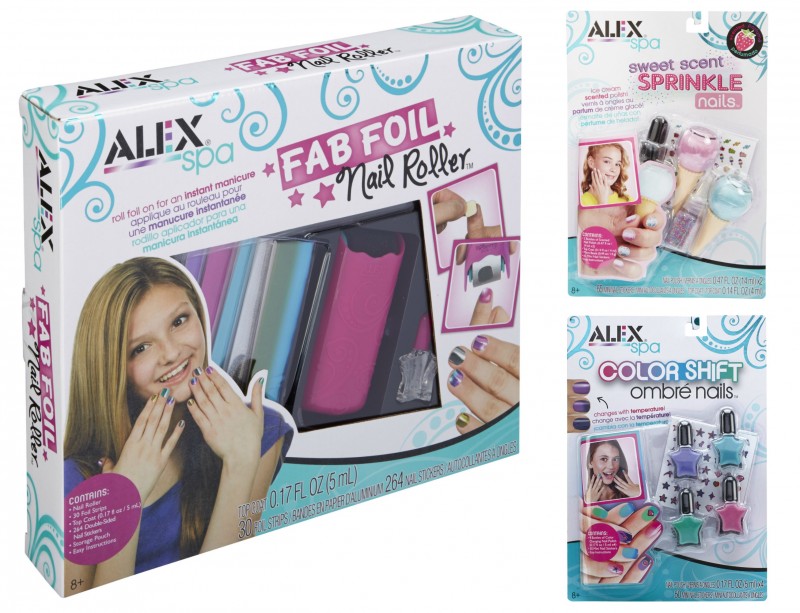 Last but not least, the Alex Spa line is great to check out if you have older girls or even teenagers to find gifts for. This line features spa products, primarily hair and nail kits that are perfect for girls old enough to have an interest in doing their hair or nails. The Sweet Scent Sprinkle nail set is really cute. The polish comes in bottles that look like ice cream, and it comes with tubes of glitter (aka "sprinkles") and  a pack of nail stickers that features cute ice cream and candy stickers. Plus, the nail polish smells like ice cream! The Color Shift Obre Nails come in cute star-shaped bottles (and nail stickers are included, too!). The coolest part of this set is once painted, your nails will change color with temperature! The Fab Foil Nail Roller is really unique. It comes with colorful and shiny foils with a roller that helps them adhere to the top of your nails, creating a colorful and shiny manicure that will definitely make you stand out. All 3 of these nail sets are aimed at ages 8+.
Follow Alex Brands on social media: Facebook, Twitter, Pinterest and Instagram.
Win it: Two Lil Lockitz sets from Alex Toys! One Lil Lockitz Sweets set and one Lil Lockitz Pets Set.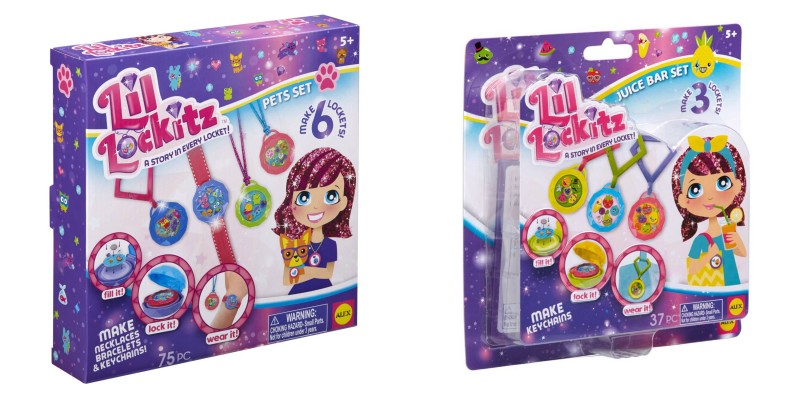 To enter: Fill out the GT form below by 11:59pm EST on 11/23/2016. Giveaway is open to the US.



Hi there! I am Emily Evert, the owner of Emily Reviews. I am 28 and live in a small town in Michigan with my boyfriend Ryan and our two pugs. I have a large family and I adore my nieces and nephews. I love reading memoirs, and learning about child development and psychology. I love watching The Game of Thrones, Teen Mom, Sister Wives and Veep. I like listening to Jason Isbell, John Prine, and other alt-country or Americana music. I created Emily Reviews as a creative outlet to share my life and the products that I love with others.
This post currently has 12 responses.