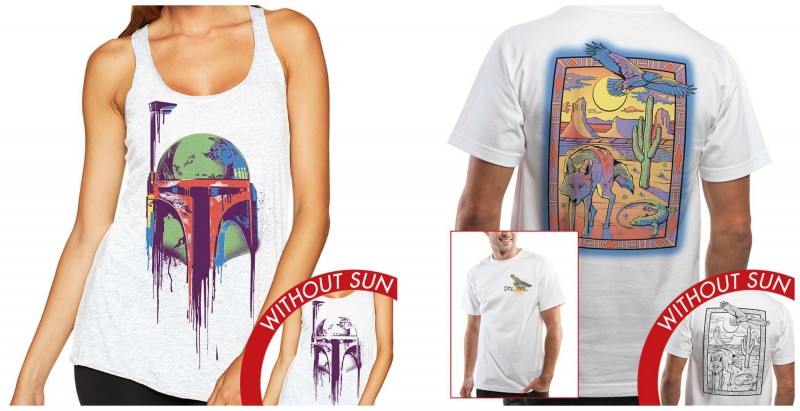 Thank you to Del Sol for providing me with product in exchange for my honest review. All opinions are my own.
One of my favorite things in the world is being warm in the sun. I love the beach, going swimming, and just taking a walk outside when it's warm out. I know I'm crazy – talking about the sun and beach during holiday season! I'm sure there are a lot of readers who live on the west coast and don't have to deal with the snow and cold. I can honestly say I am so jealous because I'd do anything to be somewhat warm right now. When Del Sol contacted me to do a review for the holiday gift guide, I thought it would definitely bring me some sunny vibes.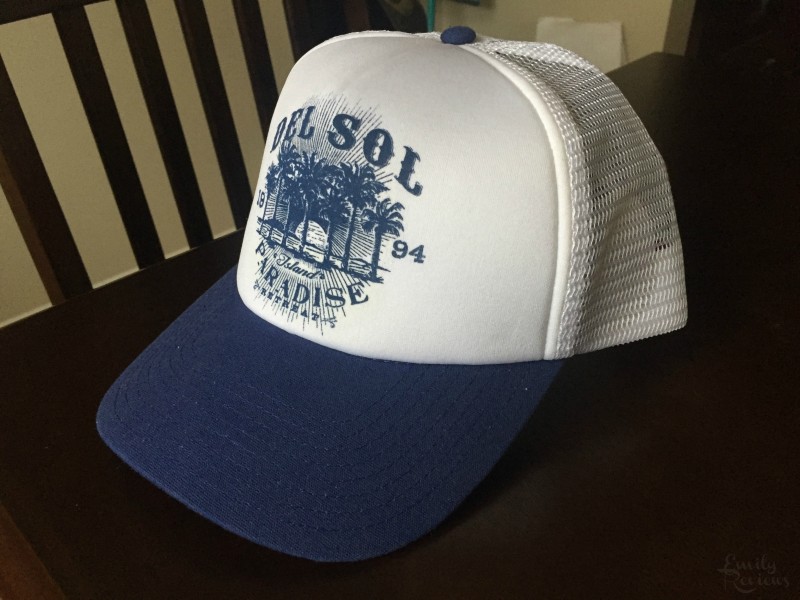 Del Sol is the world's leading brand of color changing apparel and accessories. They use Spectrachrome crystals that work like a flower – opening and unfolding upon exposure to sunlight. The color change will also happen if it's cloudy, which is awesome. It's amazing to see how far technology has come! Del Sol has an online store, but they also have physical locations to purchase their items. Every single product they have features the color change technology. From nail polish, shirts and hats,  to hair accessories and beach toys – they have pretty much anything you can think of. All of the products I received make me wish I was in an area that was sunny.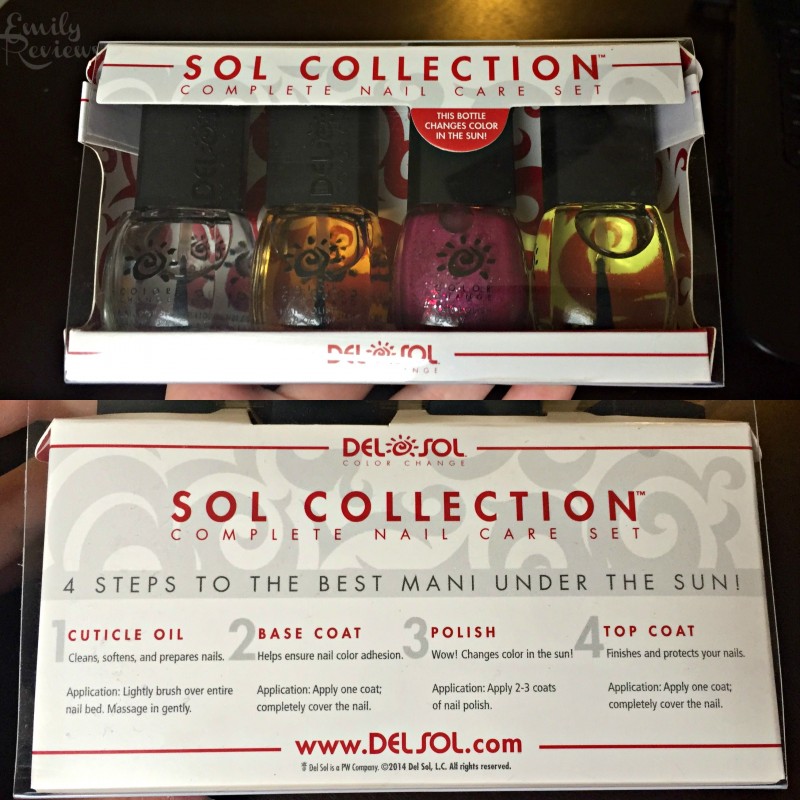 The Del Sol Hat, shown first, and the Del Sol Complete Nail Care Set are some of the cool items you can experience with color change. The nail set is actually really useful to me because I've been struggling to paint my own nails and have them last. This set includes cuticle oil, base coat, a Del Sol color change polish, and a top coat so that your nail polish color will last a long time! I recently painted my nails with their shade Better Slate Than Never, which is gray and turns a purple color. It was amazing to see the color change as I walked around outside for a little bit. My nail polish has also never lasted this long without any chips or cracks.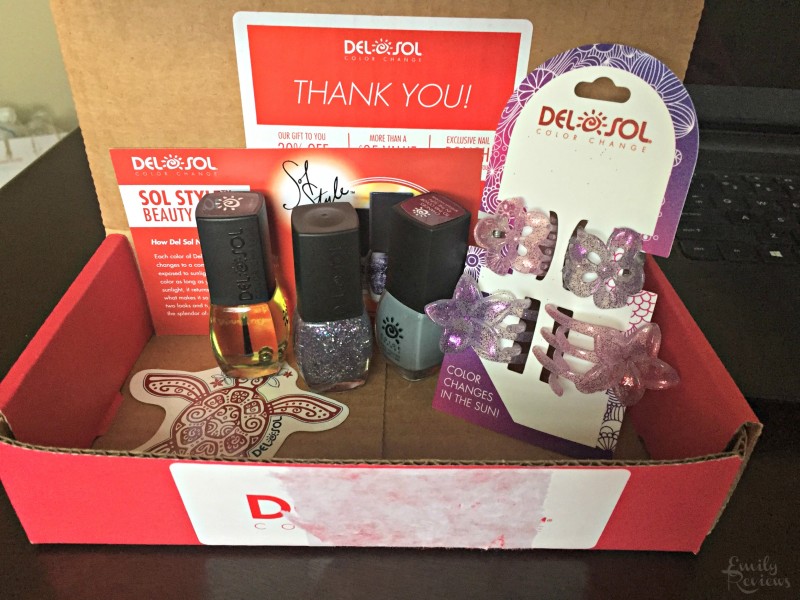 I wanted to touch base on the Del Sol Sol Style Beauty Box because this is fairly new and it's starting to undergo more changes and bigger pushes. This is a monthly subscription box for nail lovers! You can choose between more nail polish or more nail art supplies and you'll get the box catered to your choice. If you opt for the nail polish lover, you'll get 3 new nail polishes every month along with a sticker/special accessory. If you like the nail art more, you'll receive 2 nail polishes and 1 nail art product, like nail stickers/nail appliques. I think this is awesome for teens or anyone who loves nail polishes.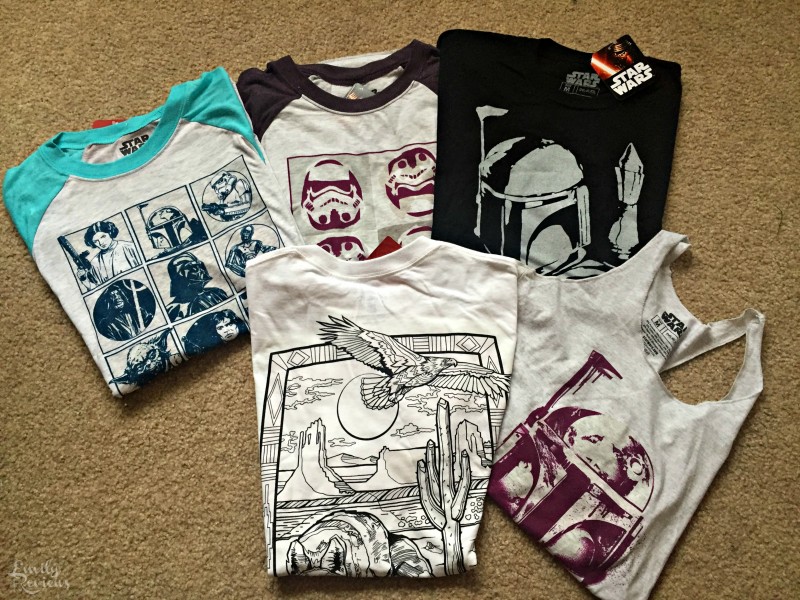 Del Sol apparel is one of the more popular items you can buy in their store. I received 4 Star Wars shirts and 1 desert shirt. Everything is true to size and true to color. For me, I couldn't personally go outside without having to wear a coat so I wouldn't be able to wear these until it started to warm up. The apparel would make great gifts for anyone you know who lives in a sunny area, or just wants some cool color change shirts.
Del Sol is sold on a lot of cruise ships and also in a lot of sunny, vacation areas so you can see why they have all the items they do. They have tourist-y type products, but I think that you can make all of them work with your daily life. I absolutely love the clothing – the shirts are soft, comfortable, and don't shrink with the wash! The nail polishes are by far my favorite, though. Not only do I have a fun time watching the colors change, but my nail polishes last a very long time.
Buy It: If you like what you see, be sure to check out the Del Sol website to see more color changing items
Connect: Follow Del Sol on Twitter, Facebook, Instagram, Pinterest, Google Plus, and YouTube to see more
Win It: Del Sol was extremely generous to offer one winner a prize of a $100 Gift Card to their website! This giveaway is open to 18+ USA, and ends at 11:59 pm EST on December 28, 2016.
Entry Form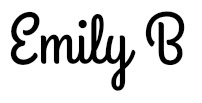 This post currently has 12 responses.