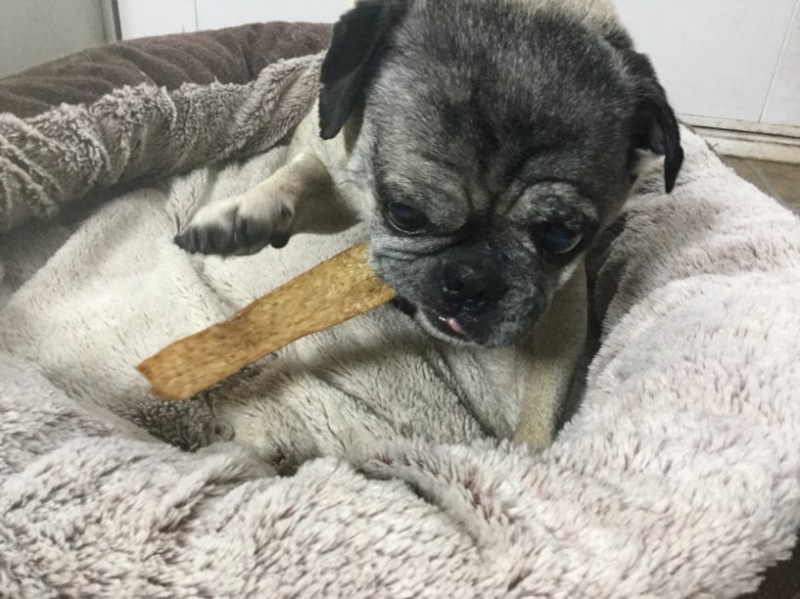 I was sent dog treats and chews from Jones Natural Chews. All opinions are my own.
We first tried chews from Jones Natural Chews about four years ago, just after we brought Frank and Beans home. I avoid rawhide because I worry about digestive blockages. Yet, my pugs won't eat really hard chews like bones, antlers or hooves. Jones Natural Chews offers dog treats and chews that my pugs adore. Some of my favorites are their various ear and bully chews because they are very long lasting, without being so hard that my dogs will refuse to chew on them. It's the perfect match for my dogs' chewing needs.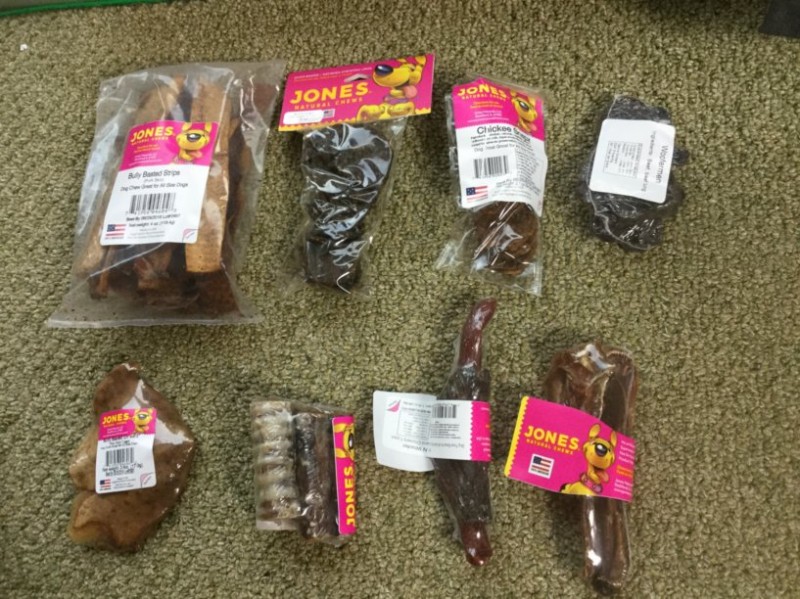 We were sent a variety of items to review from Jones Natural Chews. Some of these we had tried before (and enjoyed) and others were brand new for us.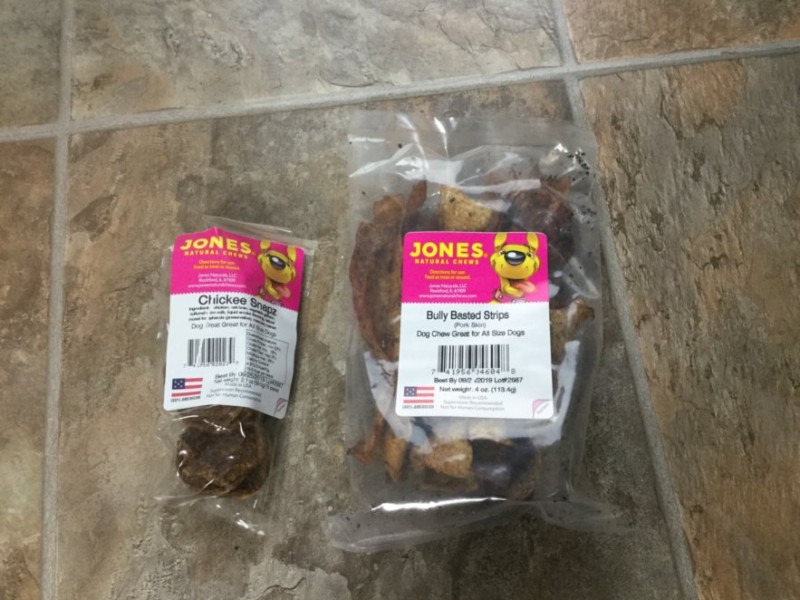 The chickee snapz are disc-shaped treats which are about 1.5 inches across and can easily be broken into even smaller pieces to use as training treats or just to stretch how far they will go. Both pugs gobbled these up with delight. The bully basted strips are pork skin strips that are bully based and baked. For my senior pugs these last about 20 minutes making them a nice chew that is quite affordable.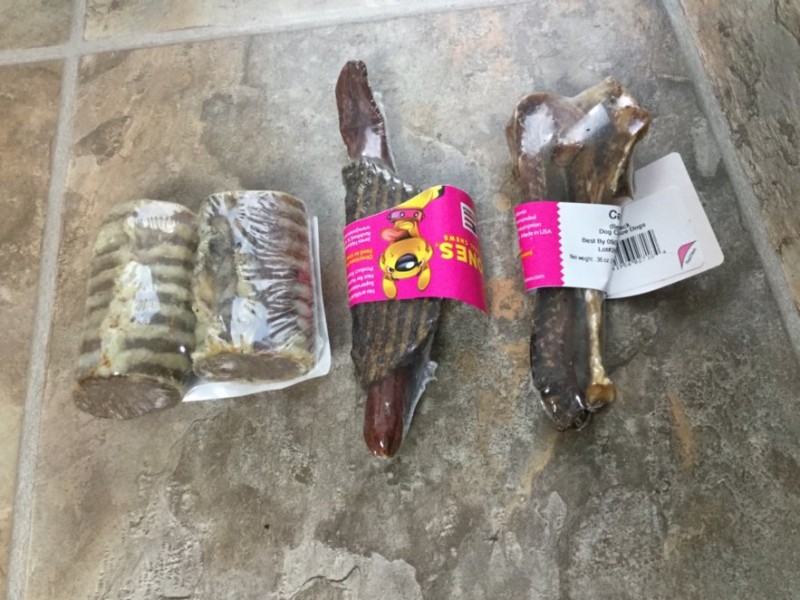 I had bought my dogs windees from Jones Natural Chews before. Windees is what they call their windpipe/trachea chews. The item pictured on the far left here is a stuffed windee which was new for us. Of course, having filling in the trachea just made it more appealing for my dogs! In the center is a Frank N Woofer. With my one dog being named Frank I loved the name of this one! It is a chicken sausage wrapped in an oven-baked ground beef patty. For my dogs this is an indulgent, quickly consumed treat. On the far right is candy cane shaped bully sticks. These make an adorable holiday gift for dogs, and they like them as much as any other bully stick (which means a LOT).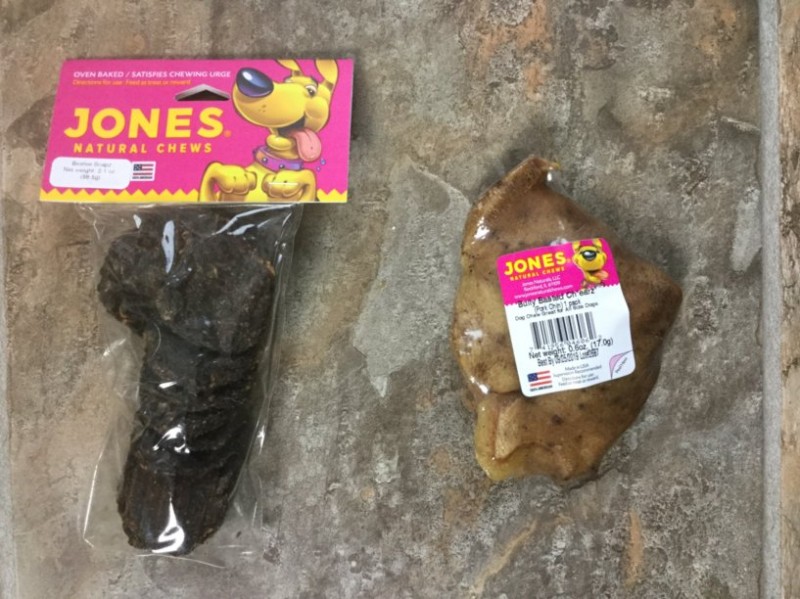 The Beefee snapz are small beef disc chews that are roughly 1.5 inch in diamter. They break easily so we use them as tiny treats. On the right is a bully-based ch'earz which is made out of pork chin. We've got these in the jones chew variety bags before and my dogs love them.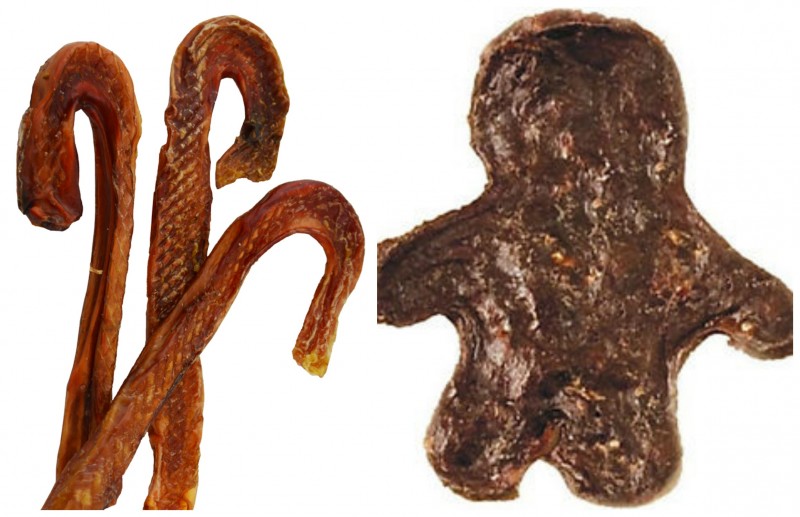 Win it: Some candy cane-shaped bully sticks, and woofers (gingerbread man shaped treats) from Jones Natural Chews. Giveaway is open to the 48 lower US states and will end 11/19/2017 at 11:59pm EST.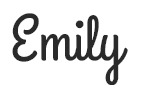 Hi there! I am Emily Evert, the owner of Emily Reviews. I am 28 and live in a small town in Michigan with my boyfriend Ryan and our two pugs. I have a large family and I adore my nieces and nephews. I love reading memoirs, and learning about child development and psychology. I love watching The Game of Thrones, Teen Mom, Sister Wives and Veep. I like listening to Jason Isbell, John Prine, and other alt-country or Americana music. I created Emily Reviews as a creative outlet to share my life and the products that I love with others.
This post currently has 8 responses.