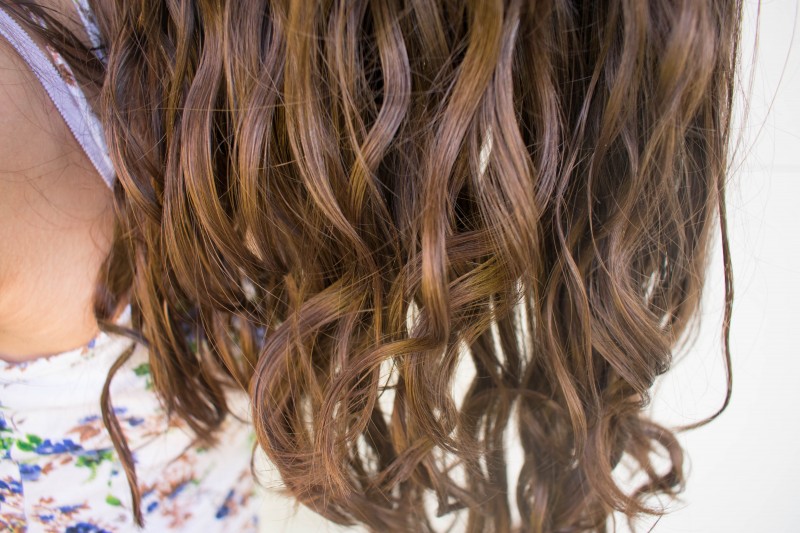 My Mane Bio did a hair analysis for me in exchange for this review. All opinions are my own.
My curly girl method journey
About a year ago I tried out the curly girl method and learned that my hair was wavy. Yes, I was 26 years old before I knew my own basic hair type! I had gotten progressively less happy with my hair from my early to mid 20's. I had grown my hair out as long as possible to weigh it down. I found that when my hair was longer and more weighed down, it was less 'poofy'. I didn't understand that the poof I was battling was the result of me brushing out my natural waves. If you think you might be in the same boat, check out my blog post Is your straight frizzy hair secretly wavy or curly? to learn how you can find out. Here is a photo of me about a year ago.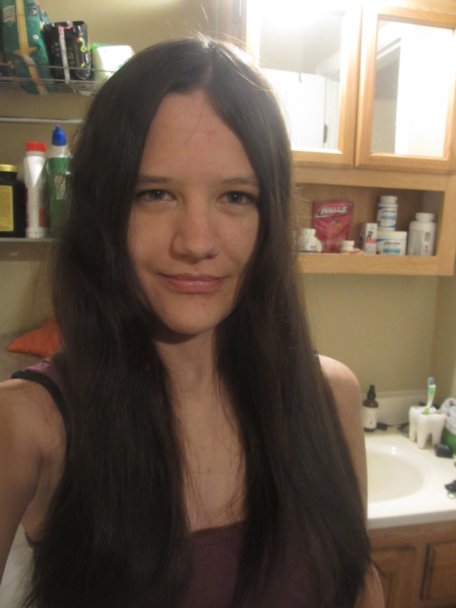 At the time, this was what I considered to be a very good hair day for me. I had little to no frizz! Still, my hair had gotten very dull and was sort of limp and lifeless. It was also extremely tangle-prone.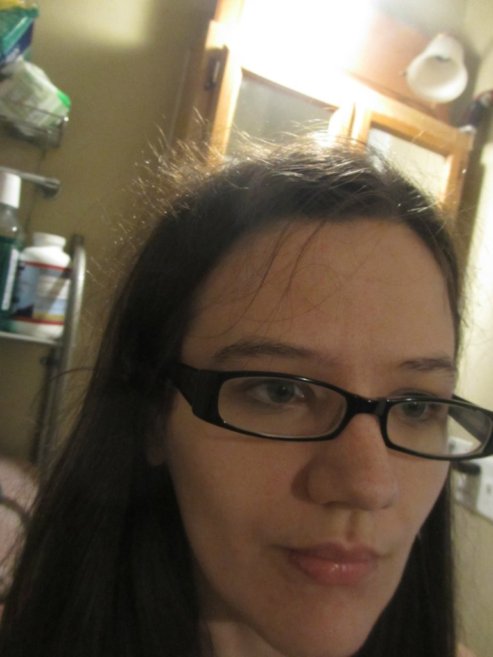 This is me on a slightly worse than average hair day around that time. Yes, this insane amount of frizz and fly-aways was quite normal for me. 95% of the time I wore my hair in a bun on top of my head to try to hide the frizz. I have always preferred wearing my hair down, but the frizz was so bad for a couple of years that I was just embarrassed!
I tried a lot of products that claimed to reduce frizz. Some helped a smidge, but none were getting to the root of the problem. I even asked my doctor about whether or not any of my medications may be related to my hair struggles. She referred me to a dermatologist who said my hair trouble was a mystery to him, but potentially related to my Ehlers Danlos syndrome, a collagen disorder. However, I found that a bit odd because EDS is a genetic disorder, so I've had it from birth, yet the frizz only started in my 20's.
I did more googling and kept coming across information for taming frizz when you have curly hair. Except, I don't have curly hair. Or so I thought. Eventually, I came across information from a wavy-haired person who thought her hair was straight but poofy for years until she tried using the curly girl method to treat her hair as if it were naturally curly…and then curls appeared! It turns out, those 'frizz' and 'fly aways' can be pieces of hair that want to curl but need more hydration and/or to be treated more delicately so that they can stay formed with other pieces of hair to create curl-clumps.
I tried the curly girl method and found that my hair is primarily wavy, but I get the occasional 'true' curl. Prior to the curly girl method I didn't know the difference between waves and curls. 'true' curls are corkscrew-shaped, meaning they make a full circle around instead of 'waving' back and forth in an S or zig-zag type shape. In the last year I've spent a ton of time on YouTube watching videos from curly girls, I've bought a couple dozen different products that are curly girl method approved, and I've tried a variety of hair care methods.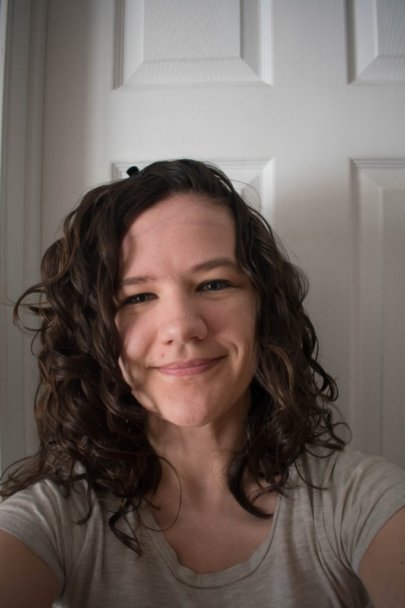 Here is an example of what I consider to be a pretty good hair day these days. (above) A pretty dramatic difference I think! A lot of people assume that I have used chemicals or heat to create waves ut the curly girl method does not include those, it embraces natural hair texture. Of course, the waves/curls are an obvious difference but my hair also has more shine and less frizz because it stays more hydrated and more moisturized.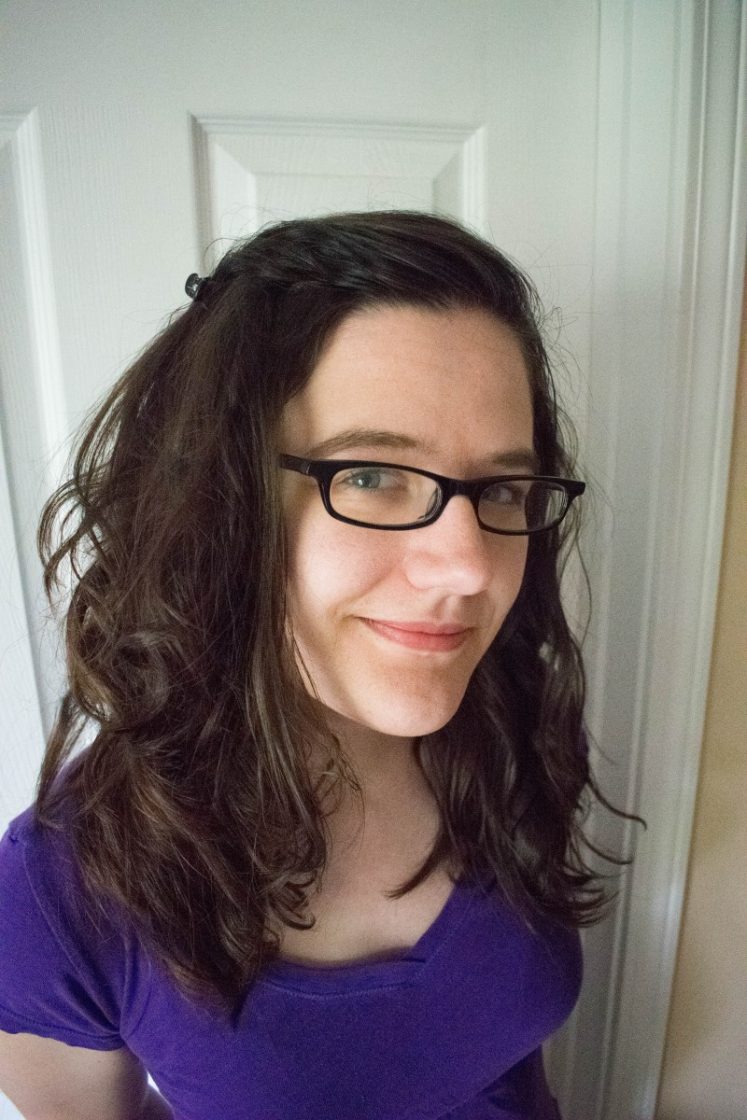 Here is what I consider to be a bad hair day these days. I'm not embarrassed of this hair like I used to be embarrassed on my bad hair days. My mistake here was not using enough gel so my waves/curls are lacking in definition.
Many of the videos will tell you what products or methods will work best for you depending on your hair type. For example, if your hair is low porosity, X will work. If your is high porosity, do Y instead. Or, if your hair needs protein, X is a good product, while if your hair needs moisture, go with Y instead.
Hair porosity test
There are "tests" that people claim you can take to figure out if your hair is high or low porosity, and to figure out if your hair needs moisture or protein. I tried the 'float test' for porosity and my hair stayed o top of the water for hours so according to others, that means my hair is low porosity. I had also heard from many people that if your hair takes forever to dry, it's probably low porosity. It takes me over an hour with my diffuser set on low heat and low speed for my hair to get about 90% dry. That's forever! Additionally, people tend to assume that wavy hair is more likely to be low porosity, while courser and/or tighter curls are more likely to be high porosity. Hair that is naturally low porosity can be damaged by heat or chemicals to become low porosity, but I haven't dyed my hair in about a decade, and I prior to starting the curly girl method I never used heat on my hair at all. After starting the curly girl method I started diffusing my hair dry, but only on low heat. So it shouldn't be damaged at all. All the signs made me quite confident that my hair was low porosity. So, I was buying products and trying routines recommended for low porosity. I never really made any sense of figuring out if my hair liked protein or not. The 'tests' were very confusing to me.
Finding the right curly girl approved products for me
I found significant success in just using the curly girl method. However, I knew that other curly girls found really awesome results once they found products that were super ideal for their hair. I knew I hadn't found my 'holy grail' hair care products yet. I wanted to keep trying more products to get the best hair I could. After trying a few dozen products and getting a lot of products that didn't seem to work wonderfully for my hair the way others said they worked for them, I got a bit frustrated. It's not unusual for curly girl method products to be $25 or more per bottle. I tried staying on the cheaper end, but even at $10 or so a bottle, buying a few new products to try a month got expensive pretty fast if they weren't working for my hair. I felt like I was throwing a lot of money away, but I knew the products I had tried weren't giving me the best results.
My Mane Bio Hair Analysis Review
My Mane Bio offers microscopic hair analysis. They send you a little card with some questions about your hair and haircare routine. They also send you a baggie for you to send in 20-40 pieces of hair. They need to be product-free, and I always use gel these days so I had to wash my hair and not include gel one day so that I could send in my hair. You mail it back (they even include a pre-addressed envelope complete with stamp for you). Once your hair analysis is done (it may take about two weeks) the results will be emailed to you.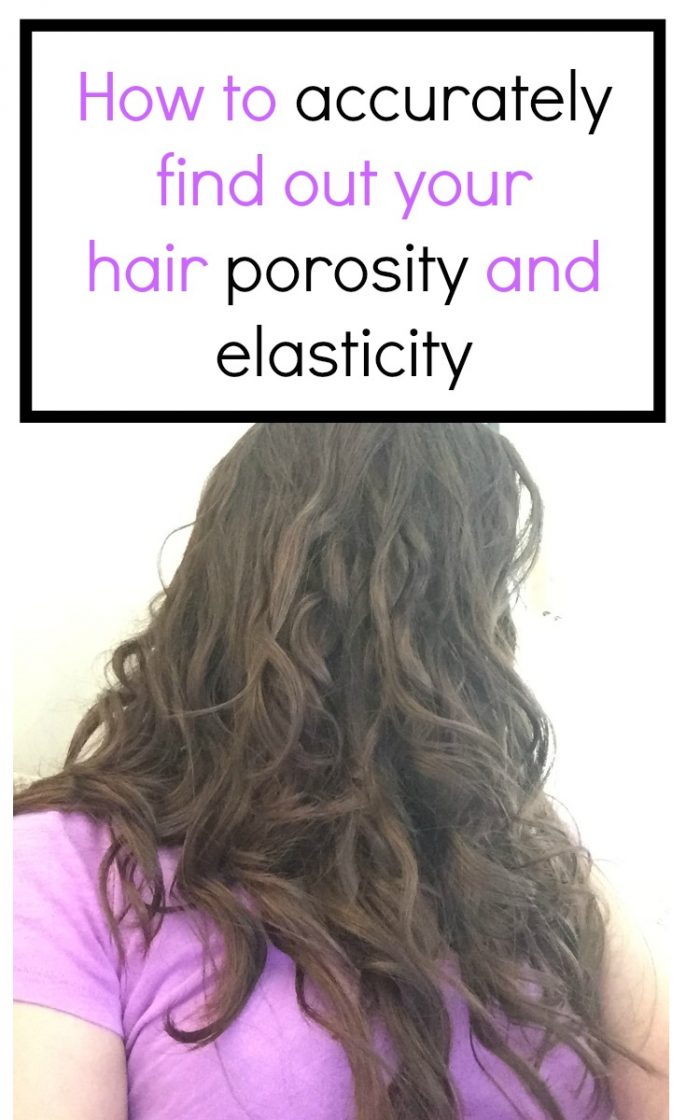 The results for the Total Hair Analysis include your hair porosity, hair elasticity, texture, width, overall hair health, an analysis of how the weather in your area may impact your haircare routine, a overview of how the products you are currently using are matched for your hair type (you tell them which products you're using when you mail in the kit), care and styling recommendations, and specific responses to hair goals and hair frustrations that you filled out when sending in your kit.
Plus, the total hair analysis fee includes three follow-up email responses. If you have questions or want additional information, you can email them three times to find out even more about how to care for your hair. I haven't taken advantage of those additional emails yet, but I definitely will!
On to my results…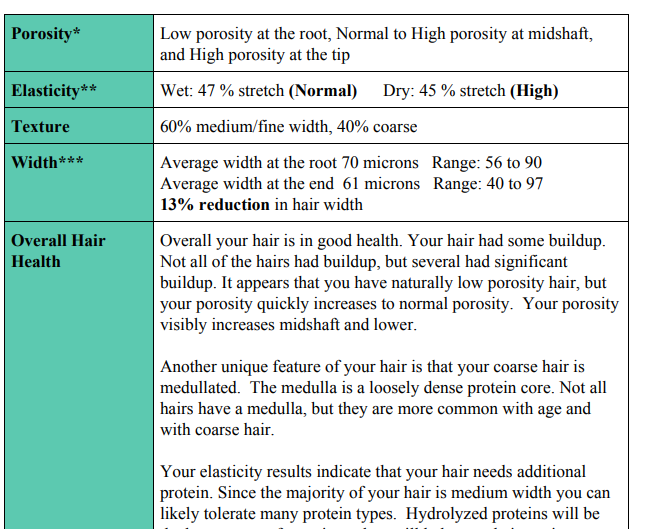 That first line, porosity – totally blew me away. For the last year, I've been buying products for low-porosity wavy hair when the majority of my hair is medium to high porosity. Every single way I had read about to 'test' if your hair was low or high porosity pointed me to low porosity. This makes me firmly feel that the only way to find out if your hair is low or high porosity is to have it scientifically tested like this. I'm so glad I know the truth about my hair porosity, this goes a long way to help steer me towards treating my hair right! I had never even heard anyone reference the possibility of hair having different porosity at different points on the hair shaft.
I had explained how much moisture vs protein my hair needed has remained a total mystery to me. YouTube videos feature people talking about how 'squishy' your hair feels. I've never felt my hair was squishy or not squishy so this concept was entirely confusing to me. The 'elasticity' results explain this to me and let me know I need more moisture in my hair care routine. As one of my 'hair frustrations' I explained how I sometimes struggle to get good definition, and the response to that mentioned that lacking protein can also cause lack of definition.
I also found the build-up information interesting. I know we have very hard water here, as we've done a hard water test and got the darkest/highest level of iron result. So, it makes sense that I may get buildup easier with us having very hard water. However, they also included cleansing instructions that were more elaborate than what I've been doing, so that may make a big difference as well.
I love how they provide feedback for the specific products you've been using. Based on the results I had been getting, I was pretty happy with my shampoo and conditioner, but I thought I could use a better leave-in conditioner, a better curl cream, a better gel and a better deep conditioner or protein treatment. My Mane Bio said that the shampoo I've been using is ideal for my hair type, and the conditioner was pretty good as well. They recommended a different deep conditioner than I had been using, and they thought the gel was probably okay for most of the year, but that I may need to switch in the summer when it's more humid. It was reassuring to know that the results I thought I was getting from the hair care products was roughly accurate. They gave me feedback on what ingredients to look for in replacement products in terms of a deep conditioner and a gel.
If you want a foundational hair analysis to figure out your porosity, elasticity, width and overall health, you can purchase that analysis for $44. If you want a total hair care analysis to include everything your porosity, elasticity, width, overall health, current products review, styling recommendations for your natural hair, and email follow-ups, the cost is $89.
This hair analysis can help you with your hair regardless of your hair type or what haircare method you use. I think it will be particularly useful for those trying the curly girl method though. I'm excited that I will no longer be wasting my time buying products that are better suited for low-porosity hair, and that I have insight into how my hair tolerates protein. Those two pieces of information will definitely help point me in the right direction when picking products and will save me money by preventing me from buying products that are wrong for my hair. I'm budget conscious, so I love how paying for hair analysis will basically pay for itself by helping you avoid spending money on products that aren't suited to your hair type! I wish I would have had hair analysis done sooner becuase I've bought a lot of the wrong products already, but I'm glad I had it done now. Now that I kow my hair type, I'll definitely save money moving forward.  I'd recommend having a My Mane Bio hair analysis done for anyone who wants to ensure the products they buy will work well for their hair type.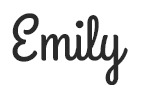 Hi there! I am Emily Evert, the owner of Emily Reviews. I am 28 and live in a small town in Michigan with my boyfriend Ryan and our two pugs. I have a large family and I adore my nieces and nephews. I love reading memoirs, and learning about child development and psychology. I love watching The Game of Thrones, Teen Mom, Sister Wives and Veep. I like listening to Jason Isbell, John Prine, and other alt-country or Americana music. I created Emily Reviews as a creative outlet to share my life and the products that I love with others.
This post currently has 13 responses.