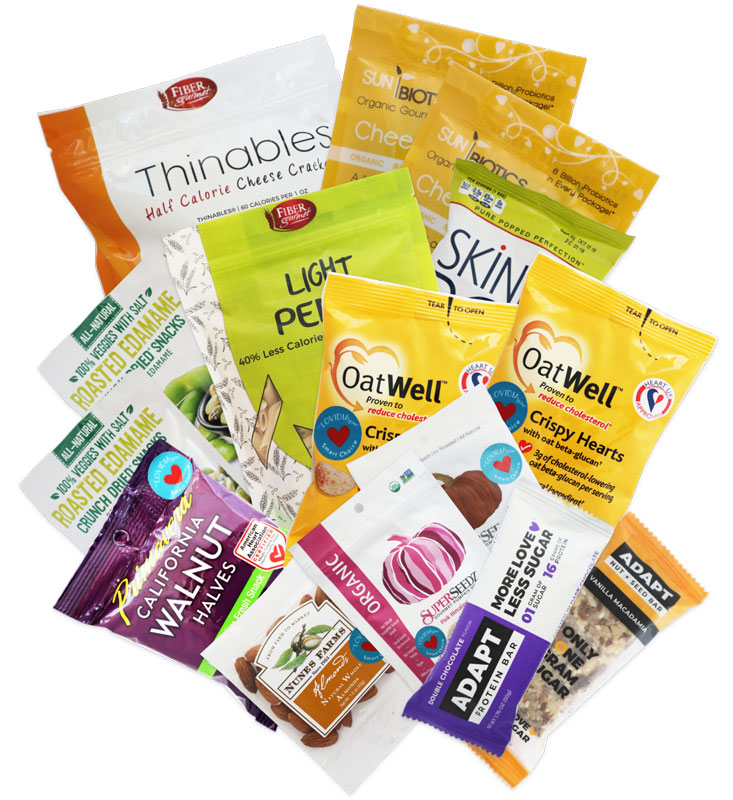 This is a sponsored review with Lovidia. All opinions are my own.
Choosing a low carb or even keto diet has seemed to me to be the most popular diet the last few years. I see low carb and keto being talked about everywhere. I know multiple people who have been successful with losing weight and/or just feeling better while eating low carb.
Ryan and I have successfully lost weight in the past but eventually gained it back – a few times over. At the moment Ryan is down almost 30 pounds in the last six months just from watching his portions, but he'd like to lose another 30 or perhaps even more. He's planning to try keto for a few months to see if that will kick-start more weight loss. We don't eat much pasta, so his main struggles with cutting back on carbs are sugar and foods like crackers or breads. It can be a little overwhelming o try to go low carb when you have to change so many foods at once. That's where Lovidia's Low Carb Bundle comes in.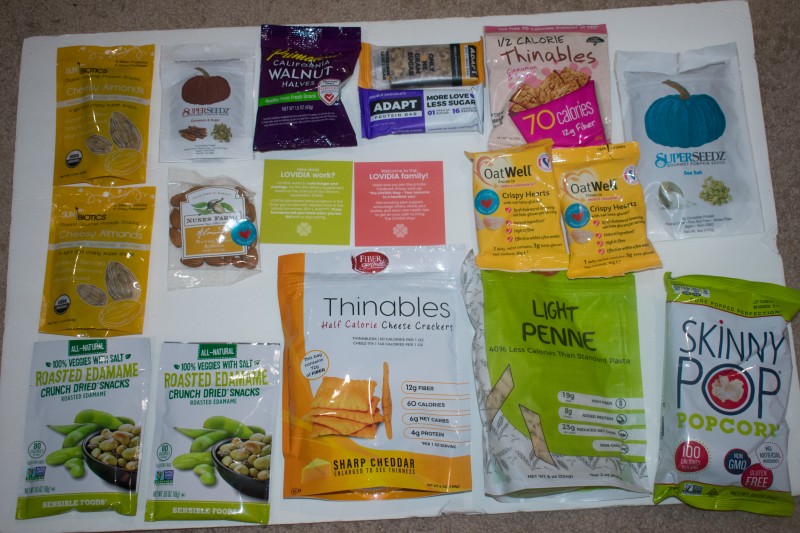 This box includes snacks and foods that are low carb for just $29. You can try out a variety of snacks and foods that are low carbs to see which ones you do and don't like (many in individual portions) to make grocery shopping a bit easier the next time around. We've enjoyed trying out the items Lovidia sent to get clued into some foods that Ryan can buy while on keto or low carb. It included 16 items, 13 being unique. Only one of them was one we had tried before! Skinny Pop is available at lots of grocery stores which is really convenient. It's a very low-calorie snack and they offer several flavor varieties.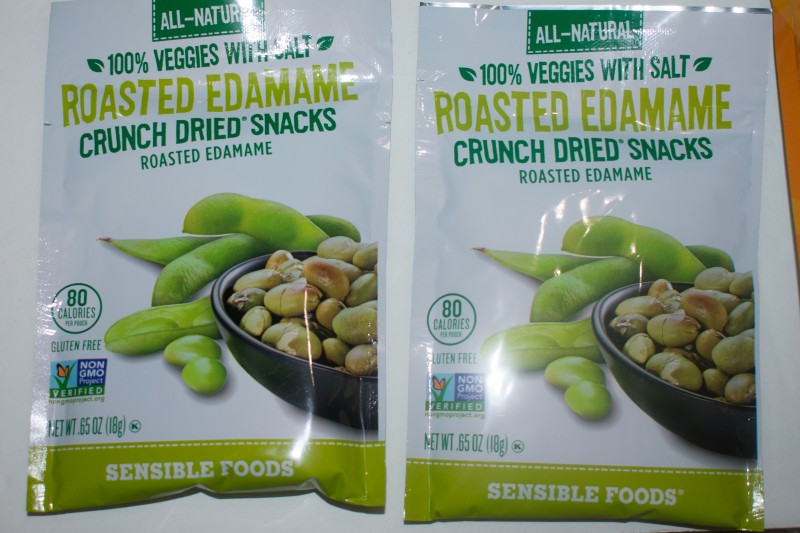 I had heard of edamame but I had not tried it. These don't have much flavor, honestly, but they don't taste bad. They have a bit of a crunch to them and I found the texture satisfying.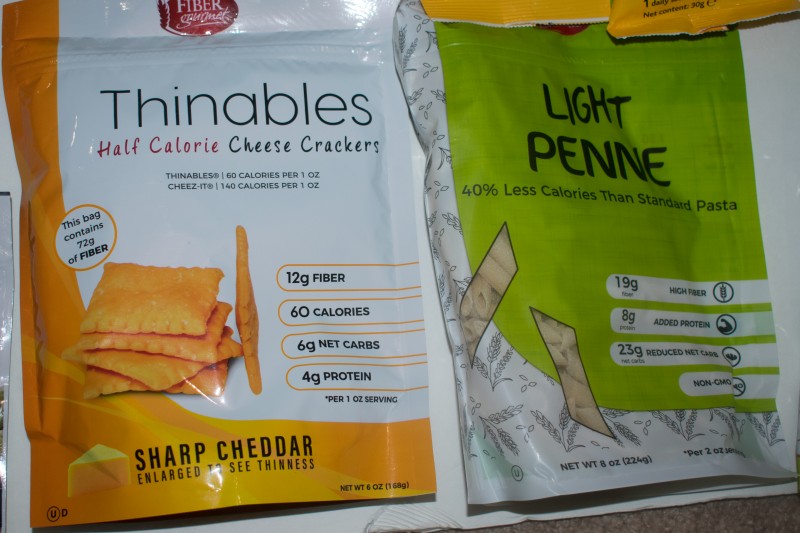 These Thinables half calorie cheese crackers compare themselves to Cheeze-it crackers, and they are less than half the calories and only 6 net carbs per serving. If you're looking to satisfy that traditional salty snack craving while low carb these are a great alternative to have on hand.
The light penne is 40% of the calories vs regular pasta while having more protein and fiber which results in fewer net carbs. If you're looking for a lower-carb pasta alternative this is an awesome one to discover.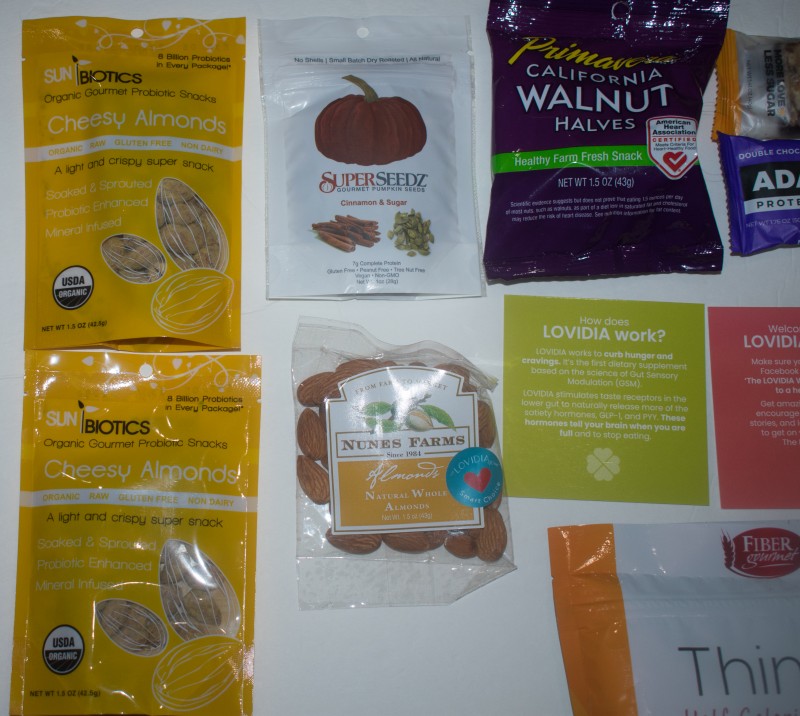 These Cheesy Almonds are pretty interesting! They are non-diary but have probiotics. Of course, nuts are a great source of protein so these are an interesting way to get protein & probiotics in one.
Then we were also sent a Nunes Farms pack of natural whole almonds as well.
The SuperSeedz are pumpkin seeds that are cinnamon and sugar flavored. Ryan tried taking this to work in his lunch but he said they're a bit too time-consuming to eat on a timed lunch and he didn't find hem very filling but that they taste good.
They also sent us walnut halves. Walnuts are not a nut that we typically buy so this was an interesting one to learn we could get in an on-the-go snack package.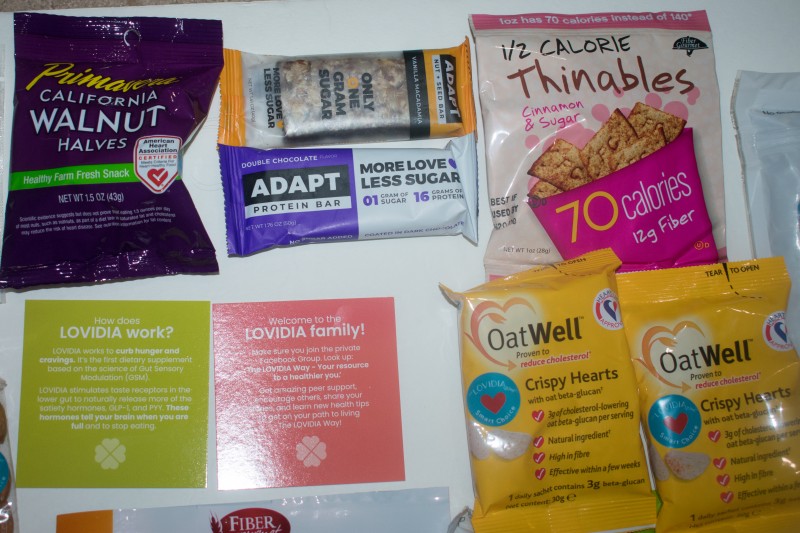 The box also included a few informational little cards as you can see. The two Adapt bars are really low sugar but Rya said they tasted really good. He definitely wants to figure out where to purchase these locally. He said they didn't taste "too healthy" flavor-wise so he was amazed that they have such good nutritional profiles.
The Thinables cinnamon & sugar-flavored crackers are half the calories of standard alternatives. I can see these being a satisfying way to get a graham-cracker like craving filled, or perhaps even a cinnamon-sugar cereal craving fulfilled!
The Oatwell Crispy Hearts remind me a lot of cheerios cereal but without any sweet flavoring. They are pretty plain but still good. I was shocked at how filling they were! These bags are pretty small but I felt like I had a big snack after eating a bag.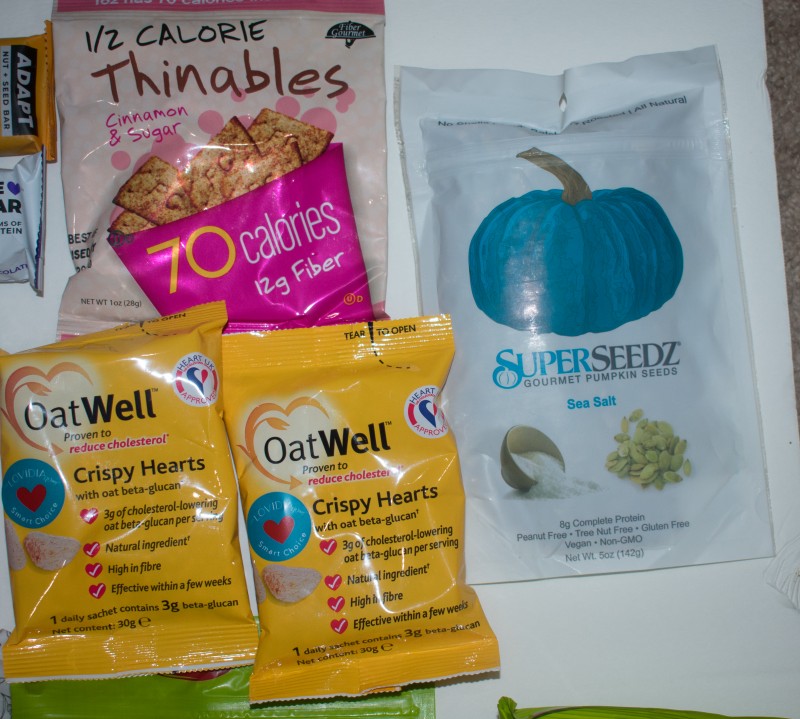 Last but not least – SuperSeedz also sent their sea salt flavor of gourmet pumpkin seeds.
Overall we really enjoyed being able to trial a bunch of low carb snack options at once. It's a great way to get informed about what possibilities are out there while eating keto or low carb.
Discount: Use my Lovidia referral link and promo code EMILYREVIEWS to save 10% off this bundle!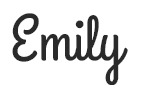 Hi there! I am Emily Evert, the owner of Emily Reviews. I am 28 and live in a small town in Michigan with my boyfriend Ryan and our two pugs. I have a large family and I adore my nieces and nephews. I love reading memoirs, and learning about child development and psychology. I love watching The Game of Thrones, Teen Mom, Sister Wives and Veep. I like listening to Jason Isbell, John Prine, and other alt-country or Americana music. I created Emily Reviews as a creative outlet to share my life and the products that I love with others.
This post currently has 13 responses.