I was sent products from InJoy Premium CBD for this review. This is a sponsored post. All opinions are my own.
Ryan injured his knee in high school by cutting it on a picnic table while colliding into it. He has a large, super-smooth scar where the cut was at. I imagine in part due to that injury, he battles with knee pain as that is his worst knee. Though he has pain in both knees and no injury happened to the other, so perhaps it's a combination of things. The pain seems to come and go, and typically flares up when we get storms or big changes in weather. Though it can also flare if he is more active than usual. Sometimes when his knees are painful, they are physically hot to the touch.
He has primarily treated his knee pain with over the counter anti-inflammatory pain medications. While it works, we know it's not the best on his stomach. When we had the chance to try out InJoy Premium CBD products to see if they might help, we were happy to agree!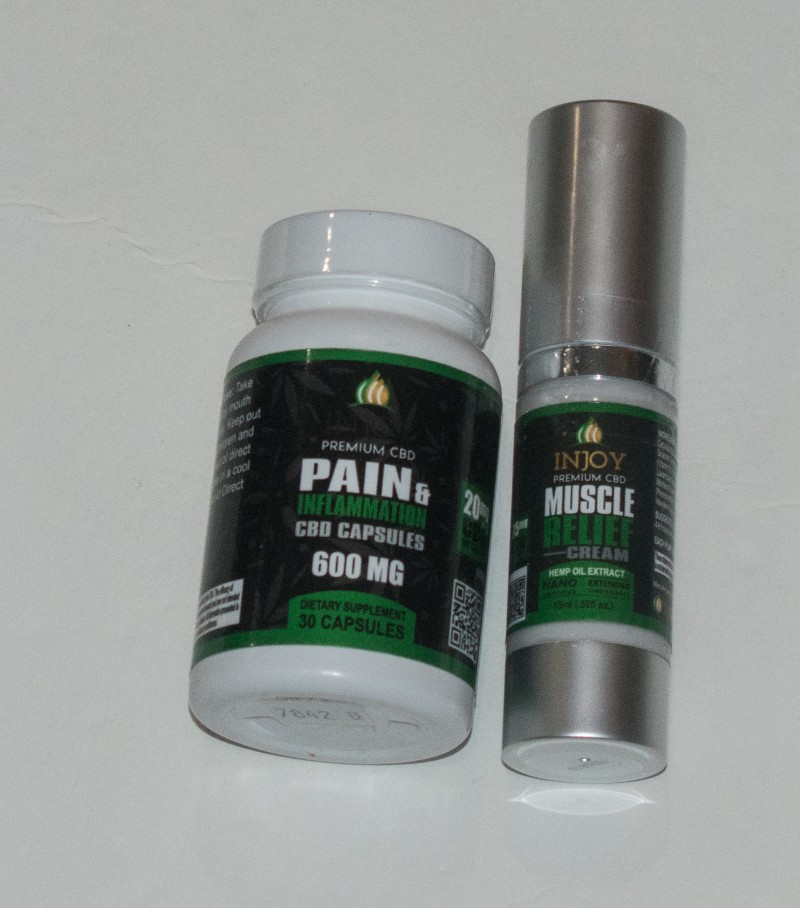 We were sent InJoy Premium CBD Pain & Inflammation CBD capsules and InJoy Premium CBD Muscle Relief Cream.
InJoy Premium CBD Pain & Inflammation CBD capsules say to take 1-3 per day. They are not like a typical pain medication such as asprin, taking a dose after experiencing pain won't bring relief. Instead they are designed to take routinely and are supposed to help with pain after being taken for a while. Ryan tried taking 2 per day for a couple of weeks. His knee pain has never been a daily ache, it's always been sporadic. After taking these, he did still have some knee pain on some days but it seems like maybe it was a bit less frequent? It is hard to say for sure, and it may be related to his job change as well. So overall our takeaway from this product was we aren't sure if it was working for him or not. It's also possible that his body may require the 3/day dose to be effective for him. Hard to say based on his experience.

The InJoy Premium CBD Muscle Relief Cream is intended to have quick results. You use it on your skin in a sore or painful area to get relief. However, it is also said to work better with regular use. Ryan tried rubbing this cream on his knees when he was having knee pain and he did notice some relief. He said it felt like a warm, somewhat tingling sensation when applying and that it almost seemed like his knees "relaxed" some or had a "cozy" type of feeling after it was applied. This product has a pump, the amount shown below is two pumps worth. Ryan used 4-5 pumps per knee. There is a mint-like scent to the product but it's not too overpowering. He didn't find it to be greasy or wasn't otherwise bothered by the consistency in any way. Ryan as sensitive skin ad sometimes has rashes or other problematic reactions to lotions, laundry soap and so on. This cream hasn't bothered his skin at all. He has enjoyed having this on hand to get some quick, calming relief to his knees after work or whenever it's needed.
While both of these products are for pain relief, InJoy Premium CBD has CBD products for other uses as well, such as sleep support, calming anxiety, and energy.
CBD products sometimes raise some eyebrows. So I wanted to point out that these products are THC free, and THC is the part of cannabis that causes an altered state of mind. In other words, these products will not get you high. InJoy's products are organically grown in the US, considered 'pure' and designed to be bio-available.
Buy it: Click any link in this blog post and then use the code EMILYREVIEWS on the InJoy website to get 20% off your order!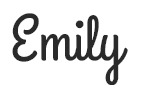 Hi there! I am Emily Evert, the owner of Emily Reviews. I am 25 and live in a small town in Michigan with my boyfriend Ryan and our two pugs. I have a large family and I adore my nieces and nephews. I am a calorie counter who loves soda. I budget to save money so I can spend it on my dogs. I love reading memoirs, and learning about child development and psychology. I love watching The Game of Thrones, Teen Mom, Sister Wives and Veep. I like listening to Jason Isbell, John Prine, Kris Kristofferson and Blue October. I created Emily Reviews as a creative outlet to share my life and the products that I love with others.
This post currently has one response.