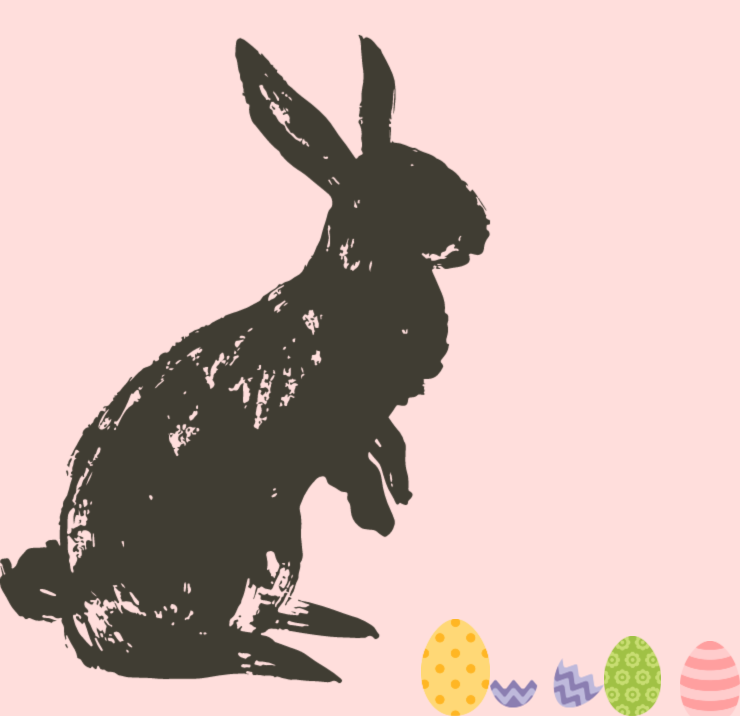 Emily Reviews writers are sent products for our Easter gift guide. All opinions are our own. There may be affiliate links in this post.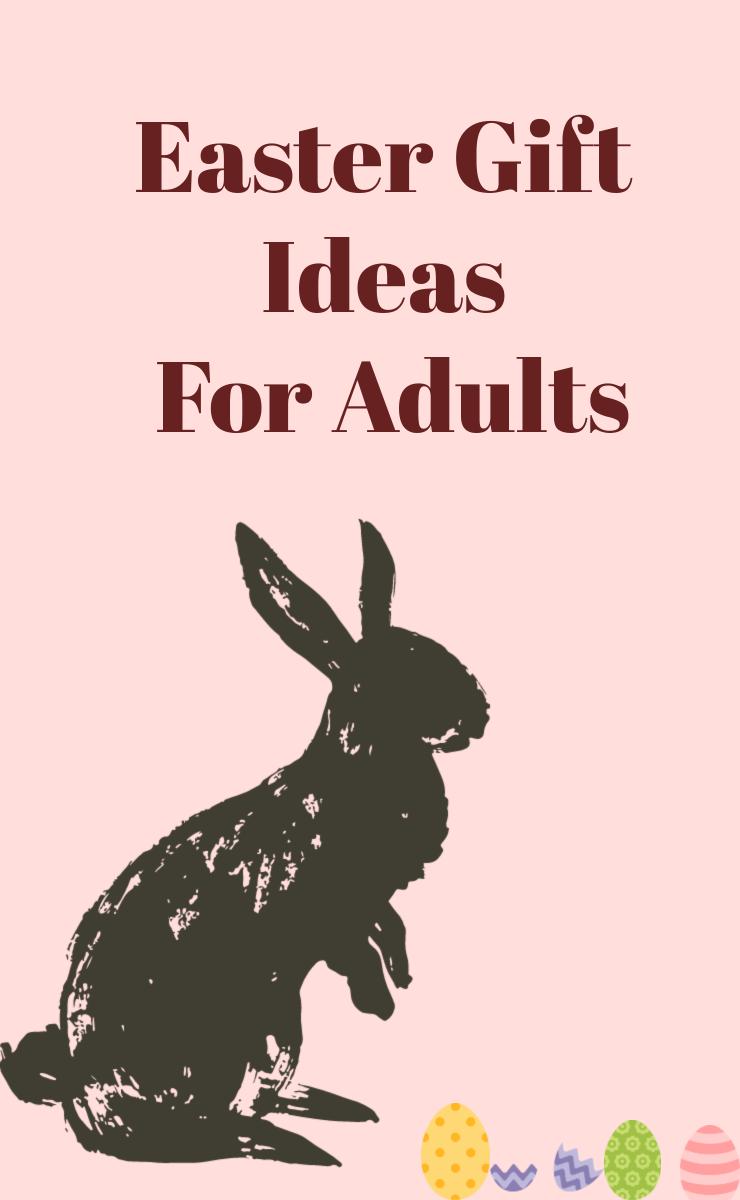 Welcome to our Emily Review's 2020 Adult Easter Gift Guide.  This year, more than ever, adults everywhere are needing a bright light in their day.  So don't forget to include the grown ups in Easter celebrations, which includes giving out Easter Baskets loaded with goodies.  Whether you want to sneak in just one of these awesome choices or load them up with lots, we've compiled the best choices for Easter 2020.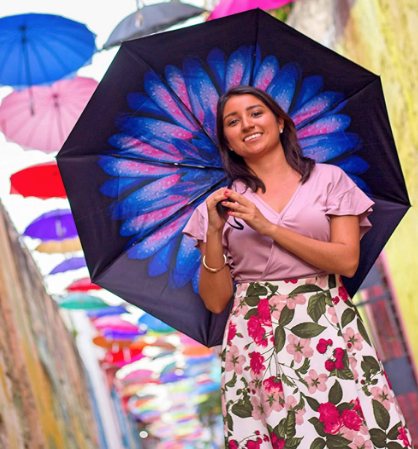 April showers bring May flowers but with a gorgeous Hawaiian Sunsets Purple Flower Umbrella, you'll be all smiles!  Available in beautiful designs, this rain umbrella also features UPF 50+ protection which blocks 98% of UV rays and protects you from both harmful UVA & UVB radiation to prevent premature aging of your skin.  Additionally, this portable umbrella sun protection will help you feel significantly cooler under the hot sun.  Plus, this umbrella features a large, comfortable handle for easy carrying, yet still folds up small for portability.  Finally, the automatic open and close button allows you to open the cute umbrella using just one finger!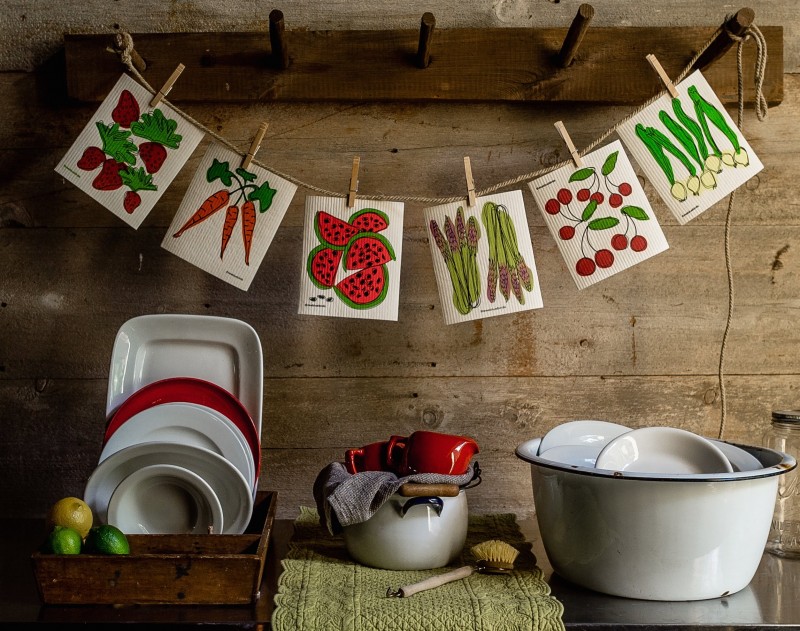 If you're looking for a great dishcloth to replace paper towels and sponges, this is it! Three Bluebirds Swedish Dishcloths are made of 70% wood cellulose from FSC certified forests and 30% cotton. They can be reused and washed up to 200 times, and clean some of your toughest surfaces. You can use them on counter tops, granite, stainless steel and glass, as well to clean up spills or even wash dishes. These dishcloths are 100% natural and dyed with water based inks. One Swedish Dishcloth can replace 17 rolls of toilet paper and is even biodegradable! Three Bluebirds offers a HUGE variety of designs that will please anyone on your shopping list.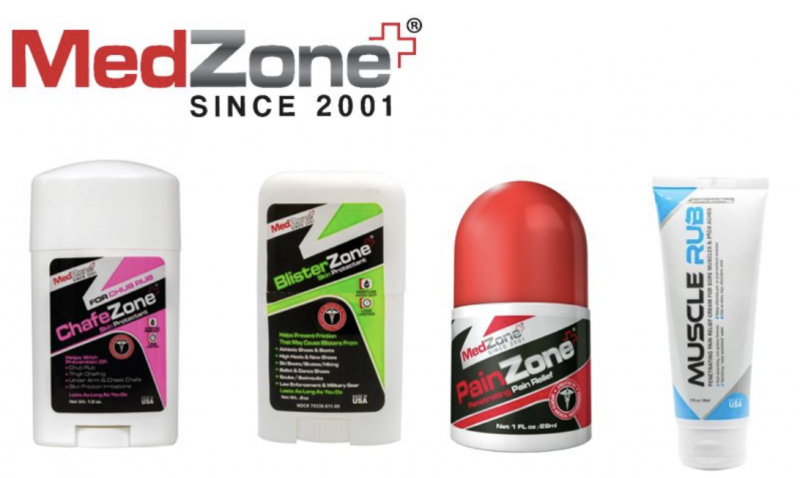 MedZone's premium products include ChafeZone, BlisterZone, PainZone and Muscle Rub. Perfect Easter Basket fillers for athletes, medical professionals or any active individual. Useful gifts are some of the best gifts, especially as an adult! MedZone's products work to prevent, treat and manage aches/pains, wounds and skin-chafing issues. Products are long-lasting, water-resistant and easy to use.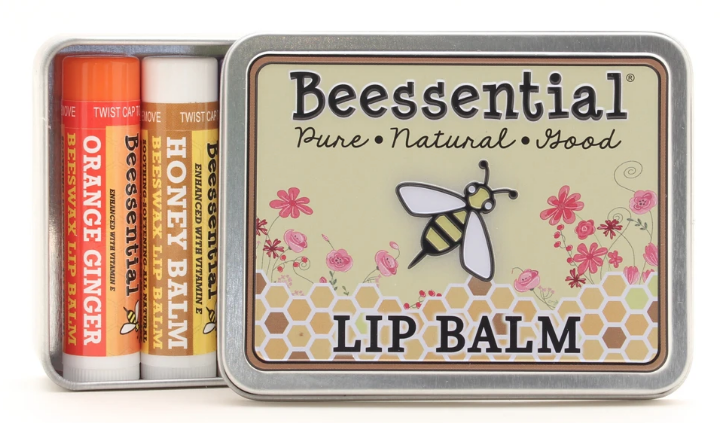 Now you can make up your own Custom  Five-Pack of Lip Balms from Beessential.  Chose one flavor, or go crazy and chose five different flavors for those days when you need to change things up.  But no matter what you choose, the Pick Your Own Lip Balm Gift Tin is the perfect Easter Basket Stuffer for friends, family, teachers, the babysitter, or just bee-u-tiful you!
~Made with Coconut and Olive Oils
~Gentle, All-Natural Beeswax Lip Balms
~Healing Shea and Cupuacu Butters 
~Nourishes with Pure Ingredients
~Attractive Colorful Assortment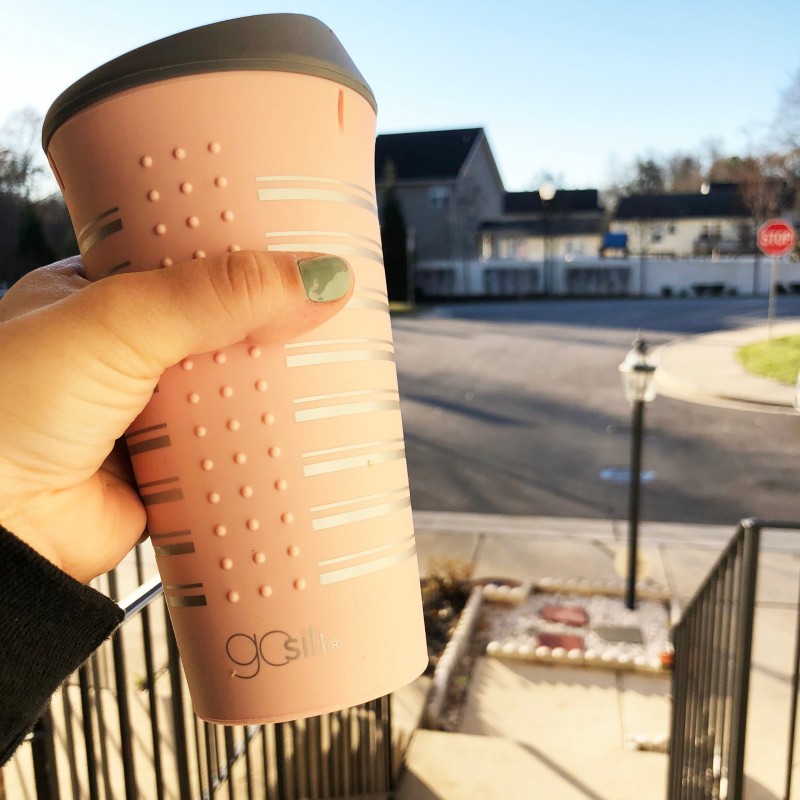 Meet the only silicone coffee cup on the market without a plastic lid, now in three gorgeous prints! These goSili Decorated Travel Mugs are 100% plastic-free with an embedded stainless steel ring that makes them strong enough to grip without collapsing. It's microwaveable and dishwasher safe, it's stylish, and it's BPA, BPS, phthalate, PVC, and lead free. At 16 oz, it's perfect for your morning coffee or afternoon tea and fits in all cup holders. It would make the perfect gift for your eco-friendly family and friends, and for those who prefer not to use plastic!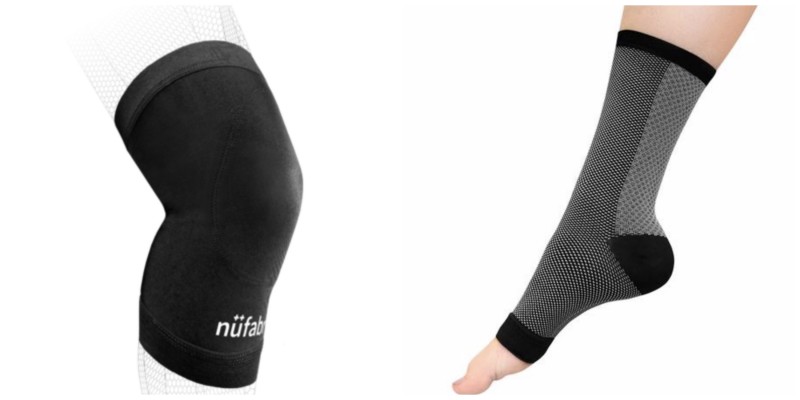 Give the gift of pain relief in their Easter basket with nufabrx! Medicated Compression Knee Sleeves or Medicated Foot/Ankle Sleeves with embedded pain-relieving capsaicin medicine. No sticky goo to apply, no stinky smell, and the medication lasts through 25 washes. Made in the USA, these pain relieving sleeves help reduce swelling and enhance circulation with lightweight compression and an anti-slip design.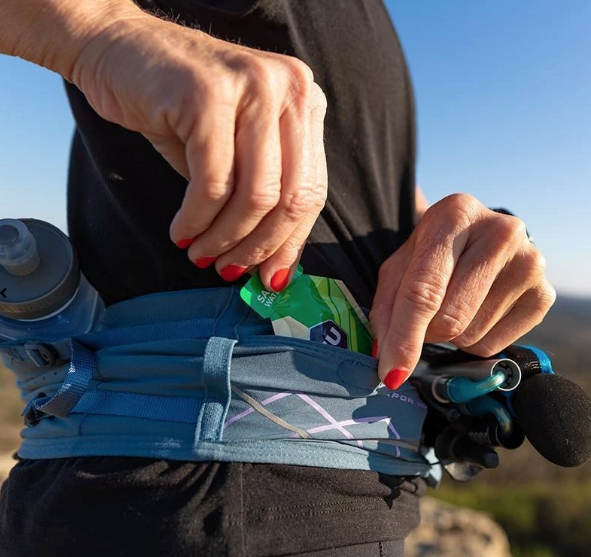 This female version of Nathan Sports fan favorite is delivering a sleek, minimalist waist pack called the VaporHowe Waist Pak.  Features include:
~Includes a 20oz Soft Flask Featuring A Bite Valve To Keep Liquids From Spilling
~Step-Through Design Also For A Comfortable Fit And Bounce-Free Ride
~Top Perimeter Elastic With Gripper Ensures A Secure Fit
~Front Zippered Pocket Will Fit Most Large-Format Smart Phones
~Center Back Pocket With Lightweight Compression System Holds The Included Soft Flask As Well As Nutrition, Light Jacket, Or Other Essentials
~Expandable Side Stash Pockets Are Perfect For Small Running Essentials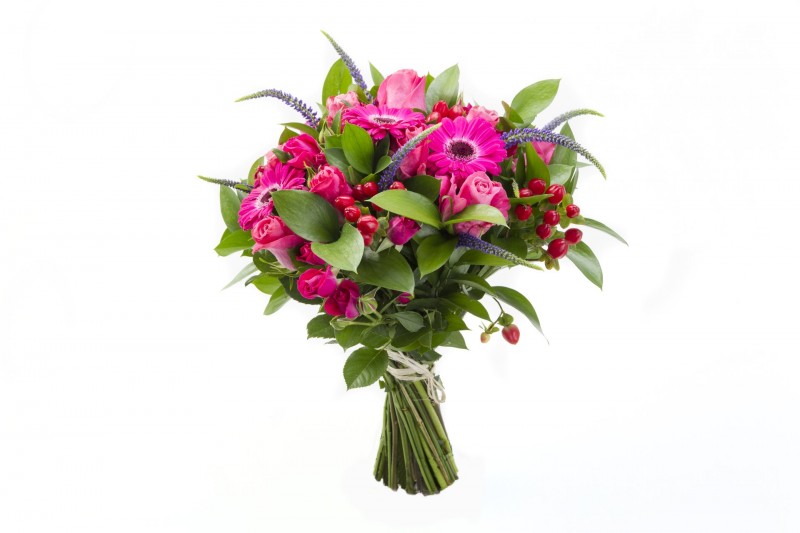 BloomsyBox flowers will make the perfect centerpiece for your Easter celebrations this year; even if you're celebrating with a small gathering at home! This company offers flower subscriptions and delivers fresh florals straight to your door! What sets them apart from any other subscription boxes is that these blooms are sourced directly from their own sustainable farms. Each BloomsyBox is beautifully hand-picked, carefully crafted and wrapped with care and arrives with an information card including tips on how to properly care for your blooms. Choose from weekly, bi-weekly, or monthly deliveries to keep a home fresh and smelling like a bed of roses. It's happiness in the form of flowers!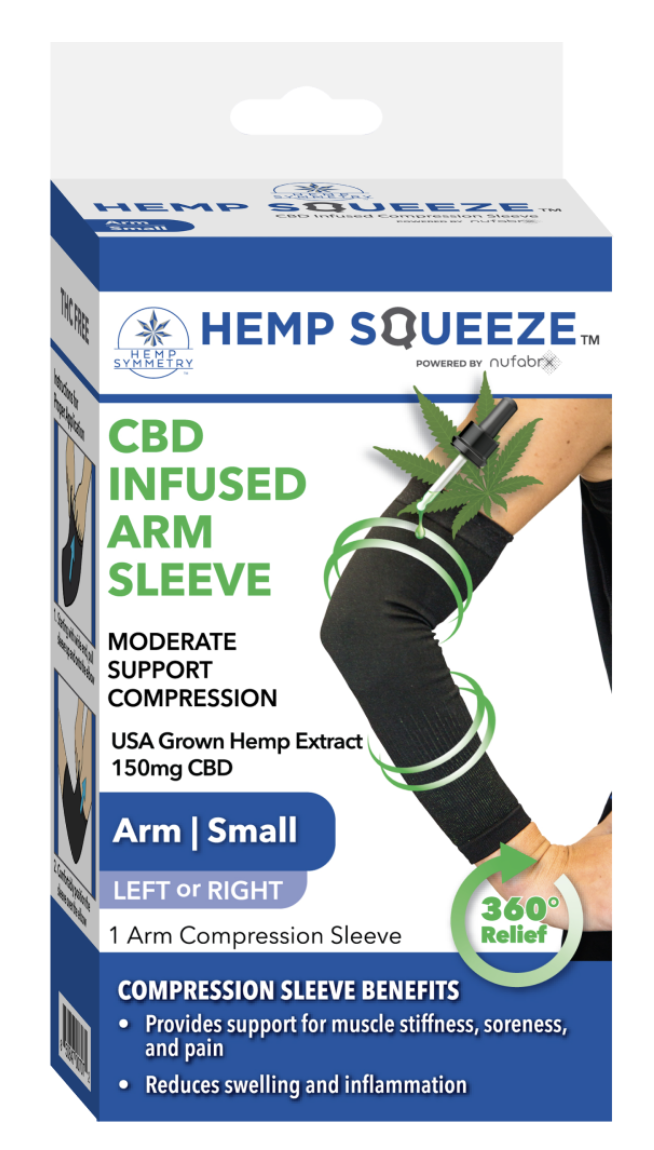 The Hemp Symmetry Hemp Squeeze Sleeve provides support, improved circulation, and zoned compression. The sleeve is infused with hemp extract, including 150mg of CBD and other beneficial cannabinoids (THC Free) which stay active for up to 25 washes. Reduces swelling and inflammation and provides support for muscle stiffness, soreness, and pain. Reduces recovery time of muscles and prevents strain and fatigue by keeping muscles warm. Made of 95% Nylon and 5% spandex, infused with Hemp Extract. This big helper in a little box will fit perfectly in your favorite adult's Easter basket!
Buy It: everythinghempstore.com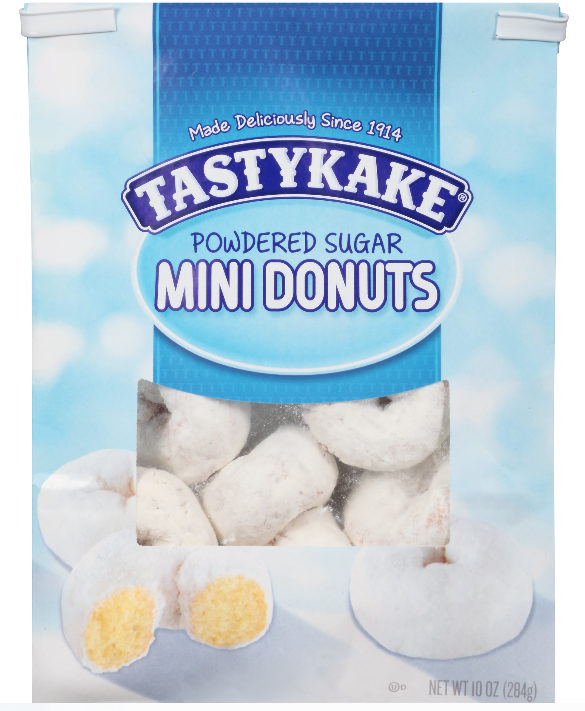 A fun way to fuel your day, Tastykake Powdered Sugar Donuts help you do snacking right!  Perfect for snacking at home, taking along on a picnic, or devouring on your next road trip.  And are you looking for more than just a sweet treat to pass the time?  Tastykake also provides DIY recipes available online at the Tastykake Kitchen, with all your favorite treats turned into easy family activities.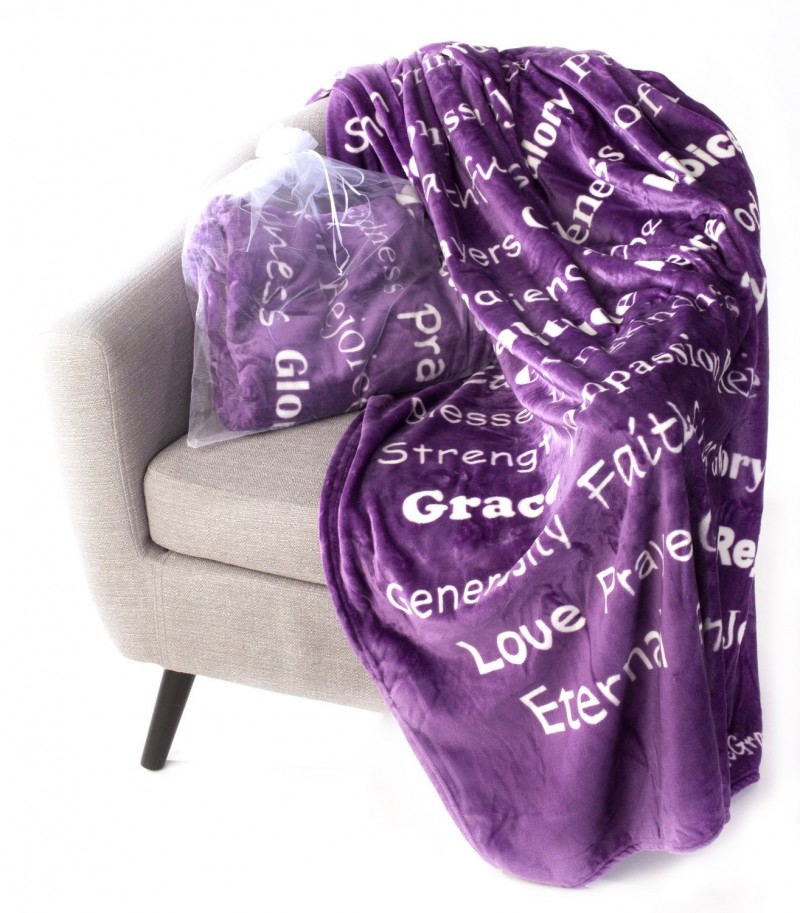 The story of Easter is fundamentally a story of faith, and what better way to share this message than with a Faith Blanket from BlankieGram? This gorgeous blanket is covered in hopeful words like "compassion", "eternal", and "rejoice" in a variety of fonts. Available in a multiple colors, this large throw makes a perfect gift for those needing spiritual encouragement or even a friend or family member in faith celebrating the Easter season.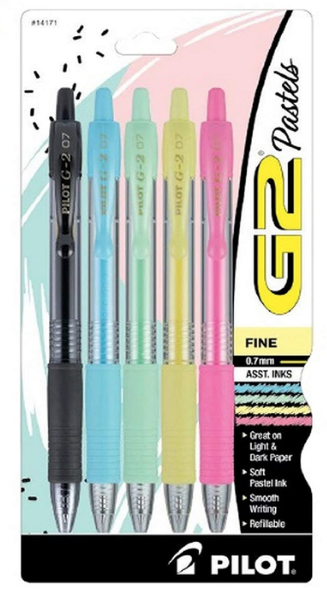 Get ready to write in pastel Easter style with the Pilot G2 Pastel Retractable Gel Pens.  The G2 line is America's #1 selling gel pen brand and it's easy to see why.  They offer super smooth writing and a comfortable hold. The pastel ink options are light in color, but opaque enough to stand out on light or dark paper.  This fun 5-pack of pens comes with black, blue, green, yellow, and pink colors and is ideal for everyday tasks; including your latest journaling masterpiece or colorful creative projects.  A great option when taking notes or sending a special card to a friend.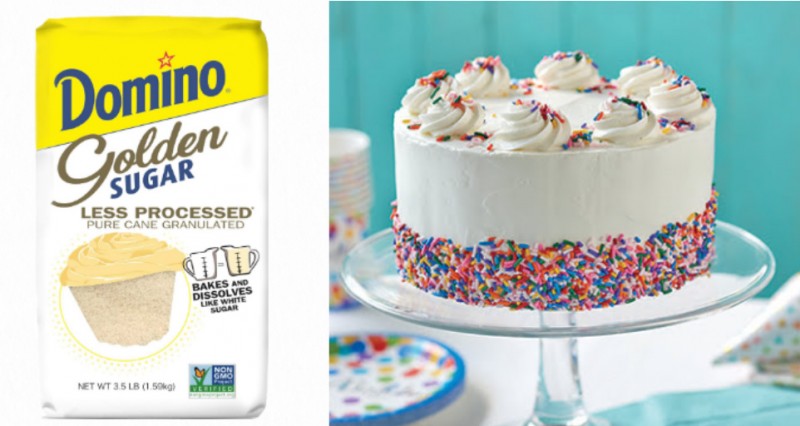 Sweeten things up with Domino's Golden Sugar, the less-processed sugar you can use more freely in all your favorite foods.  It works cup-for-cup just like white sugar, but has a beautiful golden color and a distinct hint of molasses flavor you're sure to love.  Parents— you can even use baking to tie in a lesson to learn about measuring, math, and the science to make it educational while school is out!  Although you can use Golden Sugar in any recipe that calls for white sugar, be sure to check out this Rainbow Sprinkle Cake Recipe.
And don't forget to also check into Domino's Light Brown Sugar – don't settle for less!  Domino Light Brown Sugar has a nutty, caramel flavor, moistness, and subtle molasses flavor. It's ideal for cookies, shortbread, spiced cakes, brownies, and crumble toppings. Generally, if a recipe doesn't specify Dark or Light Brown, it is intended that Light Brown be used.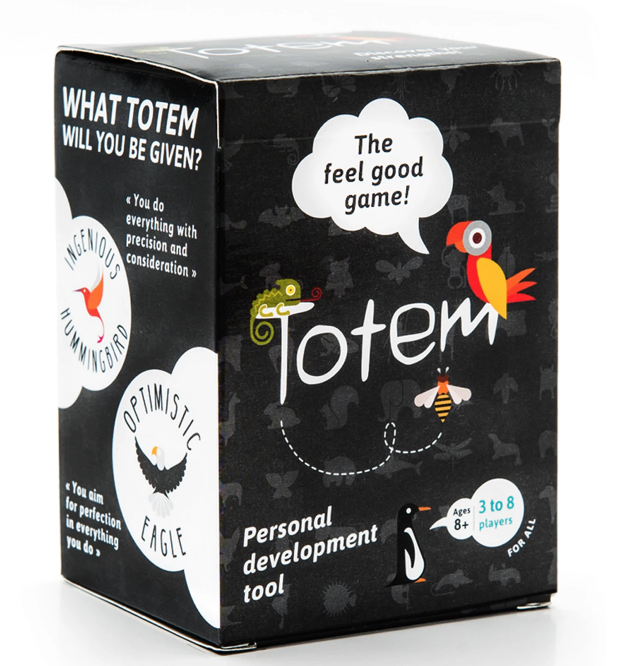 Totem is a personal development game that can be used as a tool to discover strengths and weaknesses, through the eyes of others.  In turn, each player experiences the construction of a personal Totem reflecting the best of your personality.  The Totem is built using an ANIMAL card, associated with one of your strengths, and a QUALITY card, which describes a quality you have. Both cards are chosen and then explained by the other players.  It's a fun way to discover your strengths!
Buy It:  Store.TotemTeam.com
DISCOUNT:  Be sure to use the discount code save10 to receive 10% off your purchase!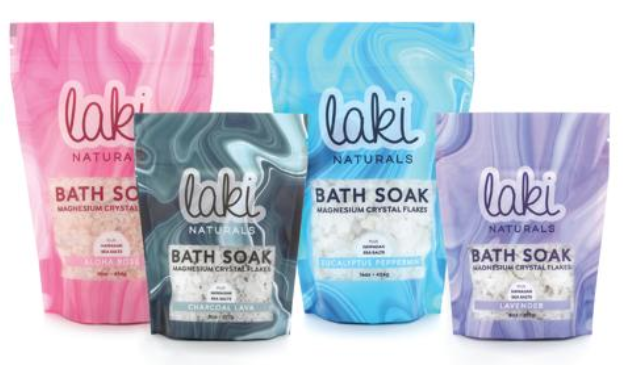 Turn bath time into a restorative ritual with Laki Naturals therapeutic bath soaks.  Using their special blend of Zechstein magnesium flakes and Hawaiian sea salt, these beautiful bath products will reduce stress, promote sleep, and soothe achy muscles.  Can't choose just one?  Select from their curated sets of- Relax, Energize, and Bloom!
~Relax- Lavender, Coconut Milk, Peppermint Eucalyptus, Unscented
~Energize- Charcoal Lava, Peppermint Eucalyptus, Neroli, Unscented
~Bloom- Aloha Rose, Neroli, Lavender, Unscented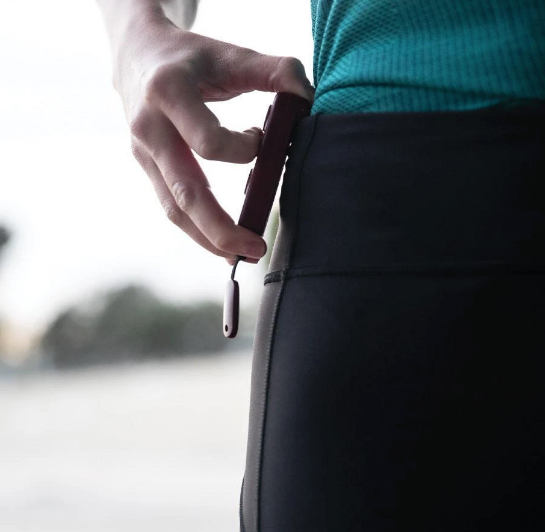 A little Easter goodie that offers a sense of protection too!  The SaferRun Ripcord Siren Personal Alarm is a thumb-sized device that offers blasts sounds in case of emergency.  A simple pull of the tab will sound a 120dB alarm letting others know someone is in distress.  It's as loud as an ambulance siren and audible from over 600 feet away. This tiny alarm system is a deterrent and can alert others in case of an incident.  Features include:
~Quick-Pull tab allows for easy one-handed use
~+120 dB – As loud as an ambulance and audible from over 600 feet
~Reusable – you can test it, try it, and learn how to use it before you ever have to!
~Cannot be used against you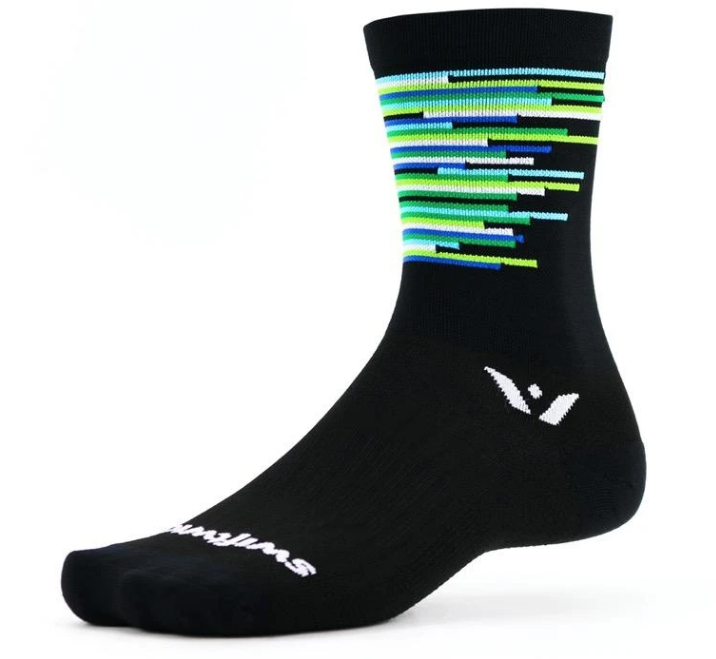 Slow isn't your speed, no matter what's going on. So get ready to show off your style in VISION™ Six Sprint – it performs at your pace with high-performance fibers and moisture-wicking technology that regulates temperature and keeps feet dry, so you're focused on speed, not your feet.  These high-performance fibers wick moisture to keep feet dry and cool which means you will be ultra comfortable.
~Medium cushion provides all-day comfort while moderate compression gently hugs and supports the contours of your feet. 
~The cuff height rests just below mid-calf.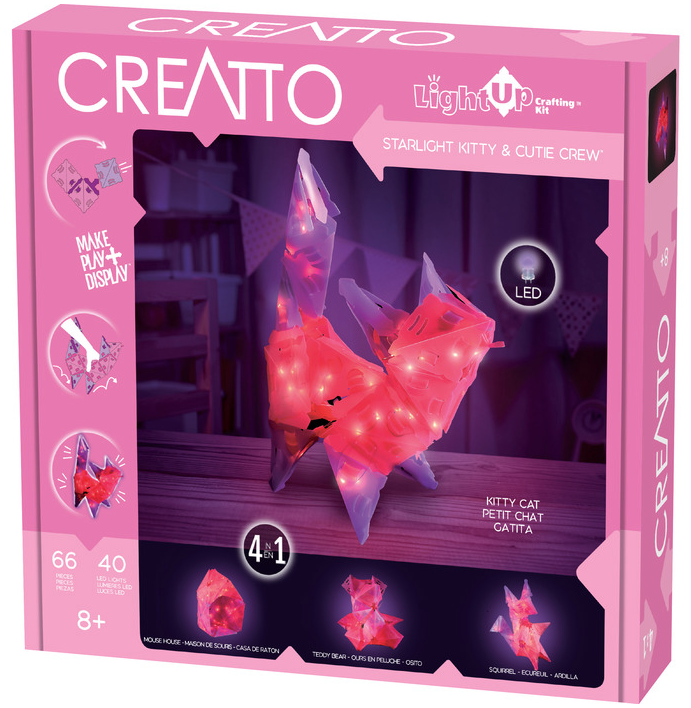 A perfect craft for the whole family to enjoy!  With CREATTO, you can design and construct illuminated, three-dimensional creations that literally light up your life. This Starlight Kitty & Cutie Crew kit includes flexible yet durable interlocking plastic tiles and a string of LED lights that you can piece together for your creation.  Each set includes an illustrated manual with easy, step-by-step instructions for multiple designs, but the building possibilities are nearly limitless using your imagination.  Available in a variety of other styles and options too.  Suitable for ages 8 to adult.
 Buy It:  ThamesAndKosmos.com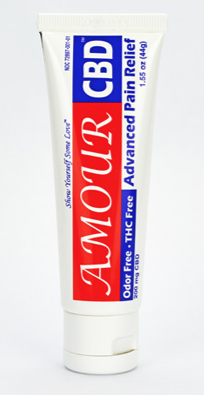 This AmourCBD Advanced Pain Relief Cream has the most effective proven active ingredient (lidocaine) that is both safe and offers rapid pain relief for joint and muscle pain. The odor free cream absorbs rapidly and quickly becomes the highway to deliver 200mg of the highest quality Broad Spectrum CBD. In addition, this product has 0.0%THC and is made right here in the USA.  Applied topically, Amour CBD advanced pain cream rapidly provides soothing pain relief to the area applied.  Quick and safe relief you'll love!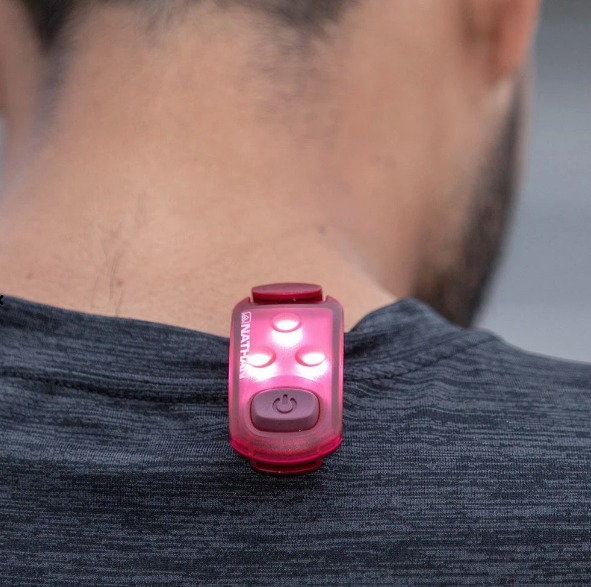 Two strobes are definitely better than one.   This redesigned Strobe Light 2-Pack from Nathan Sports allows you to cover both your front and backside.
~"Tiny But Mighty!" – Don't let this little light fool you, it may be small, but it makes a huge difference on the road. Let traffic know you are there and reduce the chance of an accident
~BATTERIES INCLUDED – 2 x 3V Lithium 2032 – Replaceable Coin Style Battery
~SUPER BRIGHT – Packed with 3 LEDs – this light cast 8+ Lumens to help you stay safe
~WATER RESISTANT – Built for all types of weather this strobe is IPX4 – Weather resistant so you can run, rain or shine.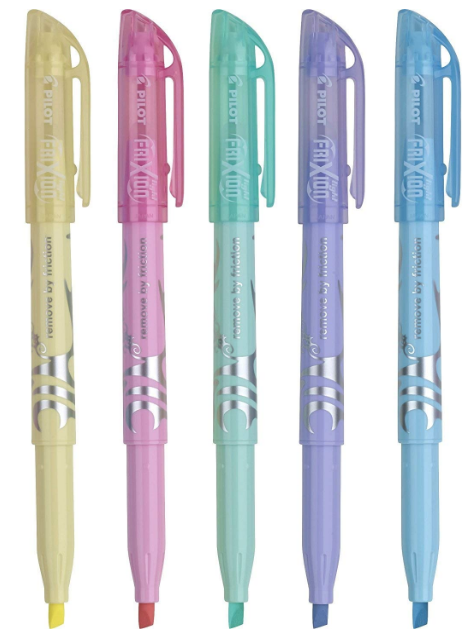 These Pilot FriXion Light Pastel Collection Erasable Highlighters come in sweet pastel ink colors and are sure to add a subtle emphasis to important information. With FriXion's unique thermo-sensitive ink formula, you can highlight and erase repeatedly without damaging books or documents.  These adorable pastel options make the perfect Easter basket stuffer for all ages and can be used to highlight, doodle, and write.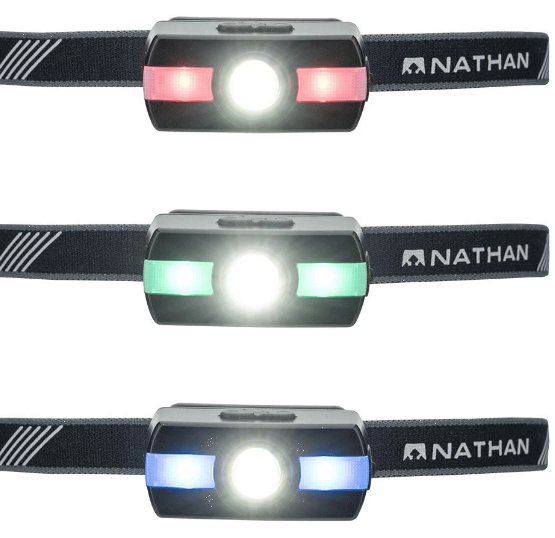 Nathan Sports run-specific headlamp family has a new edition, and it's lighter than ever. Thanks to a powerful USB-rechargeable battery, the super-light Neutron RX kicks out 200 lumens of crisp RUN-Right Light on whatever terrain you want to conquer. It also features red, green, or blue strobe strips up front.  Another great feature is the entire head strap is made of reflective material!
~Lightweight, low-profile runner's headlamp
~200 Lumens LED spotlight
~Side strobes provide RGB Light – Red, Green, and Blue LED options
~5 lighting modes: low, medium, high, boost, strobe
~Strap provides 360 degrees of reflective visibility
~Rechargeable Lithium-Ion Polymer Battery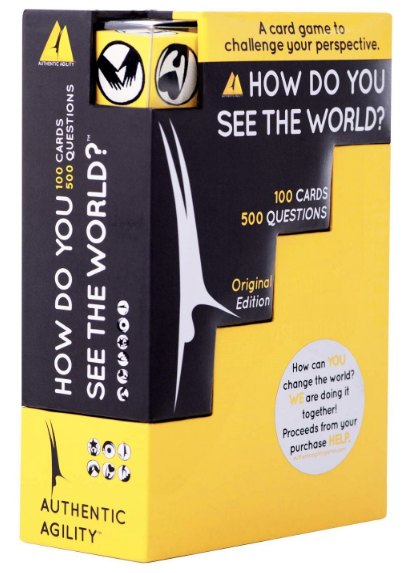 The How Do You See The World? Ice Breaker Card Game is sure to encourage open discussion and challenge your perspective. The 5 topics you will get to explore include: Reflections, Relationships, Life's Purpose, Aspirations, and Beliefs.  This game is geared to help facilitate important conversations in your schools, communities, and families.  Join in as everyone listens to, celebrates, and respects the unique perspectives of everyone else.  How curious, authentic. and agile are you?
~By yourself or with a group.
~Roll the dice.
~Draw a card.
~Match the symbol with a category.
~Each player takes a turn answering the card questions.
~Allow one minute for each person to think, reflect and answer.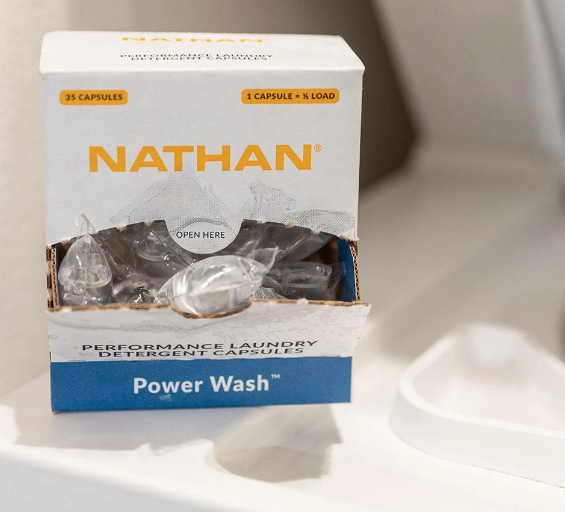 Laundry will now be made easy thanks to Nathan Sports Power Wash.  Just add one capsule per load. With no additives, no dyes, and no scents, Nathan Power Wash is clearly different. It's formulated to restore and protect your sports apparel. The dyes, scents, and chemicals in other detergents only mask odors, reduce the life of gear, and can be harsh on sensitive skin, while Power Wash fights the funk and keeps your sports gear in peak condition.  It's the better choice, obviously!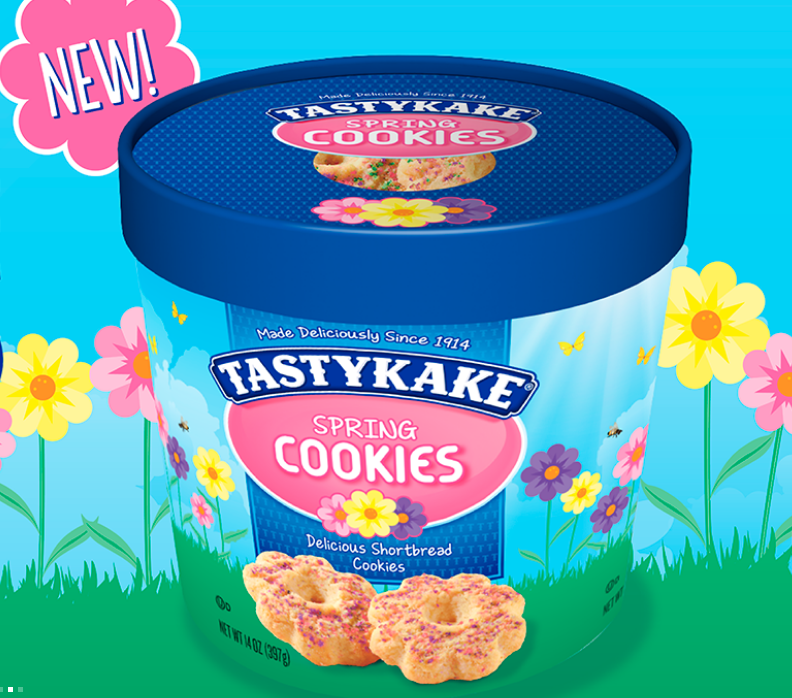 Grab a tub of delicious shortbread Spring Cookies from Tastykake to satisfy any seasonal craving!  Perfectly sized for popping in your mouth, they taste as great as they look.  Tastykake products represent the industry benchmark for consistent taste, quality, and freshness. The idea of small cakes, pre-wrapped fresh at the bakery and conveniently available at the local grocer was uniquely appealing in the early 20th Century – and it remains so today!
Buy It:  Check your local retailers for this seasonal product.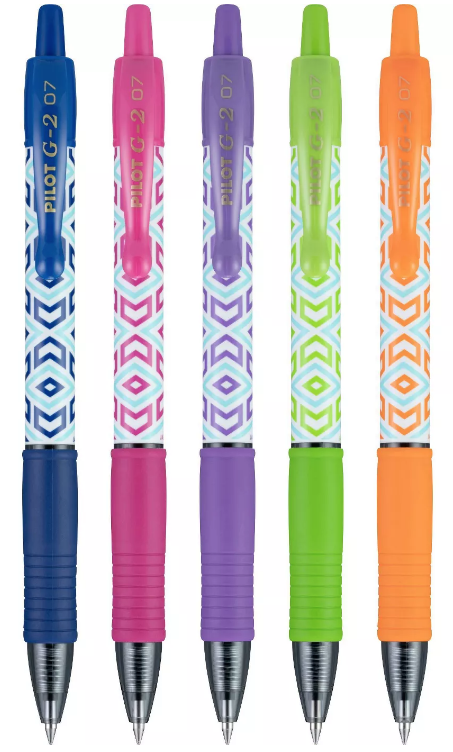 Transform all the extra time on your hands into grateful moments. Gratitude journaling will allow you to see the good in your current quarantined state and remain positive while you may be feeling uncertain of what the future holds. Having Pilot Pen's #1 selling gel-ink pen in America be your tool for gratitude, the G2 will help you write smoother, longer and have a beautiful memento to reflect on from this time in your life.  If you're looking for a pack of reliable pens with crisp writing, these no-smear gel pens apply ink cleanly, smoothly, and feature fine tips that are ideal for writing.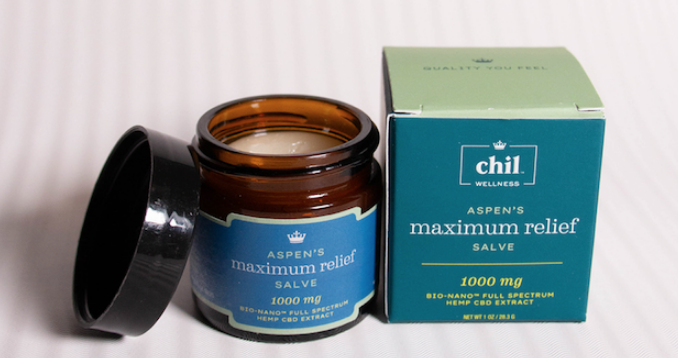 The Chil Wellness Aspen's Maximum Relief Salve uses a potent dose of high-quality broad-spectrum CBD for therapeutic relief along with other botanical ingredients to help nourish the skin.   A perfect way to help deliver powerful relief for your sore, achy muscles and joints. Fighters (MMA) use it, gym rats use it, runners, swimmers, personal trainers – you name it.  Formulated with medical grade Magnesium-Sulfate crystals, Arnica, Boswellia, Menthol, and other essential oils along with 1000mg of high-quality Bio-Nano™ Full-Spectrum CBD to help you get moving again.  It won't let you down!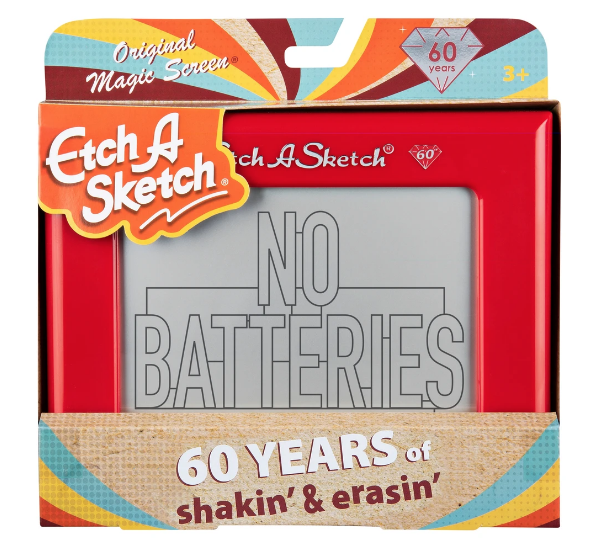 A little nostalgia this Easter!  Unplug with this classic and celebrate the 60th anniversary of the world's favorite drawing toy with Classic Etch A Sketch!  In 2020, the iconic red frame has been updated to feature a limited edition 60th diamond logo celebrating this major milestone, a detail that fans and collectors will love!  With its white knobs, it's easy to draw on the original magic screen. When you're finished, shake to erase and start the fun all over again.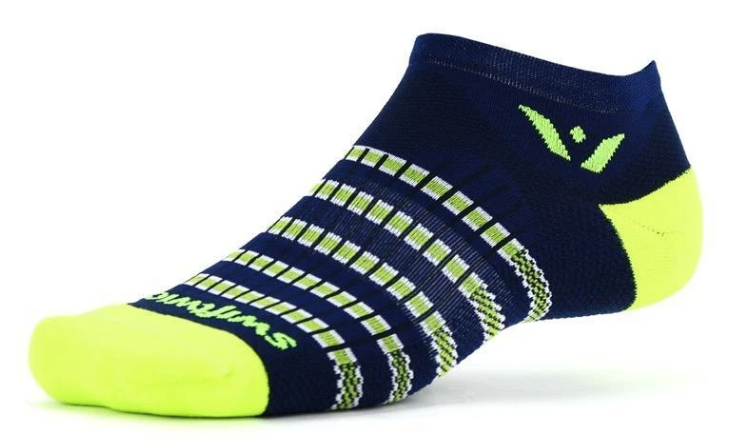 SwiftWick's most popular running sock and a great no-show cycling sock yet!  The ASPIRE™ is engineered with firm compression and a thin profile for a responsive feel you will love. Firm compression supports every contour of the foot to reduce fatigue during endurance activities. Zero cuff height sits below the ankle with minimal extension above the shoe.
~Thin profile with light cushion
~Channeled upper improves breathability
~Lightweight Olefin fiber wicks moisture and dries quickly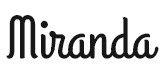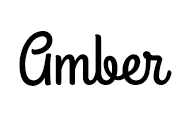 Hi there! I am Emily Evert, the owner of Emily Reviews. I am 28 and live in a small town in Michigan with my boyfriend Ryan and our two pugs. I have a large family and I adore my nieces and nephews. I love reading memoirs, and learning about child development and psychology. I love watching The Game of Thrones, Teen Mom, Sister Wives and Veep. I like listening to Jason Isbell, John Prine, and other alt-country or Americana music. I created Emily Reviews as a creative outlet to share my life and the products that I love with others.
This post currently has 13 responses.