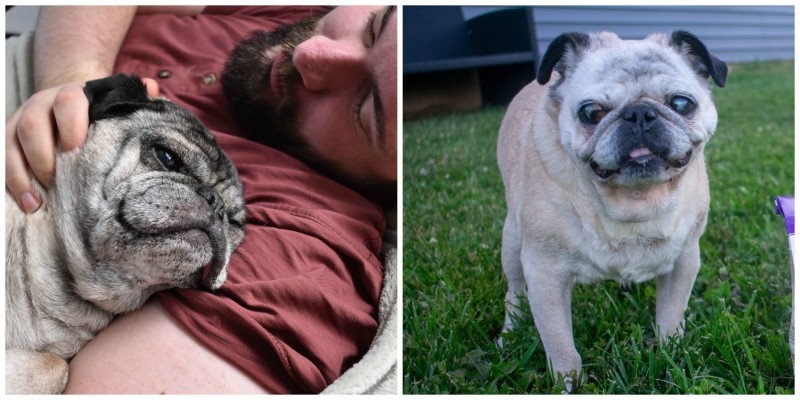 This post is sponsored by WellPet but the content and opinions expressed here are my own.
My dogs are 15 and 16, now. I have told my nieces and nephews that they are "basically 100 years old" in dog years. I know the 7 years for every 1 year isn't strictly accurate for all dog breeds..but there's no denying that these guys are really elderly. It's important to me to try t protect my senior dogs quality of life as they age, because it's really the most important way I can care for them now.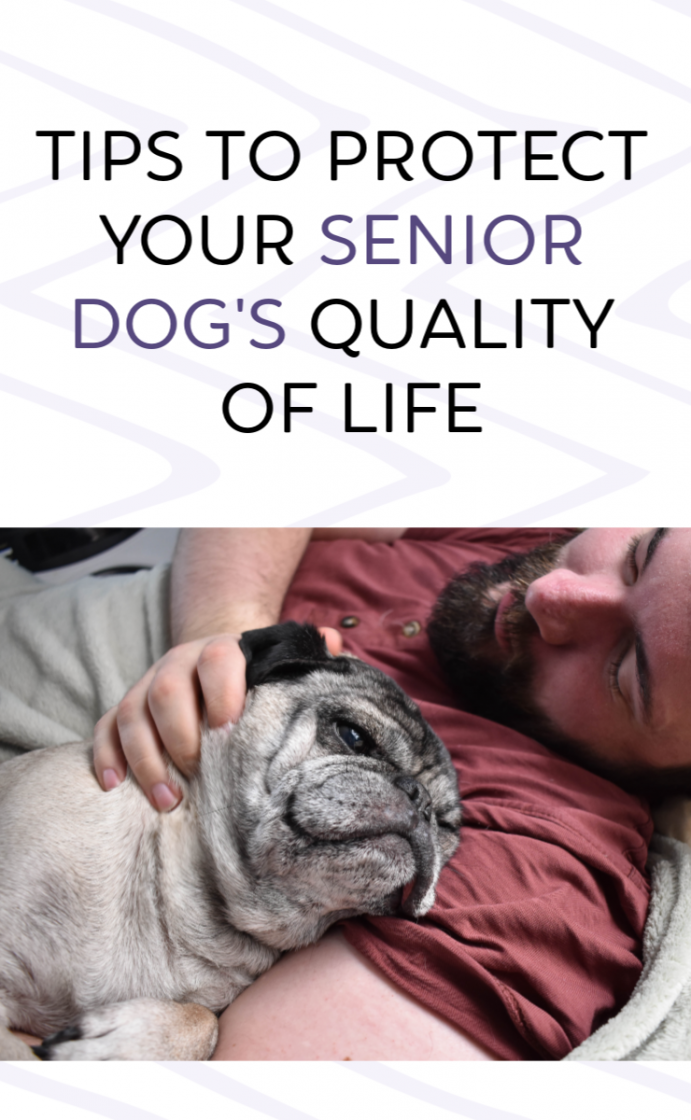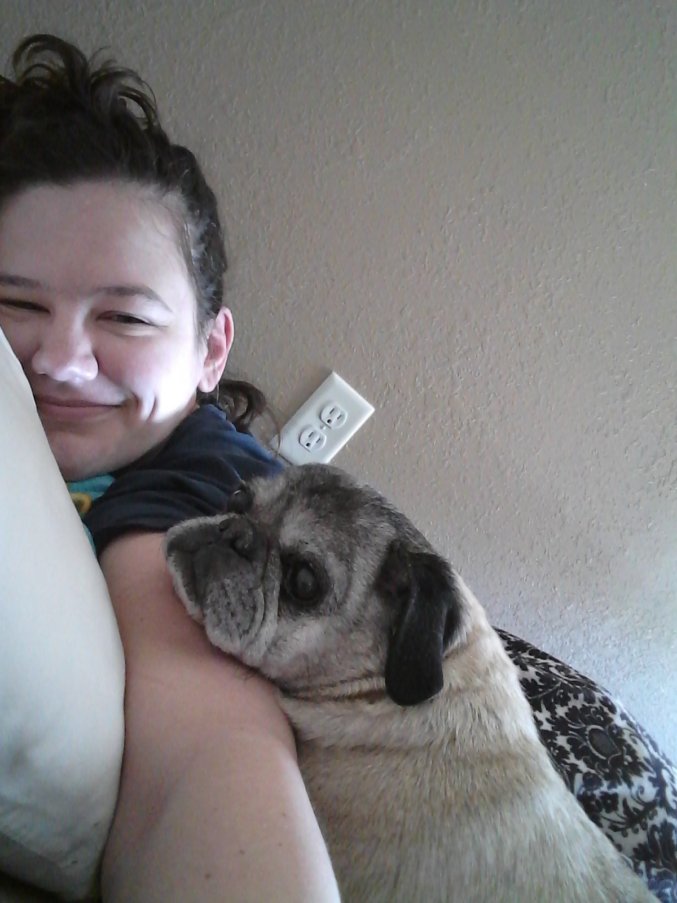 Frequent vet visits. Maintaining your dog's health as much as possible is by far the best thing you can do for your senior dogs quality of life. Seeking diagnosis and treatments for any of their problems is huge. Any change in a senior dogs behavior can potentially be a sign of a health problem, so go with your gut and err on the side of going to the vet 'too often' instead of taking the wait and see approach. Keep an eye on things like energy level, how much they're sleeping, and how much they are eating and drinking. Go to the vet whenever you suspect any new health problems or see any changes that you aren't sure what the cause may be.
Medications or supplements. If your senior dog has any health issues, staying on top of their medication or supplements consistently can make a big difference in their quality of life. For example, we have Frank on a nerve pain medication, and Beans on a diuretic. These are needed to help them with different health issues they have, and to keep them feeling as good as they can.
Attention. As your dog ages, they may not be able to play or go on long walks anymore, but they still need love and affection. You may have to change up the ways in which you interact with your dog a bit. Frank has gotten more cuddly as he's lost mobility. Every day I hold him in my lap for a bit, and he clearly loves it. In fact, I think giving them my time is perhaps the most important thing I do for my senior dogs quality of life. I'm so grateful that I get to work from home so I get lots of time near them!
Quality food. Similar to people, having a high-quality diet can help dogs to feel better, too. Feed them well to keep them feeling well. Many (most?) senior dogs develop some dental problems with age, so switching to wet food or soaking their kibble with water to soften it before feeding them may be recommended. We do this with Beans who has dental problems but who isn't in good enough health for it to make sense for her to be put under anesthesia for dental work.
The joy of treating. Senior dogs love dog treats as much as puppies, in most cases! In fact, I think my dogs may get more joy out of dog treats now that they're older! I love seeing my dogs eyes light up when I pull out a treat. It's a way that we bond, and it adds a little more happiness to their day. We love the Old Mother Hubbard brand of dog treats because they use all-natural ingredients and are available in small sizes that are perfect for my pugs.
We live in a somewhat rural area, so we don't have easy access to big pet stores. We do have a Walmart, though – so I love that Old Mother Hubbard dog treats are sold right at Walmart. We purchased Old Mother Hubbard P-nuttier classic dog biscuits in 'mini' size, and Old Mother Hubbard grain-free p-nuttier 'n manners dog biscuits in mini. I ordered a couple of different package sizes to show you some of the range available, they have rather small bags and quite big ones! These have been around since 1926 an use a home-style recipe with wholesome ingredients. My dogs don't require a grain-free diet, but I know some do, so I love that the Old Mother Hubbard p-nuttier 'n manners variation is grain free. My dogs love both versions! I have been trying to only go in-store when really necessary, so I love that I was able to purchase these online and have them delivered to my door. You can also add them to an online grocery pickup order.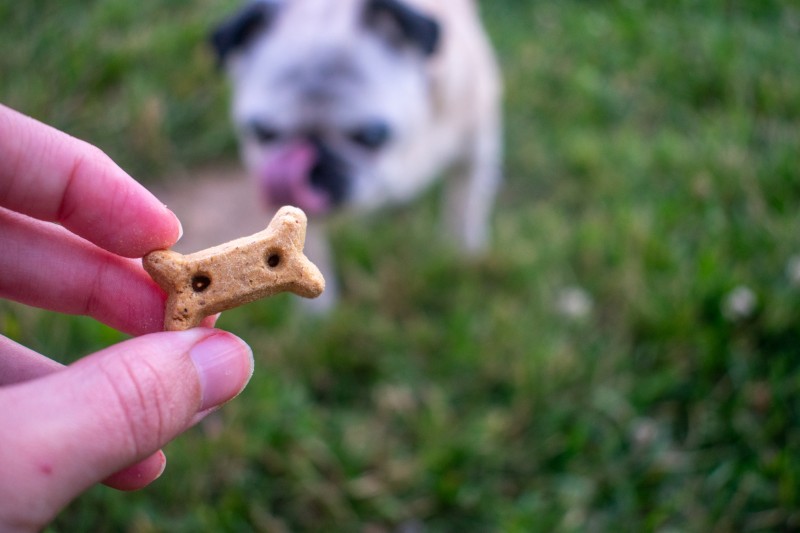 16 year old beans is blind, but her nose still works well! She was all about sniffing the Old Mother Hubbard dog treats bag. When I hold out an individual treat to offer to her, she has to sniff a lot before she can line her mouth up properly with the treat, but once she's really close, she bites pretty quickly, so you can feel her excitement to have found it! The 'mini' size is perhaps a little over an inch long which is a nice size for small dogs, in my opinion. However, if you wanted to break them even smaller, I can break them in half with my fingers fairly easily. They are dry so they don't have a "clean break" necessarily, the two pieces you end up with may not be similar in size, but they can be easily broken.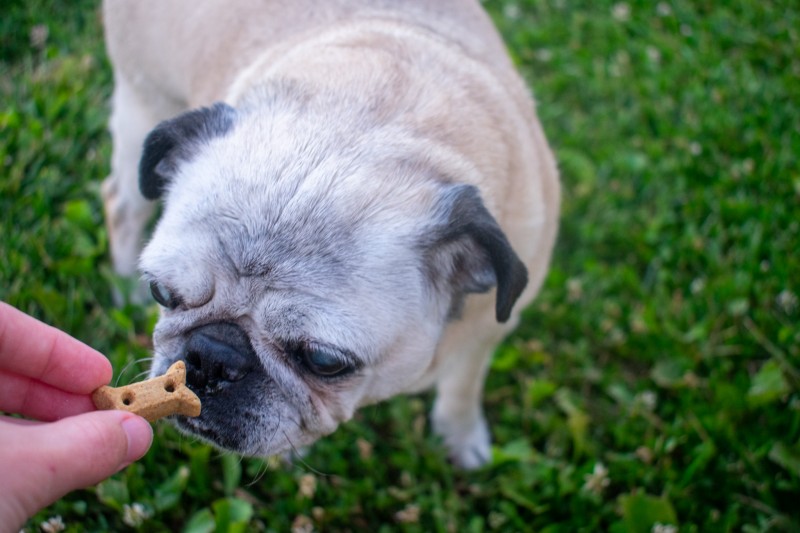 Frank and Beans were older dogs when we brought them home (nearly) 7 years ago. They've brought Ryan and I so much happiness since then. Now that they're very elderly, we really try to prioritize their quality of life to make the most of what time they have left. It's truly a self-fulfilling prophecy. We make our dogs happy, and seeing their happiness returns that joy to us.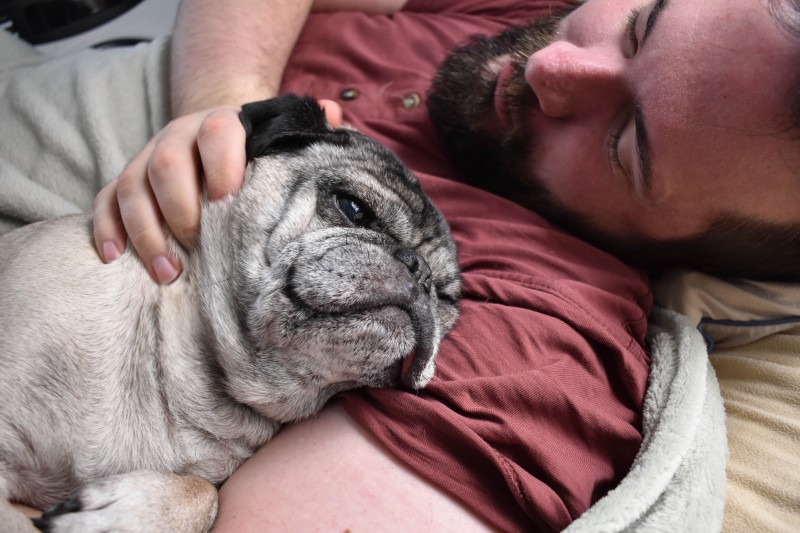 What things do you do to focus on your senior dogs quality of life? Do you find that your dogs happiness brings you happiness in return? Feel free to answer whether your pets are seniors or not!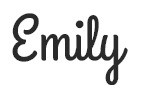 Hi there! I am Emily Evert, the owner of Emily Reviews. I am 28 and live in a small town in Michigan with my boyfriend Ryan and our two pugs. I have a large family and I adore my nieces and nephews. I love reading memoirs, and learning about child development and psychology. I love watching The Game of Thrones, Teen Mom, Sister Wives and Veep. I like listening to Jason Isbell, John Prine, and other alt-country or Americana music. I created Emily Reviews as a creative outlet to share my life and the products that I love with others.
This post currently has 7 responses.