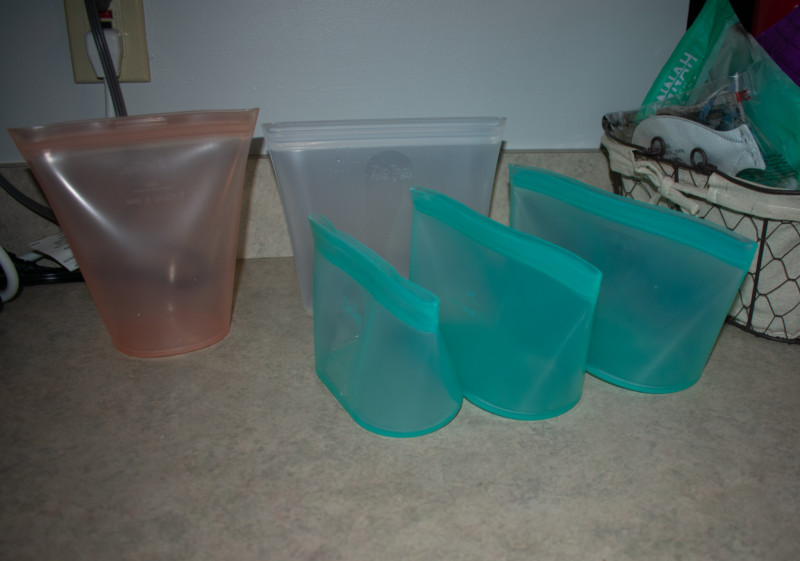 Zip Top set me product samples in exchange for a review. All opinions are my own.
I try to work on being more eco-friendly where I can. I largely moved away from single-use plastic baggies several years ago. I switched to using glass storage containers for the most part. That's worked pretty well for a lot of food storage purposes. Still, when I saw Zip Top silicone reusable storage containers that "zip" shut, I was intrigued.
Due to the 'zip' feature, they're quite similar to plastic storage baggies, except these are made of 100% platinum silicone, no BPA, plastic, fillers or other harmful chemicals. Because they are silicone, they are both bendable, yet sturdy. The containers are dishwasher safe and freezer safe, which really caught my eye now that we have a dishwasher.
I was sent Zip Top cups, bags and dishes.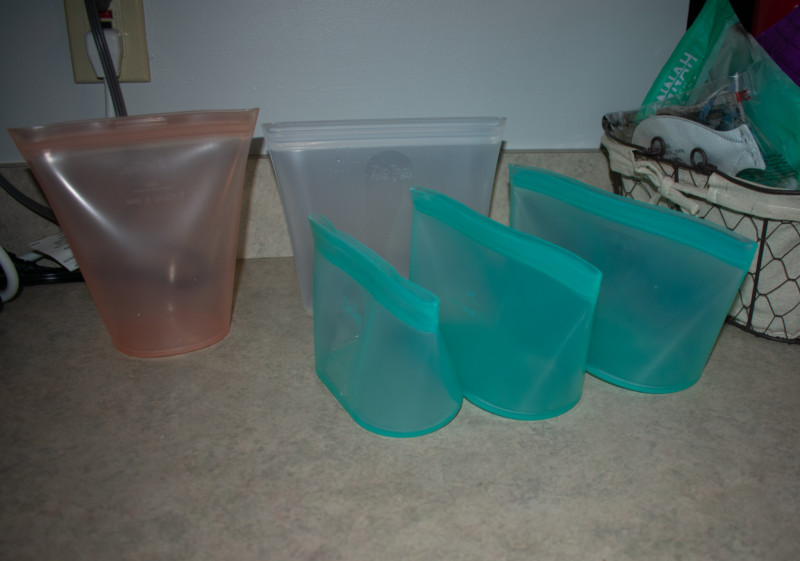 All three of these are designed to stay open when you sit them on a counter. This is really nice for scooping leftovers into them without having to have a hand on the container the whole time! I also love how they don't require a separate lid, so you never have to hunt down the right lid for the right container.
The Zip Top bags are available in sandwich and snack size. These are really similar to the sandwich or snack sized single-use plastic bags that you may be used to using. These are a great product to switch to for school or work lunches, picnics, etc. I've also used our sandwich size bag for small amounts of leftovers that we've left in the fridge.
The dish Zip Top containers come in three sizes. The smallest dish container is 3x7x4 and can hold 16oz, which is the same amount that a pint size jar can hold, if that helps you to visualize. So it's on the smaller size, but works well for a small amount of leftovers. If I make tacos using 1lb of meat, my partner and I will eat dinner and then use this smallest dish size container to store the remaining 1/2 pound or so of meat that we usually have remaining.
The medium-sized Zip Top container is 3.5x8x4.5 inches and holds 24oz. Regular soda cans are 12oz, so that's roughly two soda cans of space in these. I think this size of dish would work well to use as an on-the-go meal bag, basically. You could make a salad in this dish and take it with you to work, school or a picnic.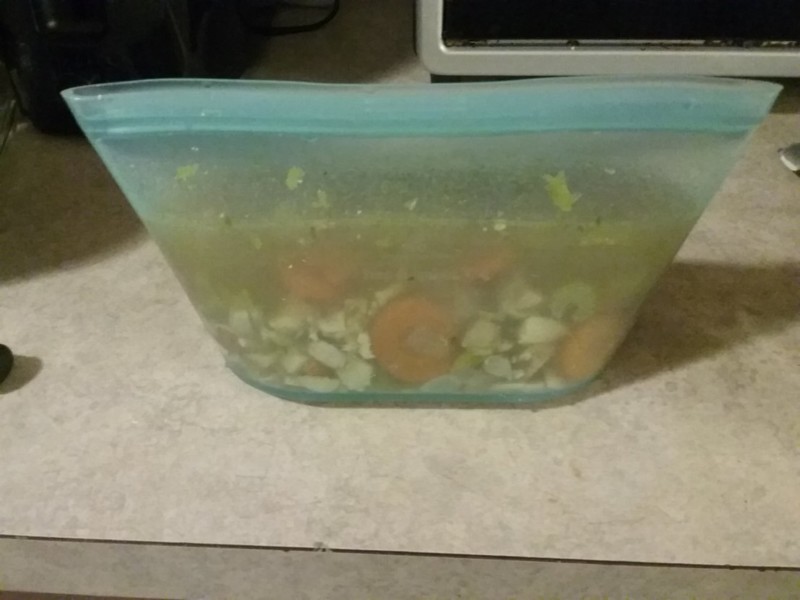 I've used the 'dish' storage containers to leave some leftovers i the fridge, and some in the freezer. These pictures are of homemade chicken soup – it tastes better than it looks ;).
The large-sized Zip Top dish container is 4x9x5 and can only 32oz. This is the biggest container and I've used it to freeze an entire batch of leftovers, or for meal prepping, basically.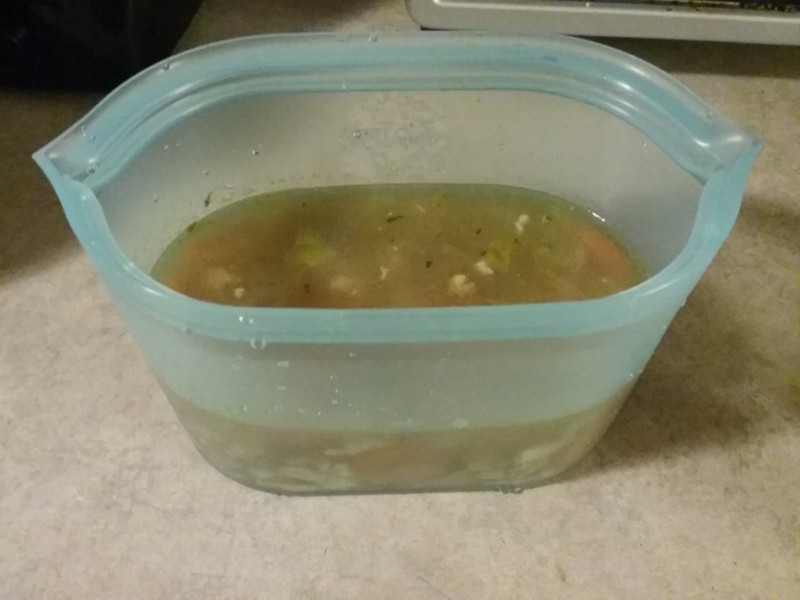 The cup containers also come in multiple sizes, though I just went with the larger cup size. Some of you found my blog through my homemade soda slushie blog post that is pretty popular on Pinterest. In there I share how I sometimes freeze soda in a plastic bottle and then toss it into a blender to make a homemade Slurpee or icee. With these Zip Top cups, you can freeze soda (or juice or another beverage) in these. Once frozen, you can let them sit out so they start to thaw but just a little, and then squeeze the outside of the Zip Top to break up the ice into a slush-like consistency!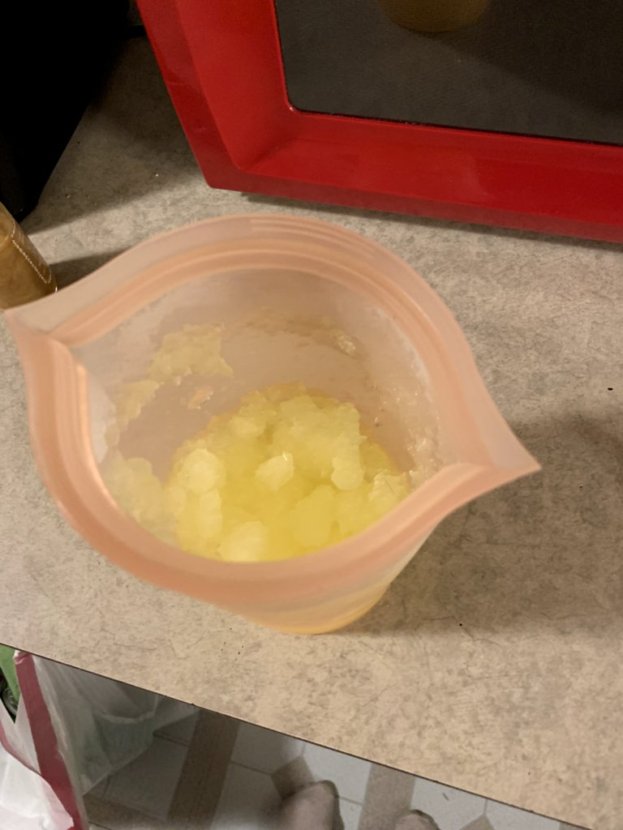 Zip Top also makes containers designed to store baby snacks, and bags designed for breastmilk storage.
Overall, I've really been loving these. They clean up great in the dishwasher, and work well to freeze or refrigerate leftovers which have been my primary uses for them so far. I find them more convenient to use than my glass storage containers in most cases. The only slight downside is these are not airtight. I like some foods that my partner finds to be "stinky". I stored one of my "stinky foods" in a Zip Top and he complained that the scent filled the entire fridge. So, I'll probably keep using my airtight glass storage containers for strongly scented foods, but will be using Zip Top for everything else. They're just so convenient!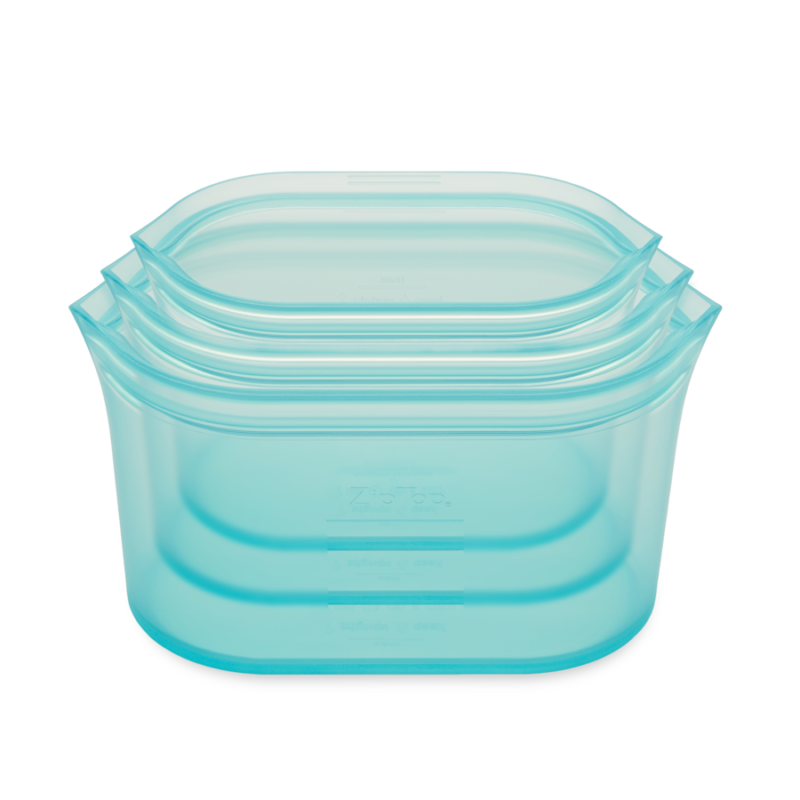 Win it: Zip Top is offering a giveaway where one person will win the Zip Top dish set, which includes a container in small, medium and large sizes!
Entry Form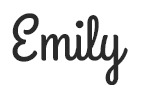 Hi there! I am Emily Evert, the owner of Emily Reviews. I am 28 and live in a small town in Michigan with my boyfriend Ryan and our two pugs. I have a large family and I adore my nieces and nephews. I love reading memoirs, and learning about child development and psychology. I love watching The Game of Thrones, Teen Mom, Sister Wives and Veep. I like listening to Jason Isbell, John Prine, and other alt-country or Americana music. I created Emily Reviews as a creative outlet to share my life and the products that I love with others.
This post currently has 12 responses.