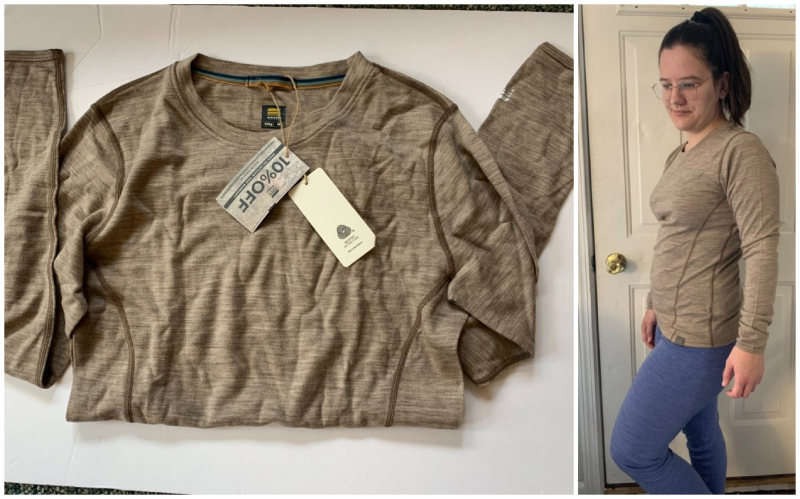 Meriwool sent me products for review. All opinions are my own. There are affiliate links in this post.
It's in the lower 20 here today. On my walk this afternoon, I was already feeling quite cold for the first few roads, but then when I turned to come around the block, suddenly the wind was right in my face. I speed-walked to the next corner because my face hurt so much from the bitter wind!
It may not officially be winter for another couple of days, but it's definitely winter weather here! If you buy holiday gifts for people who live in cold areas, Meriwool Layers is an awesome company to consider! Plus, their products are sold on Amazon so it's not too late to buy before Christmas.
Meriwool Layers sells merino wool products. For some reason, people often think of wool as being a really "hot" material, but it's actually really breathable! So, it can keep you comfortable in a range of different temperatures. Plus, it's moisture-wicking so it makes a good base layer when bundling up.
I was sent three products from Meriwool for women, but keep in mind that they have products for men and kids as well.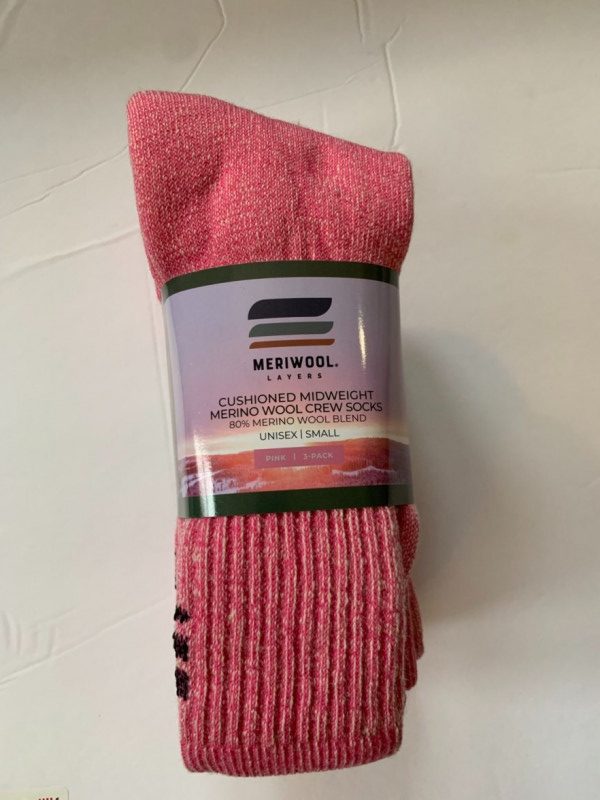 I had requested no show socks, but was sent Meriwool Midweight crew socks. I really dislike tall socks so I never wear them. So, I'll be passing these on to someone as a gift. For those who like crew socks, I think these would be an awesome item to own. They can help keep your feet dry and warm while spending time outside in the winter. Often, one of the first body parts to get cold is the feet. As a result, when bundling up I try to really prioritize my feet and Meriwool layer socks are a great way to do so!
These come in different colors, so no worries if pink doesn't work for you! They also offer many other styles of socks, not just crew socks. These come in a 3 pack for $25 which is a good price for wool socks.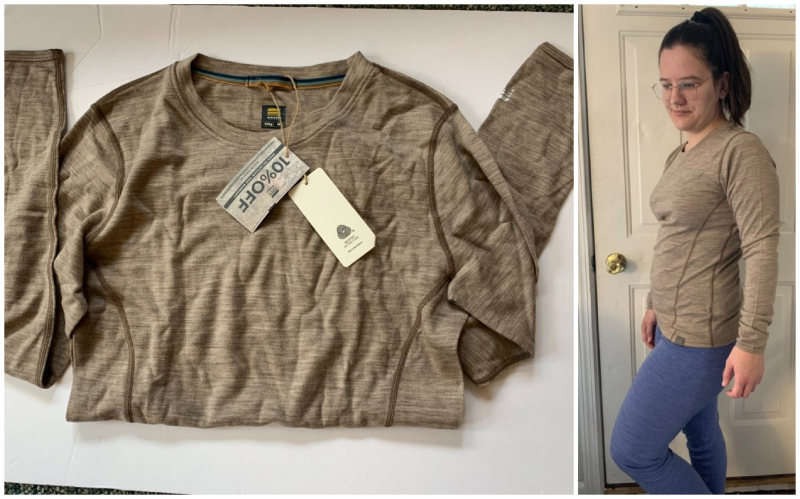 Second, I was sent this Women's Merino 250 Base layer long sleeve top. It feels slightly thicker than a 100% cotton t-shirt, and has a smooth texture. It isn't quite as soft as cotton in my opinion, but it isn't rough or scratchy like many people expect of wool. I ordered my regular t-shirt size as my measurements fit in my typical size on their size chart, and I'm happy with the fit. The sleeves are slightly long but I am 5'1″ so it's common for clothing to be a bit long on me.
So far, I haven't worn this as a base layer as intended, I've just worn it as a regular shirt and it's so comfortable! I have POTS which causes my body to be bad at regulating my body temperature. Even when just sitting around the house, I experience temperature fluctuations and will sweat, get hot or cold for seemingly no reason. Having a breathable, moisture-wicking top like this is so nice because it keeps me feeling comfortable.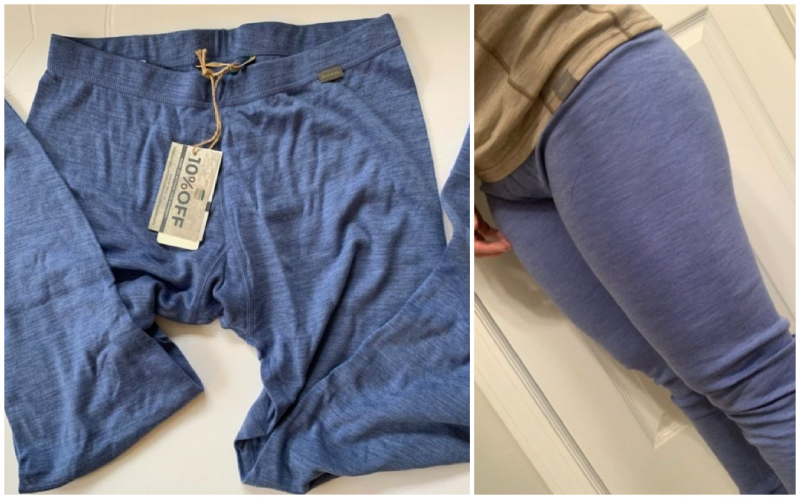 The last item was these 250 Merino wool base layer bottoms. I selected these in my typical size as well and they fit pretty well. Like the top, I found these to be a bit long on me, but that's to be expected when someone of my height buys non-petite clothing. These leggings are fairly thin, yet do a nice job of keeping me comfortable even when it's a bit chilly in the house.
These are intended to be worn like thermal underwear, under jeans or other pants. I've been wearing them as leggings around the house and even to bed. With my body temperature regulation problems, I've LOVED how comfortable these keep me regardless of what my body temp is doing. I find these to be as comfortable as some of my cotton-based leggings. They don't make me feel restricted in movement at all. I also love how they aren't high-wasted, as they put no pressure around my belly. These are available in a wide range of colors.
If you know someone who lives in a cold climate, especially if they enjoy sledding, skiing or other outdoor activities (or work outside) Meriwool Layers clothing and accessories could make an awesome gift! Their products are sold on Amazon so you can still order and have the items arrive before Christmas.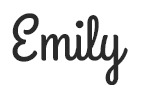 Hi there! I am Emily Evert, the owner of Emily Reviews. I am 28 and live in a small town in Michigan with my boyfriend Ryan and our two pugs. I have a large family and I adore my nieces and nephews. I love reading memoirs, and learning about child development and psychology. I love watching The Game of Thrones, Teen Mom, Sister Wives and Veep. I like listening to Jason Isbell, John Prine, and other alt-country or Americana music. I created Emily Reviews as a creative outlet to share my life and the products that I love with others.
This post currently has 16 responses.