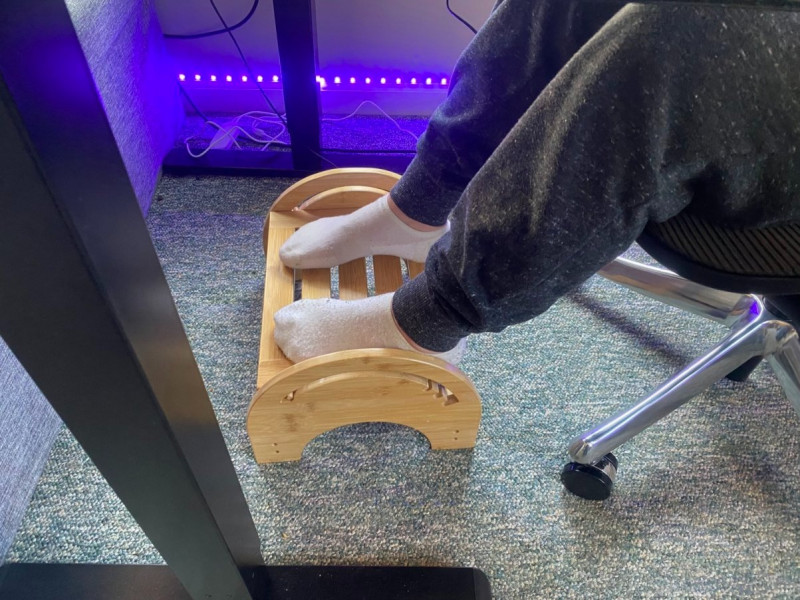 GOBAM sent me products for review. There are affiliate links in this post. All opinions are my own.
If you're someone who spends a lot of time sitting at a desk, you know how important it is to have a comfortable and ergonomic workspace. And if you don't know, your body sure does! That's where this foot rest comes in! It's designed to give you the proper foot placement while sitting, which can improve blood circulation to your legs and prevent aches, numbness, or stiffness. Plus, it just feels darn good to rest your tired tootsies on something supportive!
Crafted from 100% natural solid bamboo, this foot stool is not only durable and long-lasting, but it's also sustainable and eco-friendly. Its natural color and sleek design will complement any office or home decor. Measuring 13.7 x 11.8 x 9.4 inches, this bamboo leg rest can support up to 110 lbs and features a comfortable surface area of 12.4 x 9.4 inches for your feet to rest on.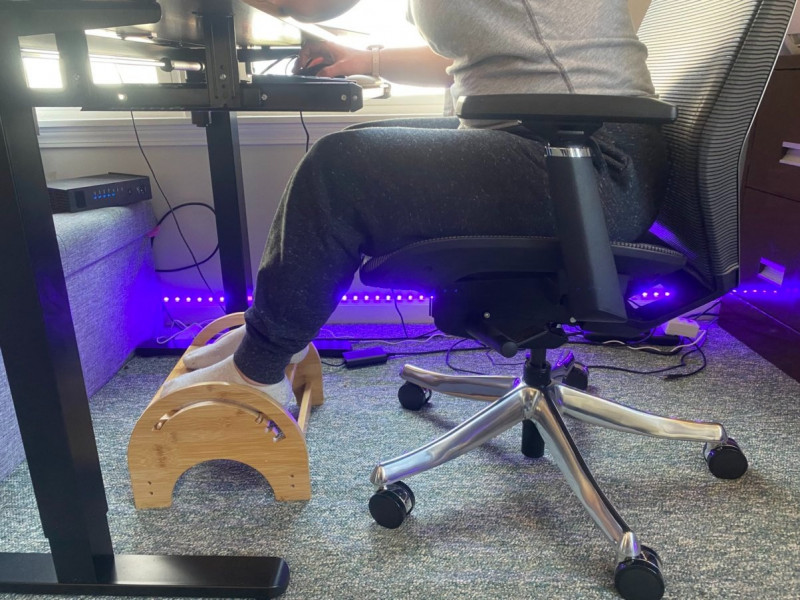 But the real game-changer? This foot stool can be manually adjusted to 0°, 12°, and 24° angles for a more ergonomic and comfortable posture. And when you're not using it, simply tuck it away under your desk or take it with you on-the-go – it's lightweight and portable enough for indoor and outdoor use.
Whether you're an office worker, a gamer, or a busy parent, this foot stool offers relief and support for anyone who spends long periods sitting. It's perfect for those who work from home, as it encourages a more comfortable and productive workspace. And when the workday is over, the foot rest doubles as a support stool for kids or a handy step stool in the kitchen or bathroom.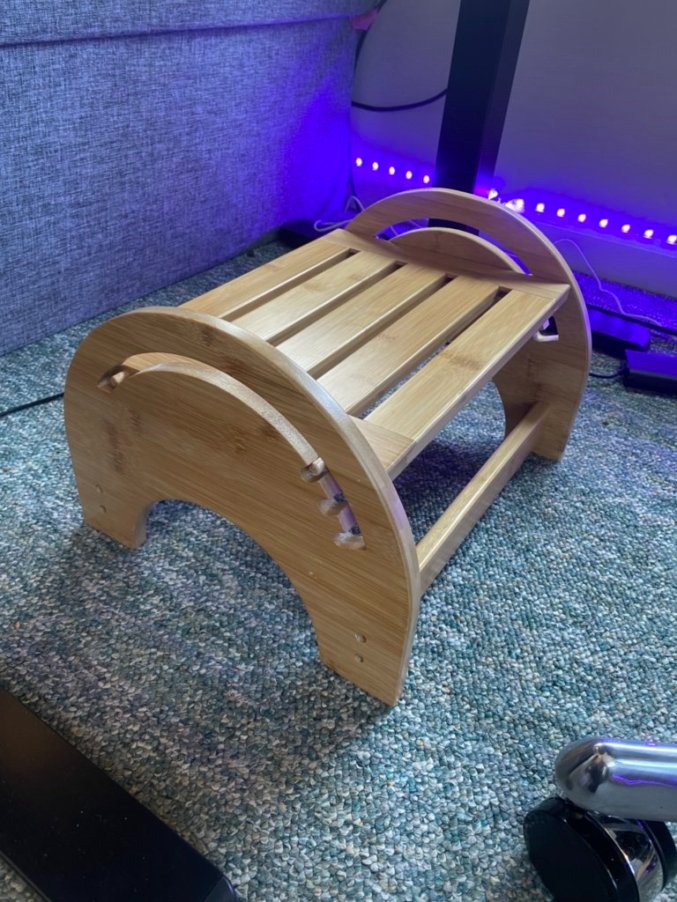 Let's take a closer look at the benefits of using the GOBAM Adjustable Under Desk Foot Rest:
Ergonomic Design: The adjustable angles of this bamboo foot stool allow for a more ergonomic posture, reducing the strain on your back, hips, and knees.
Improved Circulation: Proper foot placement while sitting on this footrest can improve blood circulation to the legs, preventing aches, numbness, or stiffness.
Versatility: The foot rest can be used as a stepping stool or support stool for kids, or in the kitchen and bathroom.
Sustainability: Made from 100% natural solid bamboo, this foot stool is not only durable and long-lasting but also eco-friendly and sustainable.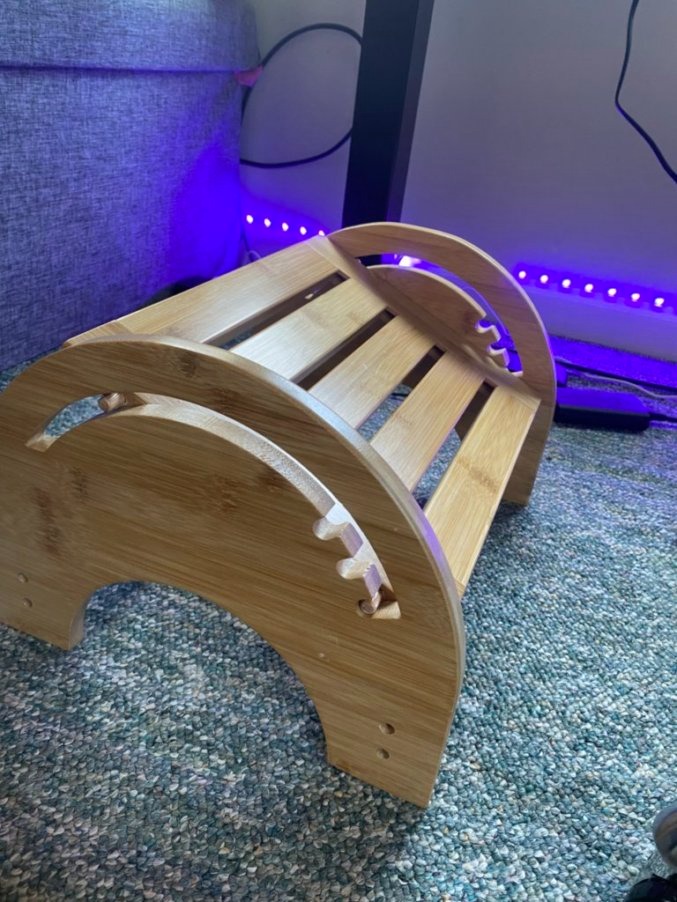 At the time of writing this, the model we were sent is out of stock! But they have almost the exact same footrest in stock, with one difference, it has a rolling massager in the middle for foot rubs.

I was also sent a Gobam rolling pin. Its solid beechwood construction and sleek burnished finish make it a durable and eco–friendly kitchen essential. This well–crafted rolling pin is perfect for rolling out pasta, pie crusts, tarts, cookies, and pizza dough. The pin's smooth surface can also be used for fondant rolling. The GOBAM Rolling Pin is easy to use and clean. It has a comfortable grip and is lightweight, making it perfect for children to use when baking or creating clay and play dough projects. It is also easy to store, since it measures only 11 x 1.38 x 1.38 inches (L x W x H) and fits nicely in most kitchen drawers.
If you're looking for a durable and eco–friendly rolling pin to add to your kitchen supplies, the GOBAM Wooden Rolling Pin is a great choice. It is a multi–purpose tool that is easy to use and clean, making it perfect for all your baking needs.
These are just a couple of the items GOBAM offers! Visit the GOBAM Amazon Store Front to see their other products.
Win it: An under desk foot rest and a rolling pin from GoBam! This giveaway is open to the US and will end 3/17/2023.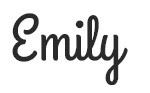 Hi there! I am Emily Evert, the owner of Emily Reviews. I am 28 and live in a small town in Michigan with my boyfriend Ryan and our two pugs. I have a large family and I adore my nieces and nephews. I love reading memoirs, and learning about child development and psychology. I love watching The Game of Thrones, Teen Mom, Sister Wives and Veep. I like listening to Jason Isbell, John Prine, and other alt-country or Americana music. I created Emily Reviews as a creative outlet to share my life and the products that I love with others.
This post currently has one response.