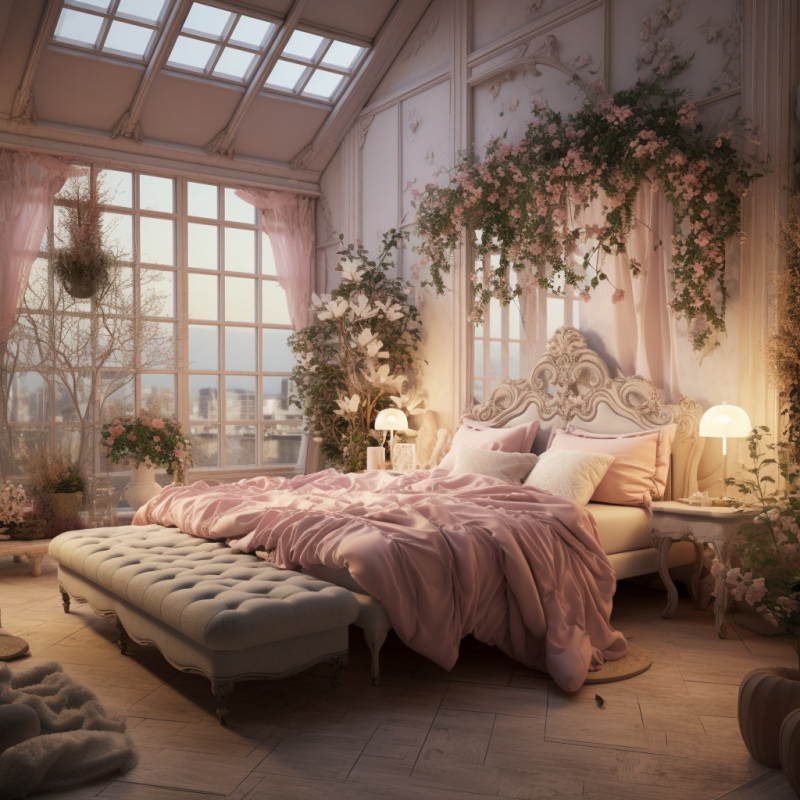 Do you live for the dreamy allure of ultra-romantic fashion? Are you hopelessly devoted to all things lace and ribbon? Do you find comfort in the escapism that Bridgerton provides? Then welcome to the world of the coquette aesthetic—a place where you can be as flirtatious and elusive as Joséphine de Beauharnais was to Napoleon Bonaparte. If you're eager to bring the coquette aesthetic into your personal space, read on for some irresistible coquette aesthetic room ideas that perfectly encapsulate this unique style.
What is the Coquette Aesthetic?
As inspired by Robert Greene's "The Art of Seduction," the coquette aesthetic captures the essence of an archetype rooted in theatricality, vanity, and above all, independence. Think ruffles, bows, pastel colors, gold jewelry, and a timeless vintage touch, all blended seamlessly to produce an air of femininity that is at once playful and intriguing.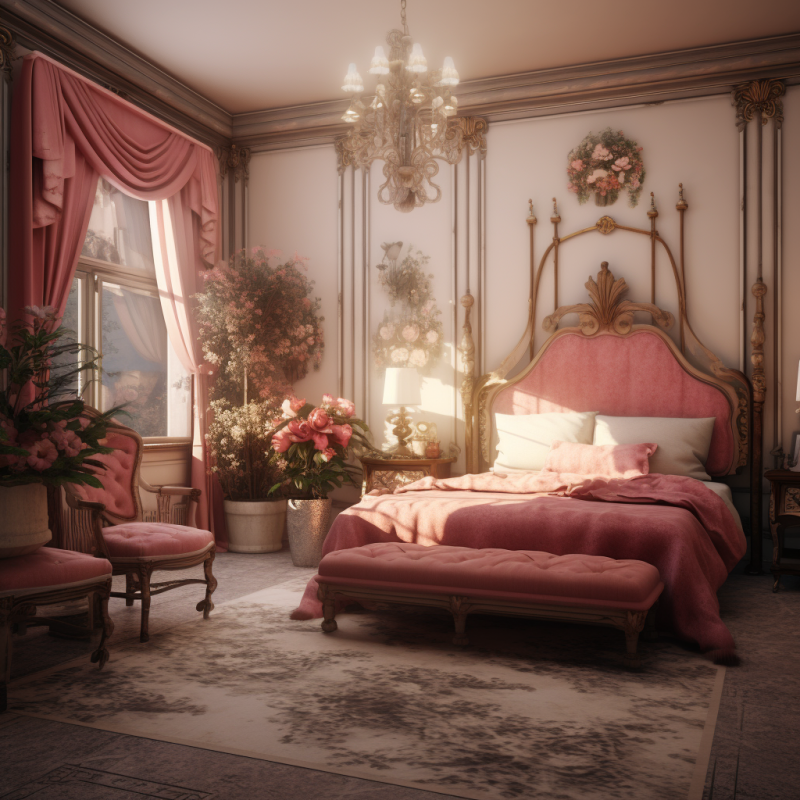 Coquette Aesthetic Room Ideas
Colors
Color is the language of emotion in design, setting the stage for every other element in your space. In a coquette-inspired room, the palette can encompass a range of shades that evoke feelings of romance, elegance, and playful allure. Whether it's the walls, the furniture, or the accessories, the colors you choose can significantly affect the room's mood and style. Here are some color ideas to consider for your coquette aesthetic room ideas:
Blush Pink: This soft hue embodies romance and femininity, making it a popular choice for wall colors, upholstery, or accessories.
Cream and Ivory: Neutral shades like cream and ivory can act as a canvas, allowing other colors and elements to shine. These tones bring a sense of refined sophistication.
Lavender: A muted purple shade adds a touch of whimsy and dreaminess, perfect for throw pillows, bedspreads, or even wall accents.
Mint Green: This pastel shade is youthful and fresh, making it an excellent choice for smaller furniture pieces or accents like vases and picture frames.
Gold Accents: Gold can elevate your space to new levels of glamour. Use it sparingly in frames, mirrors, and other decorative pieces to avoid overwhelming the space.
Champagne: This soft metallic shade adds a subtle sparkle and blends well with other pastels, suitable for accessories and even fabric.
Rose Gold: Perfect for metal accents or small decorative items, rose gold combines the romanticism of pink and the luxury of metallics.
Peach: This warm, inviting color works well in soft furnishings like cushions or throws and even as a wall color for a sunnier atmosphere.
Turquoise: To add a touch of retro glam, consider small accents in turquoise. This vibrant color can add pop and character when used in moderation.
Coral: Another warm hue that can inject vitality into your space, coral can be included in anything from lampshades to artwork.
Plum: For a bold, regal touch, incorporate plum in small doses. It can act as a strong focal point, drawing the eye and adding depth to your color scheme.
Fabrics
Fabrics play a significant role in transforming a room into a cozy, elegant sanctuary, and the coquette aesthetic leaves ample room for exploration in this regard. From lush and lavish to soft and silky, the fabric choices you make can greatly enhance the room's atmosphere, lending it an air of femininity and romantic charm. Here are some fabric ideas that will breathe life into your coquette aesthetic room ideas:
Velvet Cushions: Opt for plush velvet cushions in rich pastel hues like blush pink, mint green, or lavender. These add a sense of tactile richness and luxury to your seating and bedding.
Silk Bedspreads: The coquette aesthetic embraces a touch of sultry elegance, and nothing says elegant sultriness quite like silk. A silk bedspread not only feels luxurious but also gives your room a shimmering focus.
Lace Elements: Lace throw pillows or curtains offer that extra touch of vintage femininity. You can even layer lace over other fabrics like silk or velvet to create textured contrast.
Brocade Upholstery: Brocade fabrics, especially those with floral or complex patterns, can give chairs or cushions a more opulent appearance. This adds a layer of intricate detailing that resonates well with the coquette style.
Satin Drapes: Window treatments in smooth satin can make the room feel grander and more secluded, enhancing the overall romantic vibe.
Chiffon Canopy: If you've opted for a canopy bed, consider draping it with sheer chiffon fabric. It provides a delicate, ethereal touch, allowing light to filter through softly.
Tulle Accents: Little tulle bows or trim can add whimsy to curtains, cushions, or even lampshades. This mesh-like material is airy and playful, adding a lighter touch to the room's fabric landscape.
Embroidered Linens: For your vanity table or even your dining table if it's part of your living space, embroidered linens bring an antique, handmade touch.
Cashmere Throws: A sumptuous cashmere throw on the chaise lounge or bed can add a layer of comfort and luxury, perfect for curling up with a romantic novel.
Faux Fur Rugs: While not technically a fabric for upholstery or draping, a faux fur rug can add a lush, tactile element to the floor, offering both comfort and style.
Jacquard Table Runners: If you have a writing desk or console table, a jacquard table runner can add a layer of subtle pattern and texture, enhancing the overall aesthetic.
Floral Cotton Prints: While heavier, richer fabrics dominate the coquette aesthetic, a lighter touch can be introduced with floral printed cotton for things like throw pillows or even wall hangings.
Organza Ribbon: Use organza ribbon to tie back curtains, as bow accents on cushions, or even as decorative elements on your vanity mirror.
Sequined Fabrics: For that touch of drama, consider sequined cushions or throws. Choose sequins in muted tones to maintain the room's soft color palette.
Bohemian Tapestries: For a slightly eclectic twist, consider adding a tapestry with a vintage pattern as a wall hanging or a throw over your bed.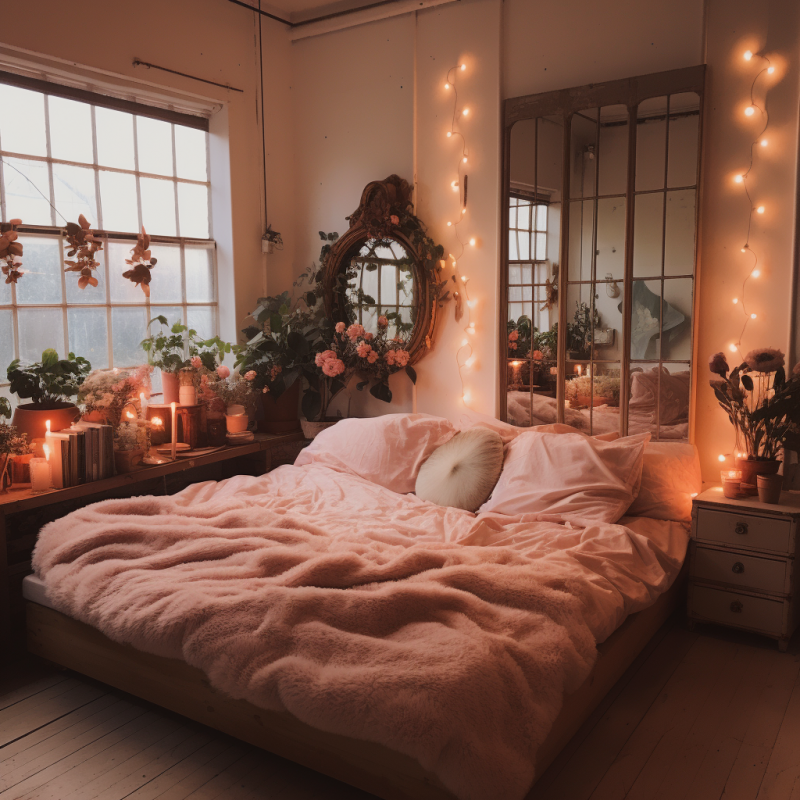 Wall Décor
Creating a coquette aesthetic room requires attention to detail, and your walls are the canvas upon which you can weave your fantasies. Here's how you can elevate the wall décor of your coquette aesthetic room ideas.
Framed Vintage Portraits: Historical faces from different eras that personify the coquette aesthetic can add an aura of timeless elegance to your room. Frame these in gold or antique wooden frames to accentuate the look.
Lace Wall Hangings: Instead of the usual wall art, consider lace hangings that bring both femininity and texture to your walls. Lace can also be used to frame mirrors or even as a chic backdrop for a picture wall.
Romantic Wallpapers: If you're not into painting your walls, wallpapers with floral patterns, pastel hues, or even toile de Jouy prints can add an immediate coquette appeal.
Scripted Love Letters: Take your most romantic or poetic thoughts (or borrow some from love letters of famous romances in history) and put them up in scripted or calligraphic fonts. You can even frame these in floating glass frames to make them look like treasured relics.
Mirrors with Ornate Frames: Mirrors are functional and aesthetic. Consider Baroque or Rococo style mirrors with ornate gold or distressed white frames to make the room look more spacious while sticking to the aesthetic.
Sconces and Wall Mounted Candelabras: To add some soft, sultry lighting, use wall-mounted sconces or candelabras in classic designs. The flicker of candlelight can create a romantic and mysterious ambiance.
Vintage Fashion Illustrations: These can serve as a nod to the "girlycore" element of the coquette aesthetic, bringing the focus back to fashion. Frame these in soft gold or pastel frames for extra flair.
Pressed Flower Frames: If you enjoy the delicacy of botanicals, consider creating your own pressed flower frames. The natural beauty complements the coquette aesthetic perfectly, and it's a fun DIY project!
Quotation Boards: Use vintage-looking chalkboards or fabric pinboards to write or pin favorite quotes, poems, or even personal musings that align with the coquette spirit. Rotate them seasonally to keep things fresh and intriguing.
Furniture
When it comes to embracing the coquette aesthetic in your living space, furniture is the cornerstone that sets the mood. Your choice of furniture should seamlessly blend comfort, functionality, and aesthetics, all while evoking an air of playful sophistication. Here are some furniture ideas to help you curate the perfect coquette aesthetic room ideas:
Vanity Table: No coquette space would be complete without a vanity table, the altar to one's beauty rituals. Go for something ornate with a vintage feel. Think multiple drawers for cosmetics and a plush, upholstered stool. Decorate with gold-trimmed accessories, pearl-handled brushes, and a rococo-framed mirror.
Tufted Chaise Lounge: This piece screams coquette, offering a luxurious space for reclining in grand style. Choose velvet or silk upholstery and aim for softer, pastel shades to stick to the color palette.
Antique Armoire: Store your fashion pieces and accessories in a beautiful antique armoire with intricate designs and detailing. Consider a distressed finish for that old-world charm or go glam with polished dark wood.
Curved Love Seat: An elegant love seat in a soft pastel hue can offer additional seating that keeps the room's romantic aura intact. Opt for curved armrests and tufted upholstery to elevate the aesthetic.
Round Side Tables: Veer away from the usual square or rectangular tables and go for round or oval side tables. Look for ones with intricate leg designs or marble tops for added elegance.
Canopy Bed: If you're all in, why not invest in a canopy bed? Draped in lace or soft flowing fabrics, it will become the romantic centerpiece of your room.
Bookshelf with Scalloped Edges: For your collection of classic novels, love stories, and, of course, "The Art of Seduction," go for a bookshelf with feminine, scalloped edges and decorate it with small trinkets and floral arrangements.
Velvet Ottoman: For a touch of royal grandeur, include a velvet ottoman in a rich shade that complements your room. It serves as both additional seating and a place to showcase a beautifully bound book or a tray with vintage perfume bottles.
Bar Cart: If you love to entertain or enjoy your elixirs, a delicate bar cart with glass shelves and gold framework can add a touch of adult sophistication.
Slipper Chairs: These armless, upholstered chairs are both versatile and chic, fitting snugly into a coquette-inspired design scheme. Place one in a cozy corner, draped with a soft throw and adorned with a lace pillow.
Writing Desk: A classic, elegantly designed writing desk not only serves a functional purpose but also adds to the vintage feel. Picture yourself penning love letters or journaling your deepest thoughts here.
Glass Curio Cabinet: Use a small, delicate curio cabinet to display your most cherished possessions, whether they're antique tea sets, vintage jewelry, or even a collection of love letters.
Rococo Dresser: A dresser with intricate detailing and rococo influences can act as additional storage and also serve as a piece of art in its own right.
Jewelry Stand: A tabletop jewelry stand, especially one with ornate designs, can add functional glamour to your vanity table or dresser.
Elegant Room Divider: For larger spaces or to create secluded corners, consider an elegant room divider. Opt for one with fabric inserts that match your room's color scheme, or go for carved wooden ones for a touch of antique flair.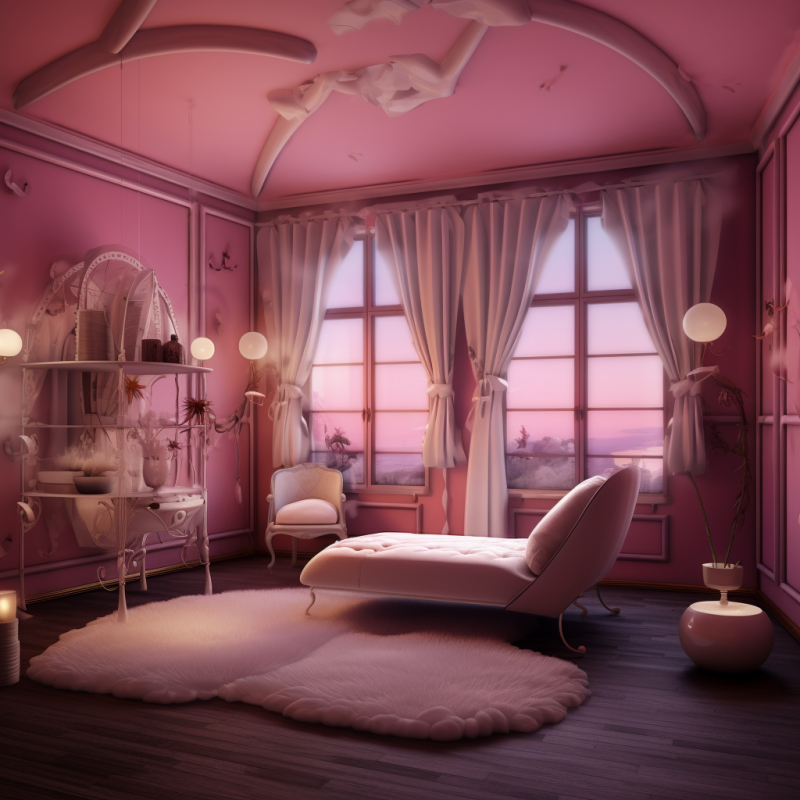 Accessories
Accessories are the finishing touches that complete the narrative of a coquette-inspired room. These smaller details can be versatile and playful, adding a layer of visual interest that enriches the overall aesthetic. Whether it's an ornate trinket box or a vintage perfume bottle, each item serves a purpose in telling the story of your personal style and sensibilities. Here are some accessories that can help you perfect your coquette aesthetic room ideas:
Vintage Perfume Bottles: Adorn your vanity or shelves with vintage perfume bottles. They not only look exquisite but can often be filled with your favorite scents, serving a dual purpose.
Gold-Framed Mirrors: Handheld or tabletop, these mirrors add both function and flair. They can be placed strategically to capture light and open up the room.
Porcelain Figurines: Small porcelain figures can add a nostalgic and delicate touch. Place them on side tables or in a glass-front curio cabinet for maximum visibility.
Pearl and Crystal Decor: Think pearl-encrusted photo frames or crystal vases. These bring in a touch of glamour and sparkle, offering eye-catching moments across the room.
Trinket Boxes: Ornate or antique trinket boxes can be practical yet decorative. Use them to store small items like jewelry, while also enhancing your coquette aesthetic.
Feathered Quill and Ink Set: To complement your writing desk, a feathered quill and an elegant ink set can be both ornamental and functional, especially if you enjoy journaling or calligraphy.
Candelabras or Vintage Candleholders: Choose designs that evoke the romance and drama of bygone eras. When lit, they can dramatically transform the ambiance.
Antique Clocks: A vintage table clock or a wall-mounted pendulum clock can serve as a charming and functional focal point, bringing a sense of history into your room.
Romantic Novels: Classics like "Pride and Prejudice" or more modern love stories can be displayed on your bookshelf or bedside table as accessories that also provide entertainment.
Vintage Tea Sets: A porcelain or bone china tea set can bring a sense of ritual and refinement. Display the set on a tray or in a glass cabinet for added drama.
Botanical Prints: Consider adding small framed botanical prints, perhaps with romantic flower species like roses or peonies, to inject some natural elements.
Petite Chandeliers: Smaller chandeliers or crystal-laden wall sconces can offer a whimsical source of lighting that aligns perfectly with the coquette aesthetic.
Lace Doilies: Use these to add texture and feminine charm to your tables or even as layered decoration under other accessories.
Victorian-Inspired Fans: These can be showcased on walls as art or used practically to cool yourself in an elegantly coquettish manner.
Ornate Jewelry Stand: Besides serving as a convenient place to hang your necklaces and bracelets, an ornate jewelry stand can also be a decorative masterpiece on your vanity.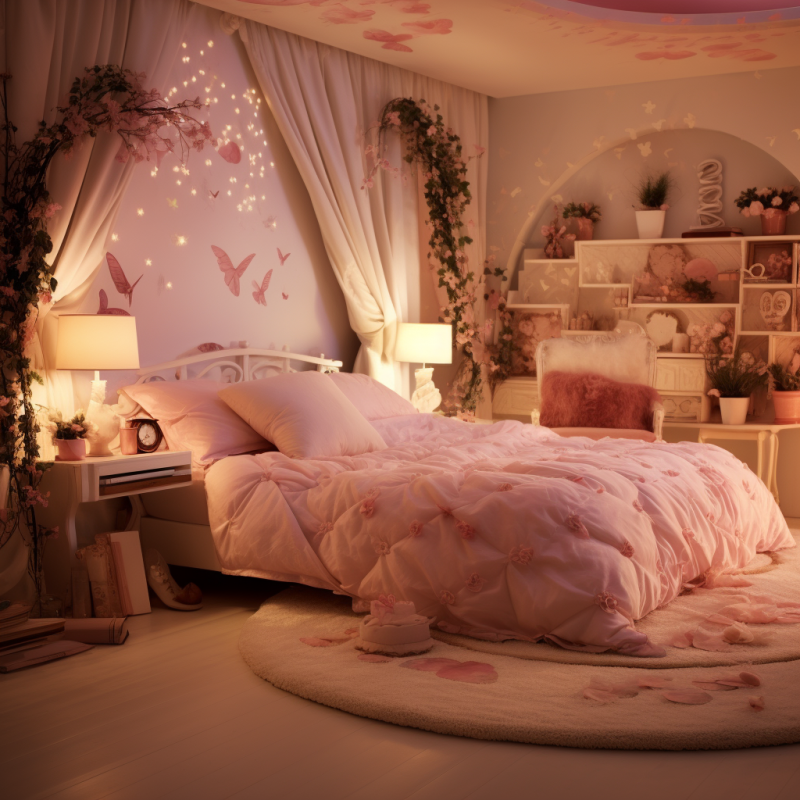 Why We Love It
The coquette aesthetic is enamoring because it captures both the old and the new, allowing you to find your own voice within its boundaries. Whether it's the endless bows, the gold jewelry, or the vintage elements that catch your eye, the aesthetic provides you with the room to make it truly your own. After all, independence is the cornerstone of being a coquette.
So, if you're drawn to a lifestyle that's as charming as it is enigmatic, turn your living space into a coquette paradise with our coquette aesthetic room ideas. With the right blend of sultriness and girly elements, your room will be the ultimate expression of this ever-enticing aesthetic.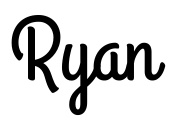 Hi there! I am Emily Evert, the owner of Emily Reviews. I am 28 and live in a small town in Michigan with my boyfriend Ryan and our two pugs. I have a large family and I adore my nieces and nephews. I love reading memoirs, and learning about child development and psychology. I love watching The Game of Thrones, Teen Mom, Sister Wives and Veep. I like listening to Jason Isbell, John Prine, and other alt-country or Americana music. I created Emily Reviews as a creative outlet to share my life and the products that I love with others.
This post currently has 8 responses.