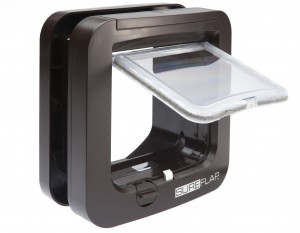 Many people have started getting their cats microchiped so that if they are lost they can easily be returned home if their microchip is read. For those of you with microchipped cats, you also have the benefit of using innovative products like the sureflap. The sureflap is a microchip cat door, meaning a cat door that checks for a microchip before it allows an animal to move through the door. This way, if a stray cat, possum, etc try to come in the sureflap it simply won't open to allow them in. I remember a few times as a kid where we wound end up with a neighbors cat in the house, thankfully racoons, possums and rabbits stayed out. The sureflap is compatible with all national standard chips and can run off of four AA batteries for up to a year. Additionally, there is a manual lock which allows you to keep your cat in or out. This is a great feature for people who like to know that their cats are all inside at night, or for keeping your cat inside if you know there is temporarily a stray dog in the area, etc.
Buy it: You can purchase the sureflap online at sureflap.com or various other retailers including amazon.
Win it: One of you will receive the sure flap microchip cat door! Retail value 149.99.
Disclaimer – I was not compensated for this post.
Hi there! I am Emily Evert, the owner of Emily Reviews. I am 28 and live in a small town in Michigan with my boyfriend Ryan and our two pugs. I have a large family and I adore my nieces and nephews. I love reading memoirs, and learning about child development and psychology. I love watching The Game of Thrones, Teen Mom, Sister Wives and Veep. I like listening to Jason Isbell, John Prine, and other alt-country or Americana music. I created Emily Reviews as a creative outlet to share my life and the products that I love with others.
This post currently has 198 responses.