The Journey of the Noble Gnarble by Daniel Errico and illustrations by Tiffany Turrill is a beautiful children's book. Daniel Errico is a multimedia children's author who teaches about not giving up when faced with difficulties. He also encourages his readers to discover the world around them.
The Journey of the Noble Gnarble tells the tales of a Gnarble that sets out on an adventure to discover a new place in the sun. As he starts his journey, he says goodbye to his friends the Blyfish family and insures them that his trip will be a success. Along the way he ran into some difficulties but didn't give up on his quest. He met some new friends, learned a few new things and discovered his special place.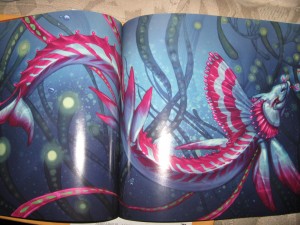 The illustrations in this book are absolutely beautiful!  The colors are nice and bright, while the characters are cute and engaging. We especially like the silver Subbalubble!
Besides being full of self-esteem building lessons, The Journey of the Noble Gnarble is fun to read. It has nice flow with rhyming words and lots of action.
The Journey of the Noble Gnarble is suggested for 3 to 6 year olds, I think that is just right. My 2.5 year old loved studying the pictures while my 5 year old was taking in the story and lessons. We enjoy this story and have read it many times.
You can see more of Daniel's work on NobleGnarble.com, Facebook, and Twitter.
Daniel Errico is also the creator of FreeChildrenStories.com, which offers free and original media for kids.
*There was a giveaway here but it has ended. To see current giveaways visit the current giveaways tab at the top of the website.*


This post currently has 92 responses.