KinderGlo are cool, kid friendly, LED night lights from a company called Blue Moon Lites. Blue Moon Lites design multifunctional products; they use current technology and standards to make products that fulfill the desires and requests of their customers.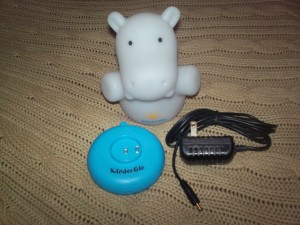 KinderGlo night lights currently come in eight playful characters- tyrannosaurus, angel, moon, moose, hippo, brontosaurus, bear, and elephant. They are always cool to the touch and provide a soft glow that helps your little one feel safe and secure. Each character is made of pliable and resilient nontoxic materials. Kiddos can choose between red, blue, or green light and a 30 minute or all night glows. Each charge will last for 8 to 10 hours.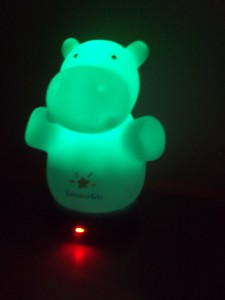 For our review, Savannah received the KinderGlo Hippo. Hippo is 5.25″ x 4.5″ x 3″. She is BPA and lead free! Savannah just loves her new Hippo night light. She has named her Pinky the Hippo. Pinky helps Savannah read in bed without disturbing her little sister sleeping across the room. Many times, Savannah has fallen asleep while reading to Pinky.
As a parent, I love knowing that Pinky is a safe and kid friendly product. I don't have to worry about it getting to hot or little hands playing with outlets. It's a win/win!
KingerGlo is kindly offering a $5 off code for night lights purchased on their website, just use coupon code XF0IOWVDZWB1
This giveaway is open to the continental US and Canada, it will end February 3rd at 11:59 pm EST. Winner will be chosen via random.org and will have 48 hours to reply to the winning notification email to claim their prize before a new winner will be selected.

Hello, my name is Laurie. I have been married to my husband for 13 years. We have two young daughters, ages 9 and 12 years old. My family and I live in Oregon so that means we are just minutes from the beach, mountains, and desert.  We love it here and try to spend as much time outdoors playing as we can. When we aren't outside playing, I enjoy reading, baking, refinishing furniture, and other crafts.
This post currently has 626 responses.