Recess Music has won many awards for kid's music with an Earth-friendly tune. La Bella Stella is making its debut just in time for Earth Day. La Bella Stella is fifth in the "Celebrate Earth" CD series.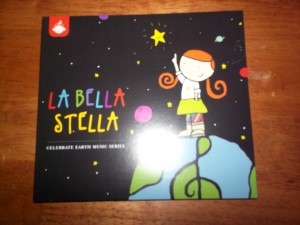 La Bella Stella is out of this world. It is a fun "kids" CD with 15 songs that take you on a magical journey though discoveries of amazing things on Earth, to the wonders of our universe, exploration into other galaxies, and spectacular findings in our solar system. The songs were beautifully written to encourage the imaginations of four to eleven year olds.
The first song, "Nature's Lullaby," was our favorite! This is a fun song, with a great tune and playful lyrics. We just love how it walks you through the sounds of nature that seem to really come to life at night…the sounds of crickets chirping, mosquitos buzzing, frog croaking, and the warm summer breeze rustlings through the trees and  grass. I can totally see us taking this CD camping with us and all the kiddos dancing to it around the camp site.
Recess Music is supporting the protection and preservation of our environment by donating a portion of the proceeds from each of the "Celebrate Earth" sets. McAuliffe-Shepard Discovery Center in Concord New Hampshire will benefit from the sales of La Bella Stella. McAuliffe-Shepard Discovery Center helps educate through exploration in astronomy, aviation, Earth, and space programs.
You can find all the fun Recess Music CDs on their website, Facebook, and twitter pages.
This giveaway is open to the continental US and will end February 19th at 11:59 pm EST. Winner will be chosen via random.org and will have 48 hours to reply to the winning notification email to claim their prize before a new winner will be selected.



Hello, my name is Laurie. I have been married to my husband for 16 years. We have two young daughters, ages 15 and 13 years old. My family and I live in Oregon so that means we are just minutes from the beach, mountains, and desert.  We love it here and try to spend as much time outdoors playing as we can. When we aren't outside playing, I enjoy reading, gardening, refinishing furniture, and other crafts.
This post currently has 50 responses.