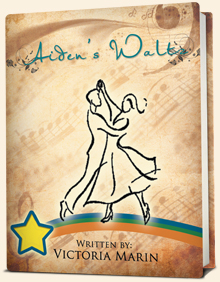 While most of it is over, it's still April which means autism awareness month. While I think it's fair to say that most adults have heard of autism and at least know the basics about it, many children are still unaware. I think a great way to approach tough topics with kids, is through the help of children's books. Aidens Waltz was written by a mother, about her son who has autism. It follows Aiden through a day at school where he struggles to fit in and internally is just begging to befriended. A particular child in his class is nice to him, and later they take a dance class together. Aiden struggles at most sports like soccer and football but dancing is surprisingly much easier for him. He finds confidence in his new found skill and continues to practice. Together, he and his friend go on to preform in the school talent show and the crowd stands up and applauds when they are finished. I think this is a great book for introducing children to autism, and special needs in general. It also sends a nice message about how being friends with a special needs child can really improve their life a lot and is a great thing to do. I was a bit surprised at how much text is on each page, so if you're reading this to a young child it might be best to read aiden's waltz in a few different settings as it's a bit lengthy for a picture book.
Win it: A copy of aidens waltz by Victoria Marin



Hi there! I am Emily Evert, the owner of Emily Reviews. I am 28 and live in a small town in Michigan with my boyfriend Ryan and our two pugs. I have a large family and I adore my nieces and nephews. I love reading memoirs, and learning about child development and psychology. I love watching The Game of Thrones, Teen Mom, Sister Wives and Veep. I like listening to Jason Isbell, John Prine, and other alt-country or Americana music. I created Emily Reviews as a creative outlet to share my life and the products that I love with others.
This post currently has 4 responses.