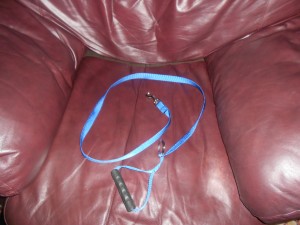 Is your dog hard to walk?  The Instant Trainer Leash has been created to make walking your dog easier.  The leash can be used for small, hyper dogs or large, strong dogs.  There are two different size leashes.  The leash for dogs under 30 pounds is 5 feet long and the leash for dogs over 30 pounds is 6 feet long. The leash is veterinarian and trainer approved.
My experience with the leash wasn't quite as easy as I had anticipated.  My dog is a small 13 pound, hyper active guy.  Our first attempt to use the trainer took both me and my husband to just put it on him.  However, Winston enjoys flipping around and laying on his tummy any time you are trying to put anything on him including his own collar.  So in that respect, I knew that using the leash would be a little bit of a challenge.
After using the leash a couple of times, Winston became accustomed to the routine and would stand still enough for us to put it on him.  I was ecstatic to say the least!  It was almost what I would consider a miracle.  I would still like to take Winston to a trainer for other behavior issues, but walking him has really improved.  He used to yank so hard that he would hurt my arm.  And remember he is only a 13 pound dog, so that tells you how hyper and out of control he is.  We are still using the leash with much success, so if you have a dog who likes to walk you instead of you walking him, I suggest this leash.  It has made a huge difference in our walking experience, which is great simply due to the fact that I live in an apartment complex and have to use a leash.
It is now your chance to win an Instant Leash Trainer!  The giveaway is only open to US residents.



This post currently has 2 responses.