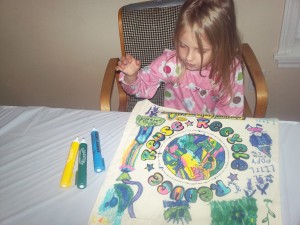 Colortime Crafts and Markers offer DIY coloring projects for kids of all ages. Colortime has a variety of products for you to choose from including tote bags, pillowcases, tee shirts, bandanas, and backpacks. Each product is also available in different designs. Colortime has special permanent fabric markers for you to embellish your product, making it your own masterpiece.
For our review, we received a Recycle Tote Bag and three Colortime's permanent fabric markers. The Recycle Tote Bag displays the Reduce, Reuse, Recycle message along with a world globe. It is made with 100% cotton muslin in a 15"x16" size. Colortime permanent fabric markers are non-toxic, chlorine resistant and are quick-drying. They are available in many different fade-resistant colors.
The girls (3 and 5 years old) really enjoyed this DIY project. They couldn't believe that I was letting them color on fabric! Coloring the Recycle le tote bag kept them busy for a long time; they colored for hours that day and have asked several times if they could add more artwork to their tote. We are currently using this tote for the library. It is a great size in that it holds 5 or 6 average sized children's books. I have washed it once or twice and haven't noticed any color fading or bleeding.
Right now, Colortime is offering coupon code- FRSH11W for Free US ground shipping on orders over $60; this offer expires on August 19, 2012.
Colortime has another special on their facebook page; if you "like" Colortime you are eligible to win a weekly fan giveaway. *See a complete list of rules on their page.


Hello, my name is Laurie. I have been married to my husband for 14 years. We have two young daughters, ages 11 and 13 years old. My family and I live in Oregon so that means we are just minutes from the beach, mountains, and desert.  We love it here and try to spend as much time outdoors playing as we can. When we aren't outside playing, I enjoy reading, gardening, refinishing furniture, and other crafts.
This post currently has no responses.