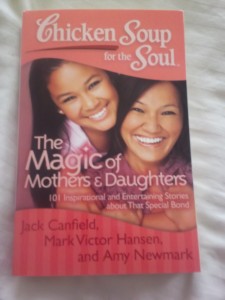 Created by internationally known speakers Mark Victor Hansen and Jack Canfield, Chicken Soup for the Soul is a line of books that offers food-for-thought through motivational and uplifting stories on a variety of topics. The stories are submitted by ordinary people.
For my review, I recently received a Chicken Soup for the Soul book titled The Magic of Mothers & Daughters – 101 Inspirational and Entertaining Stories about That Special Bond. Having just given birth to my daughter a little over one month ago, I was especially interested in hearing stories of what I have to look forward to as my little girl, and our relationship, grow.
Following are a few of the stories that stood out to me. The "Introduction" talked about how alike mothers and daughters can grow to be, and how roles can change as time passes – moving from a daughter dressing up in her mom's heels and jewelry as a young child, to a mom borrowing tops and fashion tips from her twenty-something daughter. "The Secret" talked about the impact that seemingly small acts can have on a daughter – a successful teacher introduced her daughter on the last day of class as her biggest accomplishment, and that stayed with the daughter as her proudest moment. "Love, Mom" talks about a mom that wrote her daughter a note on the first day of Kindergarten, and every day after that. She later learned that the daughter and all her friends would read the notes together at lunch time and that the ending (Love, Mom) was their favorite part.
Out of all the stories that I read, I would have to say that the first story called "Face Time" sums up the message – mother-daughter relationships are forged by spending time together. I walked away from that story feeling that my relationship with my daughter would not be based on the amount of money I spent, or the quality of the vacations we took, but by simply spending time together and truly communicating. Each story seemed to evoke a different emotion – I found myself laughing, crying, but mostly realizing the impact that I can have on my daughter's future. Overall, it was a good reminder to be in the moment and cherish the time spent together.
You can find all the Chicken Soup for the Soul books on their website, facebook, and twitter pages.


Hello, my name is Laurie. I have been married to my husband for 14 years. We have two young daughters, ages 11 and 13 years old. My family and I live in Oregon so that means we are just minutes from the beach, mountains, and desert.  We love it here and try to spend as much time outdoors playing as we can. When we aren't outside playing, I enjoy reading, gardening, refinishing furniture, and other crafts.
This post currently has one response.