Everyone who has a cat knows that litter is an ongoing struggle. I have been trying different types to see which I like best for my cat which means I haven't found it yet…so when World's Best Cat Litter contacted me to do a review for them I was happy to oblige. I had heard of their company before, but was not wholly familiar with their product. I live in a small town and none of the places I normally buy litter carry it. I was interested to find that it is a very unique cat litter in that it is made from 100% whole-kernel corn grown right here in the good ol' USA. This is different than the corncob litters already being sold. It is also friendly to the environment and your kitty. Those are all great selling points for me. They carry their litter in 3 different formulas: Clumping, Multiple Cat Clumping and Scented Multiple Cat Clumping. Even though I only have one cat, I prefer a scented litter, so I chose the Scented Multiple Cat Clumping.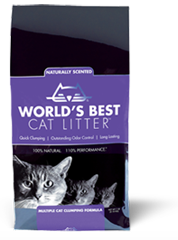 It is scented with natural lavender oil and smells very fresh when you open the bag. Since the litter is made with whole-kernel corn it has the natural ability to clump and cover smells naturally. I was a bit incredulous at first, but found upon using it it really did live up to it's claim. It clumped tightly and I found I had to change the litter less often than with other brands. I liked the earthy smell of the product and the fact that it didn't have all that dust and such that clay types have that make me sneeze every time. Something I noticed over time was that there was a lot less of World's Best Kitty Litter on my floor surrounding the litter box from where my kitty kicks it about. Almost none actually. I found it strange, but was happy. I am not sure why that would be the case, but it's true and was a great boon for me. That's one of my least favorite things about litter. The litter is also food grade, just in case your kitty wants to take a little nibble. It can be purchased at many of the major pet stores around the country or on those pet stores websites. So now that I know where I can get it online, it is certainly I product I will use for my kitty again in the future.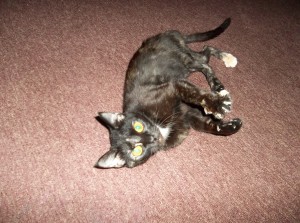 If you would like to learn more about World's Best Cat Litter you can check out their website, facebook, or twitter pages. They also have a free bag rebate on their website, so you can try it out for free!
World's Best Cat Litter has been kind enough to offer 3 of our readers the same Scented Multiple Cat Formula they sent me. Just fill out the widget below. Entries accepted until 11:59pm on 7/8. Open to US and Canada. Good luck!


This post currently has 3 responses.